"My iMessages to a person that I text daily all of a sudden doesn't say delivered. He doesn't have me blocked, because we were just texting. I never had this problem before and now I don't know what to do. If anyone has had this problem before and know a solution, please help."
Many iPhone users prefer to use iMessage other than WhatsApp or Facebook to communicate with others. Though iMessage is really a great instant messaging service, it is not completely free of problems. Still, iMessage doesn't say delivered is one of the most common ones that users have encountered. You might get confused and don't know what that means and what should you do when iMessage not saying delivered on your iPhone. Don't fret, here we will explain the reasons and share 6 simple tips to fix the issue.
Reasons of iMessage Doesn't Say Delivered
What does it mean when iMessage doesn't say delivered? iMessage not showing delivered means that the iMessages are not sent to the recipient's devices successfully. This kind of issue can be caused by various reasons just as what are mentioned below:
You have entered the wrong phone number.
You have not correctly signed into iMessage.
Sending or receiving iMessages won't be successfully as there is no Wi-Fi or cellular data networks.
The recipient might turn off their phone or activate the Airplane /Do Not Disturb mode, so they won't receive your iMessages.
How to Fix the Issue of iMessages Not Saying Delivered
Below are 6 simple and efficient solutions to help you fix the iMessage doesn't say delivered issue on your iPhone or iPad. Go through them to get rid of the problem.
Part 1. Best Way to Fix iMessages Not Saying Delivered Issue by Fixing iOS
If you run into the issue of iMessage doesn't say delivered immediately after updating iOS, there might be problems in the iOS system. In such case, you will need a professional tool like FoneGeek iOS System Recovery (iPhone 12/iOS 15 supported). It can help you fix all kinds of iOS issues such as iPhone stuck in recovery mode, black screen of death, iMessages doesn't say delivered, etc. And the success rate is 100% which is higher than other similar tools in the market.

This tool has also been highly recommended by many famous tech sites like CNET, PCWorld, etc. More importantly than all of that, it is fully compatible with all iOS models and iOS version, even the newest iPhone 12/11/11 Pro and iOS 15. To get started, download and install this iOS repair tool to your computer and follow the steps below:
Step 1: Launch this software on your computer and you will find two options. Select "Standard Mode" to proceed.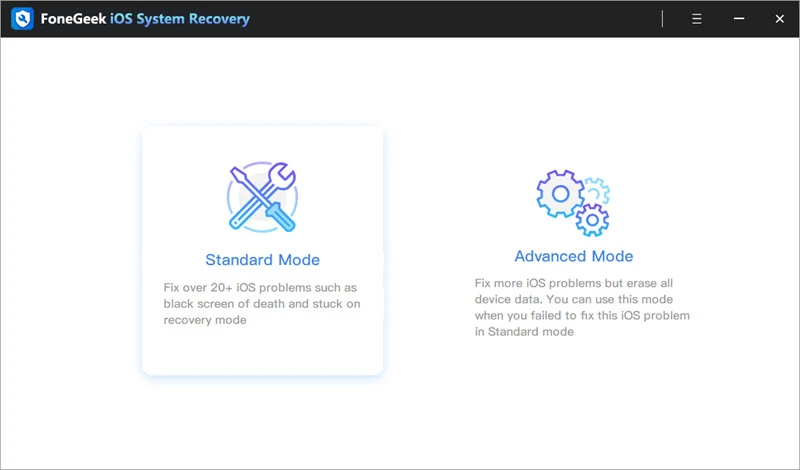 Step 2: Connect your iPhone to computer and it will be recognized by this software.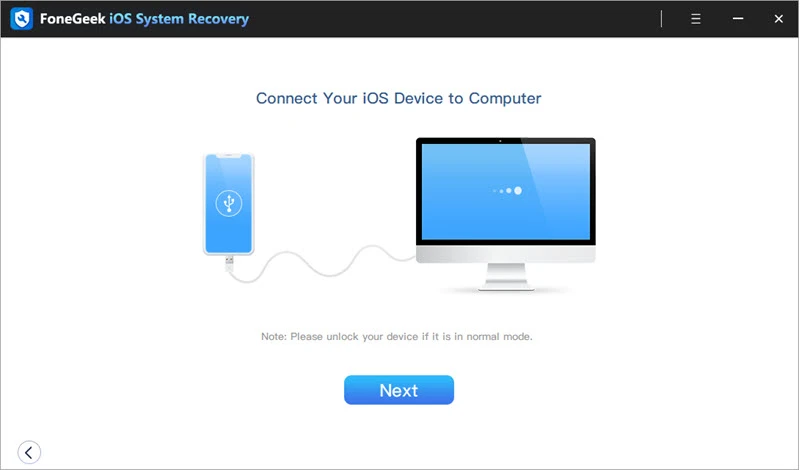 Step 3: After that, the tool will detect your device model and provide the matching iOS system versions. Confirm the device information is right and click "Download" to begin downloading the firmware package.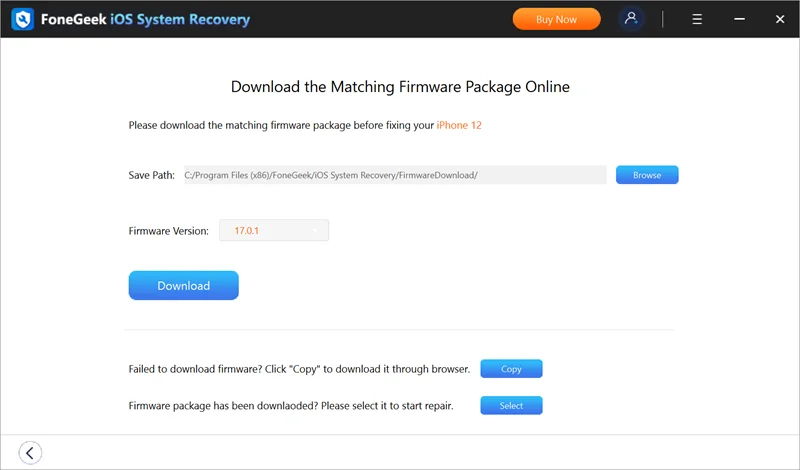 Step 4: After the download, the downloaded firmware file will be verified to repair your iPhone and the device will be in normal state once the process is finished. Then you can go to the Message app and check whether the iMessages you sent shows "Delivered" or not.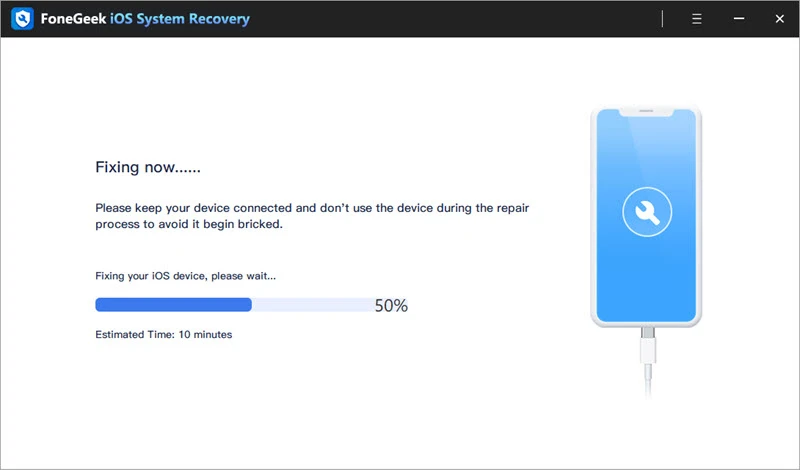 Also, you can watch this YouTube video to learn how to fix iOS issues:
Part 2. 5 Simple Solutions to Fix iMessage Doesn't Say Delivered
If you've done nothing on your iPhone but still come across this issue, we suggest you check some of the basic settings related to messages and iMessages before taking the software method.
Tip 1: Check Internet Connection
iMessages works on iPhone, iPad, iPod touch as long as there is an internet connection. Thus you need to make sure that the Wi-Fi network or cellular data is available on your iPhone before sending or receiving iMessages.
Go to Settings > Wi-Fi to connect available Wi-Fi networks. You can try to turn Wi-Fi off and on to fix any potential issues.

If you're using mobile data, go to Settings > Cellular and ensure it is on.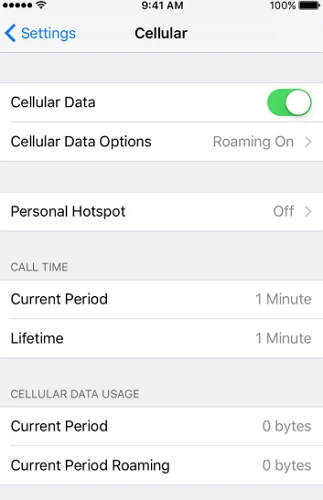 Tip 2: Turn Off iMessage and Then Turn On
Toggling iMessage off and then back on again is often a useful method to fix iMessage not saying delivered. Go to Settings > Messages to disable iMessage and then enable it again. After that, retry to send an iMessage and see if the problem has been fixed.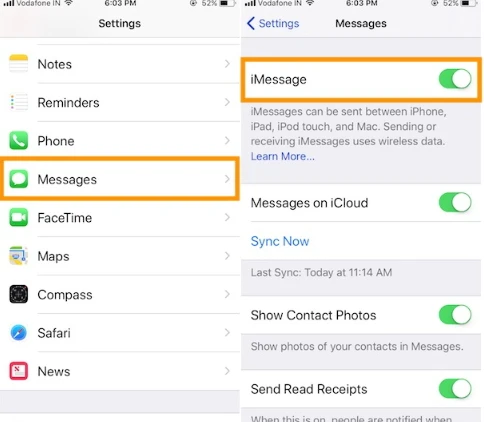 Tip 3: Send as SMS Instead of iMessage
One of the reasons that iMessages doesn't say delivered is that the device of recipient is an Android phone rather than an iPhone. iMessage is only enabled to deliver to iOS devices or Mac.
In that case, you have to resend this message as a text via the way of enabling sending as SMS (Settings > Messages > Send as SMS).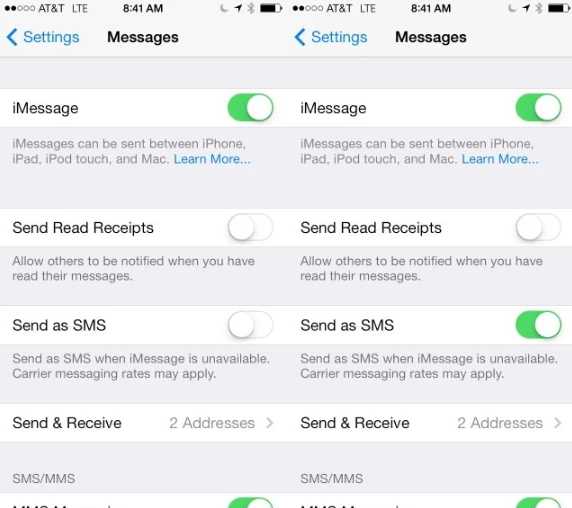 Tip 4: Reboot Your iPhone
Reboot the iPhone is recommended if you have tried all the settings listed above. Try to restart your iPhone and then send iMessages in Message app.
Reboot iPhone X/XS/XR: Press and hold the Side button and the up/down volume button at the same time for a few seconds until you see the "slide to power off" option on the screen, then slide to turn off your iPhone.

Reboot iPhone 8/7/6/5: Keep holding the top (or Side) button for 3 seconds and click "slide to power off" to turn off iPhone, then click Top (or Side) button to turn on until you see the white Apple logo.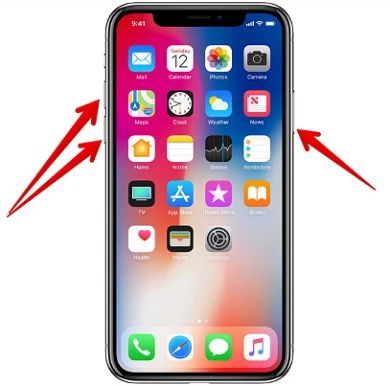 Tip 5:Sign Out of Apple ID and Sign Back In
It is always useful to resolve Apple account related issues by signing out Apple ID and sign back again. And it is also proven to be a common fix for iMessage trouble. Here's how to do it:
Go to Settings > Message > Send & Receive to find the option of "Message".

Click on your Apple ID and choose to "Sign Out" on the pop-up window.

Then sign in the Apple ID again with the same Apple account.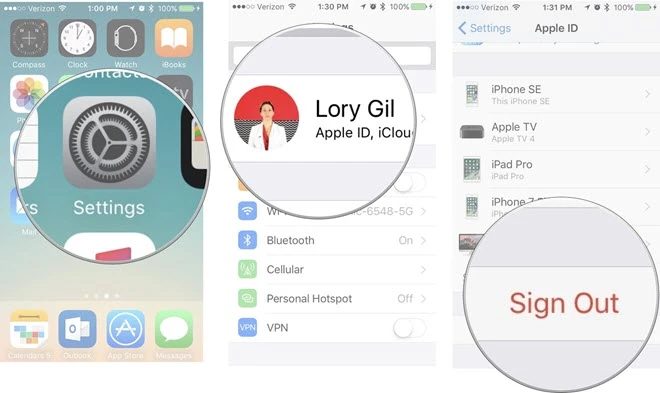 Bonus Tip: How to Recover Deleted iMessages on iPhone
If unfortunately, your important iMessages lost or disappeared on your iPhone or iPad and there is no available backup, don't worry, you still have chances to get them back. FoneGeek has another powerful tool, iPhone Data Recovery, to help you recover deleted iMessages, text messages, contacts, photos, etc. on iPhone/iPad without backup. It is very simple and safe to use, all the existing files on your device won't be affected.
The Final Word
Don't hesitate to try the solutions mentioned in this post when your iPhone suffers from an issue of iMessages not saying delivered. Among these tips, fixing iPhone system with FoneGeek iOS System Recovery is what we recommend. After all, it is convenient to use and there is no risk of data loss. If you've tried all the tips above and iMessages still not showing delivered, there might be problems with the recipient's device. Another possibility is that they've blocked your phone number. For more info, you can refer to how to know if someone has blocked you on iMessage.

Thursday on May 10, 2018, 14:31:30 GMT / Post By Edwin J. Parke to iPhone Issues
As a professional writer who is interested in technology, Edwin J. Parke has helped thousands of users by offering various tips to solve their problems.

Home
>
iPhone Issues
>iMessage Doesn't Say Delivered on iPhone? 6 Tips to Fix It