User Concern
"Hi, my iPhone 11 screen is completely black. I have tried the hard reset and holding the wake button for three seconds and then the home button. I have also plugged my phone into iTunes, but it does not appear. I have no idea what to do now. Any suggestions?"
One common issue that iOS users encountered is the iPhone black screen of death. This issue should be taken care of seriously as it has great influence on the performance of the device. The black screen is usually caused by system problems or worse, hardware damage.
Before rushing to a Apple Store, there's a number of things you can do to resolve the issue while sitting at home. In this article we will explore why your iPhone stuck on black screen and some potentail solutions to fix it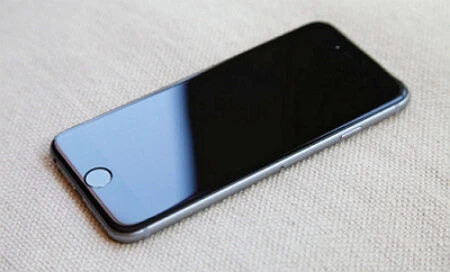 What Causes iPhone Black Screen of Death?
Hardware Issue: If you have recently dropped your iPhone on the ground or into the water accidentally, it might lead to a hardware-related issue and indirectly causes iPhone to the black screen.

Software Issue: If your iPhone is still working but something went wrong, then the reason behind it could be the software issue. Some apps might get crashed due to iOS upgrade, iOS jailbreak or iOS downgrade, etc.
How to Fix iPhone Black Screen of Death
Charge Your Device
A drained battery is usually the main cause of iPhone stuck on black screen. In this situation, just plug your iPhone into a charger and allow it to charge for at least 30 minutes.
Close Crashed App
If your iPhone screen went black just after launching a particular app, then that app might be the cause of the problem. In such case, the best thing to do is exit the crashed app.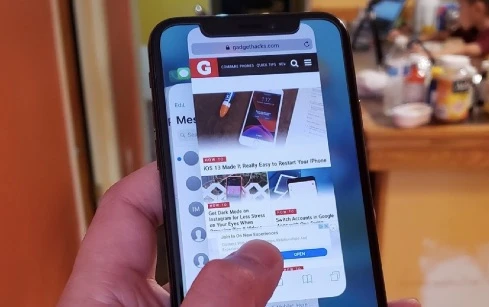 App update also provides fix to this issue. Open the App Store and scroll down to the bottom, then tap on "Updates". If there is an available update for the app that is crashing, install it. Restart your iPhone after updating the app and then see if that solves the problem.
Force Restart Your iPhone
iPhone black screen issues ususally suggests that there are minor software errors with the device. What you can do here is force reboot the device. Methods for forcre restarting your iPhone will depend on the model you have:
For iPhone 8 or later: press and quickly release the Volume Up button first. Right after, press and quickly release the Volume Down button followed by pressing and holding the Power button until the Apple logo appears.

For iPhone 7 or 7 Plus: Press and hold the Power button and Volume Down button at the same time until the Apple logo appears on the screen.

For iPhone 6s or earlier: Press and hold the Power button and Home button together until you see the Apple logo on the screen.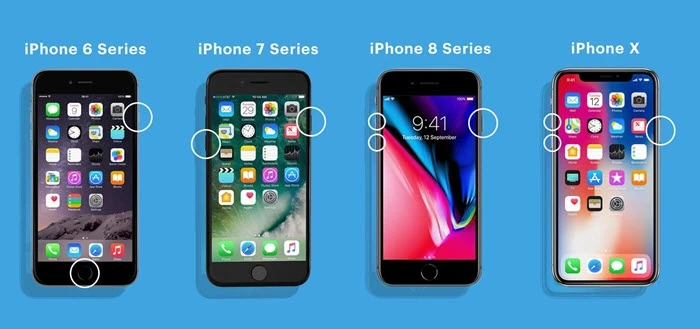 Restore iPhone via iTunes
If force restarting doesn't help to solve the problem, performing an iPhone restore via iTunes might do the trick. This method has been mentioned for many times in forum and high-authority sites. It is a worthwhile attempt even though it may disappoint you.
Install the latest version of iTunes on your computer. Launch it and connect your black screened iPhone with the computer.

When your phone is connected, follow the steps in Force Restart to put the device in to Recovery Mode.

iTunes will detect your iPhone that is in Recovery Mode. And a message will pop up requiring you to update or restore the device.

Click "Restore" and the previous iTunes backup will be restored to the device.

Fix iPhone Black Scren without iTunes
If there is still no response to the device, it's very likely that something goes wrong with the iOS system. You may concern about the data saved on iPhone when the screen is not responsive. In this situation, FoneGeek iOS System Recovery can help to fix the iOS system issues without using iTunes. The program can be used to fix most iOS issues, like iPhone stuck in recovery mode, DFU mode or device won't turn on without the risk of data loss.
Core Features of FoneGeek iOS System Recovery
Fix all iPhone issues that you met, for example, iPhone stuck on black screen or white screen, recovery mode/DFU mode, iPhone won't turn on, etc.

No data will be erased. In other words, your device will be fixed and work normally without data loss.

Its user-friendly interface requires little technical knowledge. Everyone can easily use it without any hassle.

It is highly recommended by CNET, Software.Informer, Filehorse, GetDroidTips, Lera Blog and many other media sites.

It works with all models of iPhone, iPad, iPad touch and iOS versions, even iOS 15.
Here's how to fix iPhone black screen of death without data loss:
Step 1. After downloading the program on your computer, run it and connect your iPhone to the computer using USB cable, then select "Standard Mode".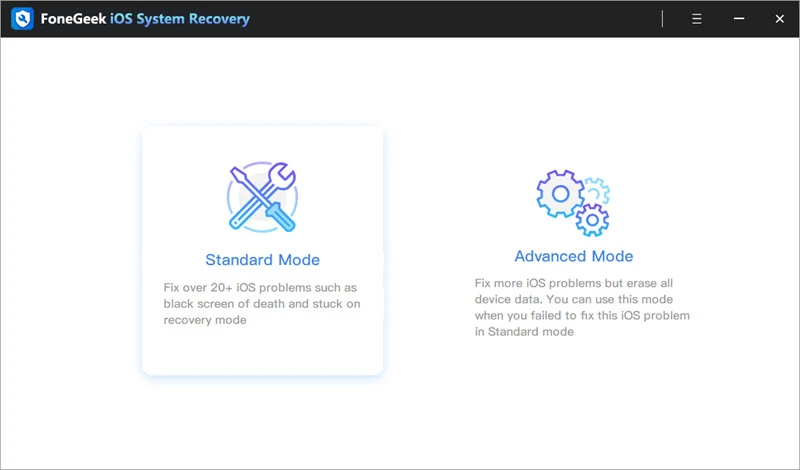 Step 2.The information of your device will be detected and displayed. Tap on "Download" and the program will start to download the firmware package of the latest iOS version.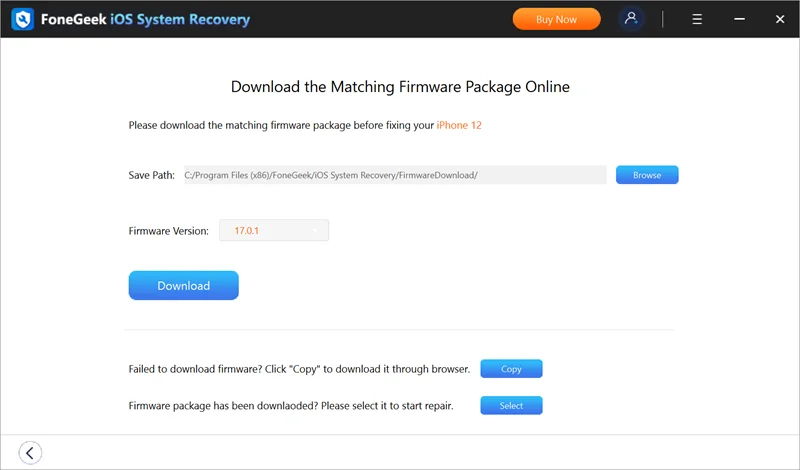 Step 3. Once the download has completed, click on "Fix Now"and your iPhone will be repaired immediately and may work normally after the fixing.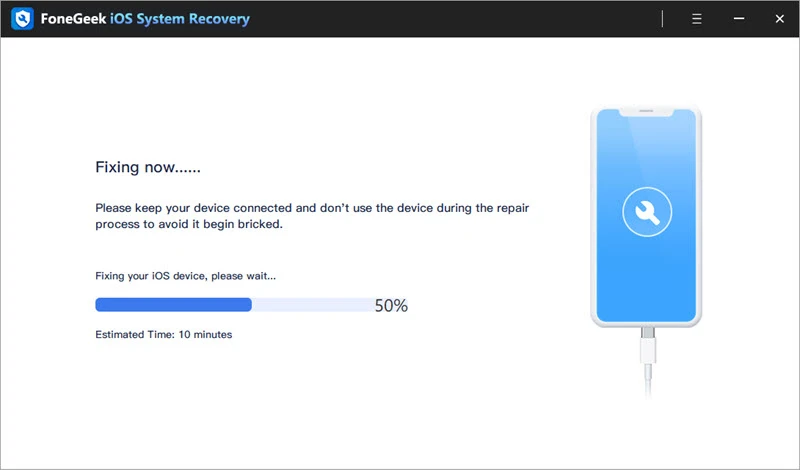 Perform a DFU Restore
If your iPhone is still stuck on black screen of death, the DFU restore can be considered as a last resort. Here's what you need to do:
Step 1. Plug in your device to the computer using Apple lightning cable, open iTunes and make sure that iPhone is detected by iTunes.
Step 2. Press and hold the Power buttom for about 3 seconds. Keep pressing the Power button, then press and hold the Volume Down button for 10 seconds.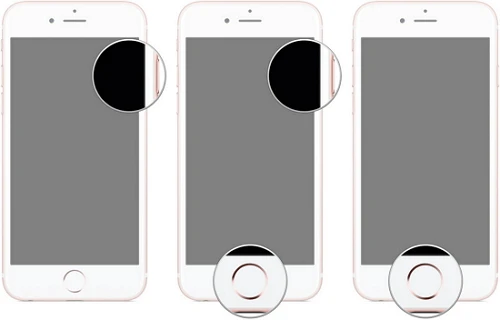 Step 3. Release the Power button and keep holding the Volume Down button for 5 seconds. If the screen stays black, it means that you've entered DFU mode. You'll be prompted that "iTunes has detected an iPhone in Recovery Mode".

Step 4. Clikc on "OK" and follow the on-screen instructions to complete the DFU mode restore process.

Note
Do ensure that you have already backed up the device with iCloud or other tools before, as the restore process will erase all content and settings of your iPhone, then reset it as a new one.
Contact Apple Support
If you've tried all of the above solutions but the problem persists, the most possible case for the iPhone black screen of death could be a hardware issue. In this case, you'd better take your iPhone to a local Apple Store and ask an expert to help you repair the device.

Wednesday on May 09, 2018, 20:20:16 GMT / Post By Edwin J. Parke to iPhone Issues
As a professional writer who is interested in technology, Edwin J. Parke has helped thousands of users by offering various tips to solve their problems.

Home
>
iPhone Issues
>7 Tips to Fix iPhone Black Screen of Death (iOS 15 Supported)