Tap to Wake is one of the handy features that Apple offers on its devices. With a single tap, you instantly wake your iPhone to unlock it or view what's on the Lock Screen - like new notifications, date & time, widgets, etc. You don't need to press the power button at all.
Unfortunately, like other features, this Tap to Wake function can sometimes suddenly fail to work. You tap the screen, and it doesn't respond. Now, you're forced to press the power button whenever you need to wake the iPhone.
If you're having the same trouble, we're here to help you. We'll show you how to easily fix this Tap to Wake not working on iPhone issue using a tool like FoneGeek iOS System Recovery and various other methods. Read on.
Why is My Tap to Wake Not Working on My iPhone?
If you know why Tap to Wake is not working on your iPhone, troubleshooting will become easier. Some of the possible reasons include:
Your iPhone is in Low Power Mode. If so, it may have disabled the Tap to Wake function.
You're using a screen protector/phone case that is affecting the screen's touch sensitivity.
There's a bug in the system or system/settings flaws causing Tap to Wake fails to work, or maybe it's faulty hardware causing it not to work.
The Lock Screen widgets or adaptive brightness can also create glitches that make Tap to Wake stop working. So, check both the hardware and software of your iPhone.
Fix iPhone Tap to Wake Not Working with 3rd-party Tool
When the iPhone Tap to Wake is not working due to system bugs/flaws, using a professional tool is the most effective way to deal with it. With FoneGeek iOS System Recovery, you can eliminate all bugs and fix the Tap to Wake not working on iPhone or any other system issue affecting your iPhone.
Fixes all iOS system issues, including Tap to Wake not working – with a success rate of 100%.
You can use it without any technical skills. It's a simple tool that's easy to operate by all.
It's a tool that various popular sites like Mobile Mall, GetDroidTips, Inspirationfeed, Techjury, Pakainfo, etc., trust and highly recommend.
Works well with all iPhone models and iOS versions, even the latest iPhone 15 and iOS 17.
Steps to fix iPhone Tap to Wake not working using the FoneGeek iOS System Recovery tool:
Start by downloading and installing FoneGeek iOS Repair tool onto your PC. Run the program and pick Standard Mode to repair your device with zero data loss.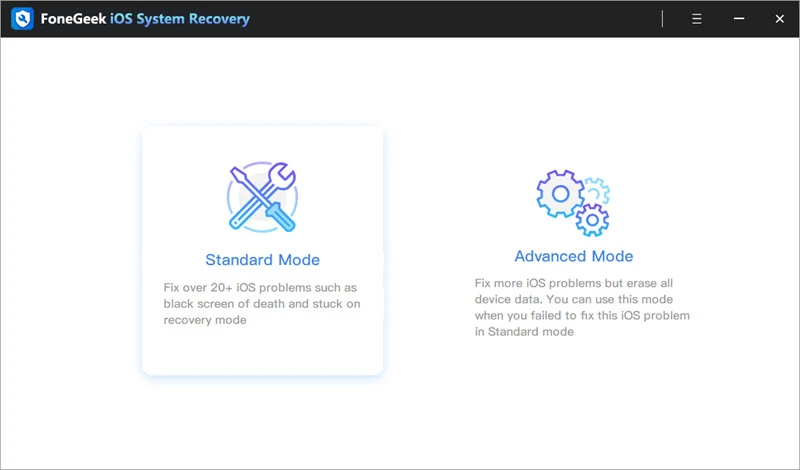 Your iPhone and the PC have to be connected. Use a USB to connect them and click Next when the program identifies the phone. Now, you need the right firmware for fixing the phone. Click Download to get it.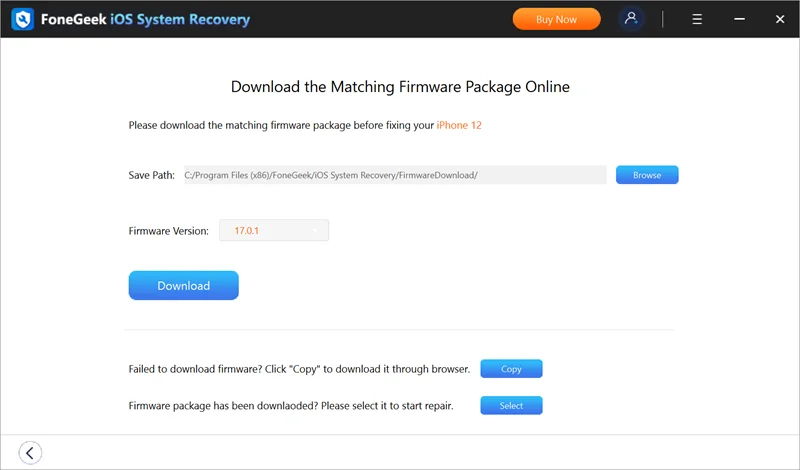 After FoneGeek completes the download, hit Fix Now and let it repair your iPhone.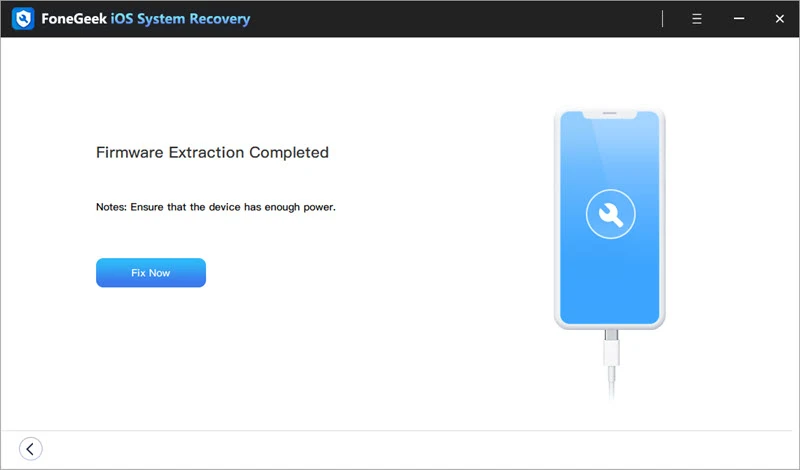 Other Fixes for Tap to Work Not Working on iPhone/iPad
Maybe it's not a bug or a system issue behind Tap to Work not working on iPhone. If so, the following solutions can also fix it.
1. Ensure Your Device is Compatible
Is your iPhone/iPad compatible with the Tap to Wake feature? If it's not compatible, that could be the problem. Only iPhones with Face ID support the Tap to Wake feature. That includes iPhone X and later models.
If you have an iPhone 8 or an older model or iPhone SE with the Touch ID feature (even iPhone SE 2022), you can't use Tap to Wake. As for iPads, Apple doesn't offer the Tap to Wake feature on iPads that feature a front Home button.
2. Check If Tape to Wake is Enabled
Check that Tap to Wake is enabled on your iPhone. You probably turned it off by mistake, so it's not working. You'll have to turn it back on manually for it to work. To do that:
Open the Settings app.
Go to the Accessibility tab and tap on Touch.
Enable the Tap to Wake option - tap the toggle next to it.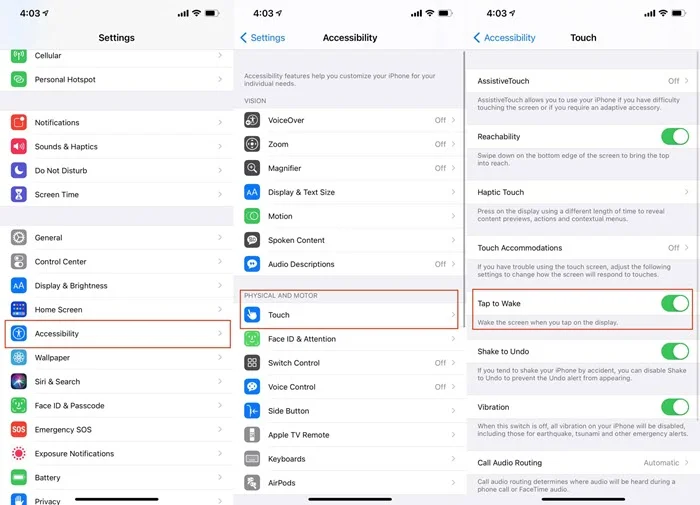 The Tap to Wake function should work on your iPhone; if not, try the next troubleshooting steps.
3. Disable Always-On Display
Always-On Display is a relatively new feature Apple introduced on its iPhone 14 Pro models. The feature is still being improved, so try turning it off and check if Tap to Wake works.
Launch Settings and open the Display & Brightness tab.
Go to the Always On option and turn it off – tap the toggle before it.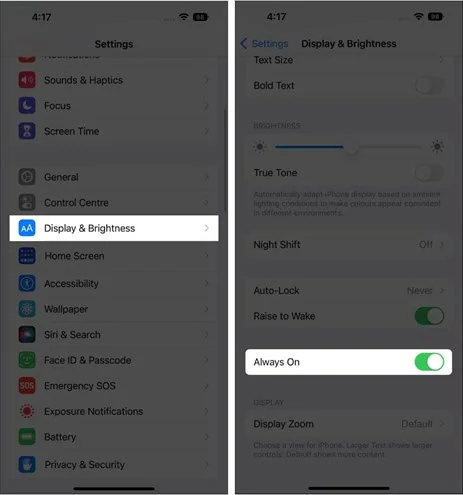 4. Remove iPhone Case/Screen Protector
The iPhone case usually gives your phone an extra layer of protection. However, as we stated earlier, it's one of the reasons behind Tap to Wake not working on iPhone.
It can cause the screen to become less responsive to touch, especially if it extends beyond the iPhone's side bezels and presses the screen. The pressure applied on the screen by the extra layer of glass or plastic can ultimately cause it to be unresponsive.
Remove the phone case to rule out this possibility and see if this resolves the issue. Check the screen protector, too. If it's cracked or not put appropriately (significant gaps/air bubbles), remove it and put a new one properly.
5. Turn Off Low Power Mode
Have you enabled Battery Saver on your iPhone? It's a good measure for conserving battery life for several hours when your iPhone's power is low. The consequence is that features like Tap to Wake are turned off in the process. So, try turning it off to see if this solves the problem.
Get to Settings and tap the Battery option.
Go to the Low Power Mode and turn it off.
Exit Setting and check if Tap to Wake works.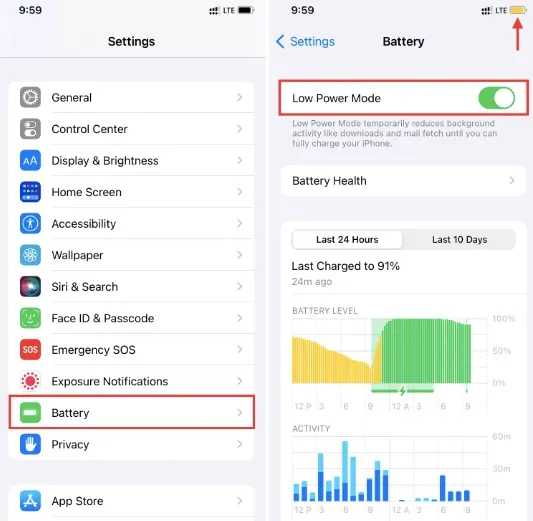 6. Restart the iPhone
If the above basic steps don't work, your iPhone probably has some minor glitches that are causing the Tap to Wake to fail to work. An easy fix is powering off your iPhone/iPad and powering it on again. Follow these steps.
Restart iPhone with Face ID (iPhone X to iPhone 15)
Long-press the iPhone's Volume Up/Down and Side buttons.
Go to the Power Off slider. Slide the power icon to the right.
Let the iPhone shut off. After 30 seconds, power it up by long-pressing the Side button.
Restart iPhone with Home button (iPhone SE & earlier)
Go to the Home button and long-press it to launch the Power Off slider.
Switch off the phone by dragging the power icon of the slider to the right.
After waiting 30 seconds, power up the phone by long-pressing the Side button.
7. Reset All Settings
You may have to reset your phone's settings to solve this issue. It doesn't work 100% always, but you can give it a try. Follow these steps.
Open Settings and get to the General tab.
Select the Transfer or Reset iPhone option. Next, tap Reset > Reset All Settings.
When a prompt appears on the screen, tap Reset All Settings to confirm.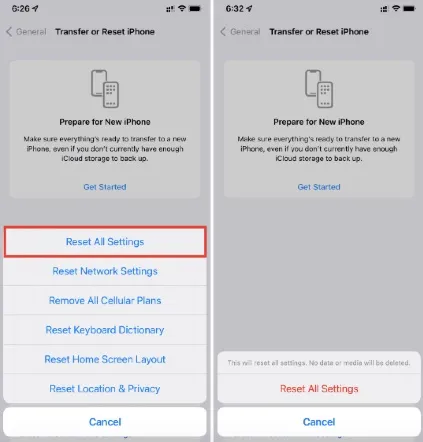 8. Update iPhone to the Latest iOS
The root cause of iPhone Tap to Wake not working can be a software issue, which you can solve easily by updating the iOS version. We suggest you do that, especially if it's been a long time since you updated the iOS on your iPhone.
Get to Settings and open the General tab.
Go to Software Update.
Hit Download and Install to get the available update. Then check if the tap to wake issue is solved.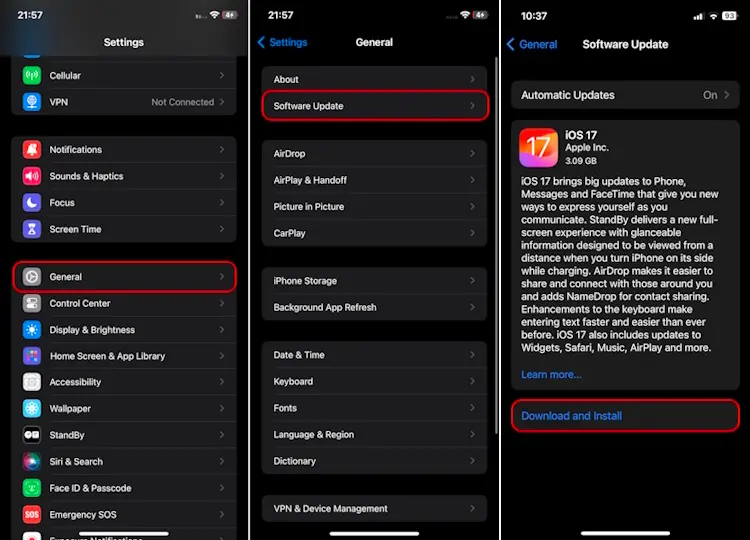 9. Try Using Raise to Wake
At this point, the Tap to Wake feature should be working fine. But, if it's not working, consider using the Tap to Raise feature. It awakes your display, too - you just lift your iPhone for it to work. Here's how to enable it.
Launch Settings. Open the Display & Brightness tab.
Go to the Raise to Wake option and enable it – tap the toggle right next to it.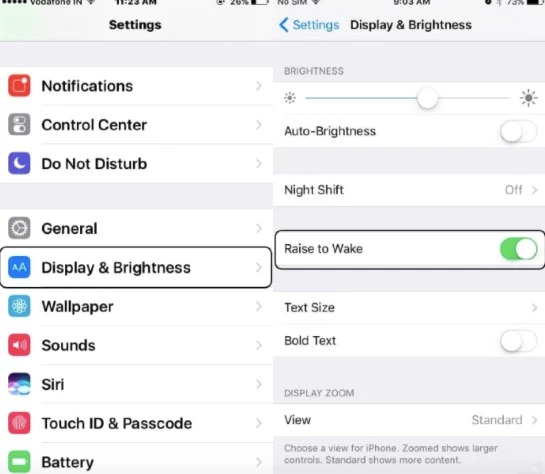 From there, the display will awake every time you lift your iPhone.
10. Contact Apple Support
It will be unfortunate if all these basic troubleshooting steps fail to fix the problem. If that's the case, what you must do next is to contact Apple Support. You'll get assistance from a technician to troubleshoot the problem.
If they find the cause is hardware-related, make an appointment at the Apple Store through Genius Bar and take the iPhone there. An Apple-certified specialist will test it and recommend an appropriate solution.
Conclusion
If you cannot enjoy the smooth function of your iPhone's Tap to Wake feature because it's not working, apply any of the methods mentioned above to fix it. Try all of them if need be until the issue is fixed. Or you can take the easy way out by using FoneGeek iOS System Recovery. This professional tool will eliminate all bugs and software issues causing problems on your iPhone. It will solve the Tap to Wake not working on iPhone problem completely, so you may not even need to go through all those basic troubleshooting steps.