Does your Spotify app keep crashing, and you don't know why? Are you confused as to what to do next to prevent its reoccurrence? Don't worry; we've got you covered. Read on to find out! Let's go!
1. Why Does My Spotify Keep Crashing on iPhone
There are several reasons who Spotify app keeps crashing on your device. Here are some-:
Low Storage
Spotify uses up a lot of space on your device. If not properly managed, your device might be low on space. This, in turn, might cause the app to crash.
Outdated App
Spotify, like most other apps, has new updates available from time to time. Updates, which essentially fix bugs and glitches. Your Spotify app might start crashing once there are bugs and glitches in the outdated version. If this is the case, there is no need to worry. Simply update the application and enjoy!
Old iOS
Just like you need to update the application, your iOS must not be left out. Your Spotify is still likely to crash if your iOS isn't up-to-date, even if the app is.
Low Power Mode
When your device is on low power mode, it restricts some apps' function, causing them to run below their full potentials. If you have low power mode constantly active on your device, the sudden change in controls might cause your Spotify application's crash.
Background App Refresh
Check that your background app refresh setting is turned on for your Spotify app on your device. If it's not, that might be the reason for the app's crash.
2. What to Do When Spotify Keeps Crashing
Here are some of the measures you can take if your Spotify keeps crashing on iPhone.
2.1 Log out of Spotify and Re-login
Suppose you're playing the latest drake's album or a new Lil baby's track on your Spotify app, and your app keeps crashing. This can be so annoying. However, if that's the case, you can try logging out of the app and re-logging in to solve this issue. You can easily do this by:
Opening' Spotify'.
Clicking on the settings icon.
Scrolling down till you see 'log out,' and clicking 'Log out'.
Once logged out, you can try signing in again with your login ID.
2.2 Switch Internet Connection
For free users of Spotify, you need to have a stable network at all times while using the app. Listening and enjoying the app is online.
You might experience the app crash while using it. This might be because of a bad or unstable internet connection. If that's the case, you might want to find a suitable spot with a good connection or try switching to another network and see if this works.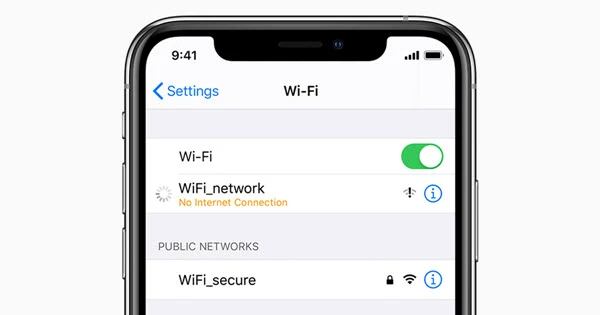 2.3 Update Spotify if Possible
Application updates are not uncommon when using an app. Application developers release updates periodically to fix bugs and introduce new features into the app. You'll need to update the Spotify app manually or set it to auto-update to get the app's updated version everytime it's released.
Suppose your Spotify app keeps crashing; check to see if there is an update available. Update the app, and see if that works!
Here's how to go about it:
Click on 'App Store' on the home screen.
Open it, and tap on 'updates' to see a list of apps with new pending updates.
Check for 'Spotify' among those apps, and hit 'Update'.
If there are updates available for more than one app, you can click on 'Update all' to update all the apps at once.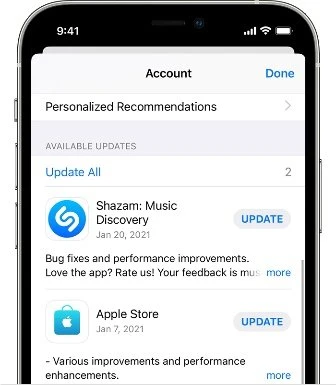 Once the app is updated, restart your iPhone to allow the new update to take effect. Launch 'Spotify' and see if it works perfectly.
2.4 Delete and Re-install Spotify
A recent iOS update might cause your Spotify app to stop working. You'll need to delete the app altogether and re-install it if that is the case. Doing this lets you download the latest Spotify version on your device from the App Store. The new version should work correctly.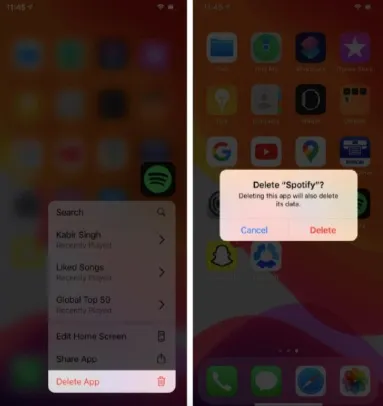 2.5 Hard Restart Your iPhone
Your Spotify app might crash due to insufficient RAM. This occurs when too many apps are left running in the background. In this case, a hard restart will be appropriate. Hard restarts are usually more thorough than the normal phone restart.
You can hard restart your phone by:
Holding the home button and power key simultaneously until the Apple logo appears on the screen (for iPhone 6 and older versions).
Holding down 'Volume Down' and sleep-wake button on iPhone at the same time, and continue holding them until your device restarts (for iPhone 7).
Pressing the 'Volume Up' first, then 'Volume Down,' and holding the power button for about 10 seconds till the Apple logo appears (for iPhone 8 and later versions).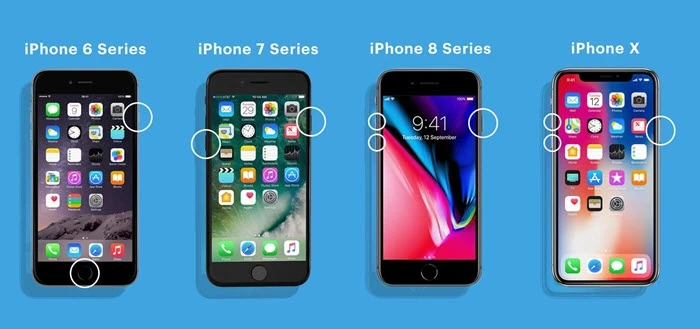 2.6 Clear iPhone Storage
Your Spotify will likely keep on crashing if there isn't enough space in the internal storage of your device.
Free up some spaces on your device by deleting unwanted apps, files and folders and clearing your cache when needed. Doing this, should solve the issue.
2.7 Update iOS to the Latest Version
All applications installed on your iPhone are sure to work smoothly if you install the latest iOS on the device. Sometimes apps crash because the outdated iOS version can't withstand the app's latest versions.
Try updating the iOS to the latest version. That should help.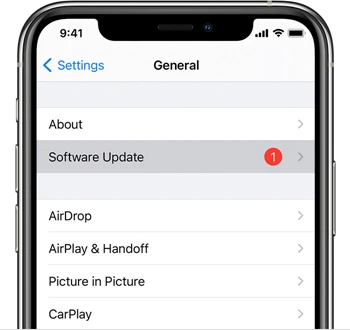 2.8 Use FoneGeek iOS System Recovery
An even worse case, is if the crash is caused by a viral attack. When you jailbreak your iPhone, there is a possibility of viral attack. As severe as that may seem, FoneGeek iOS System Recovery is here to ensure you don't stress about it. This tool provides an all-in-one solution to all your iPhone problems. Whether its app crash, phone stuck on recovery mode, or boot problems. You name it. This tool works wonders. Here's how to use it:
Step 1. Launch FoneGeek iOS System Recovery, connect your iPhone to your computer, and hit 'Standard Mode'.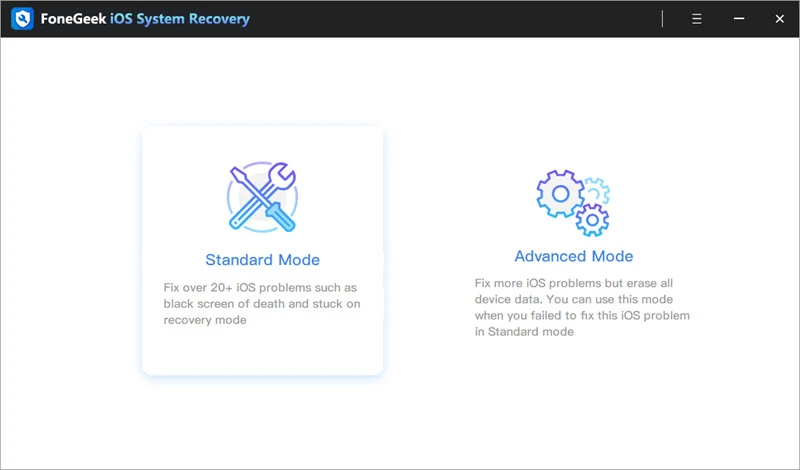 Step 2. You'll see the device model and the available iOS system versions, select yours accordingly. Click download, to download the firmware.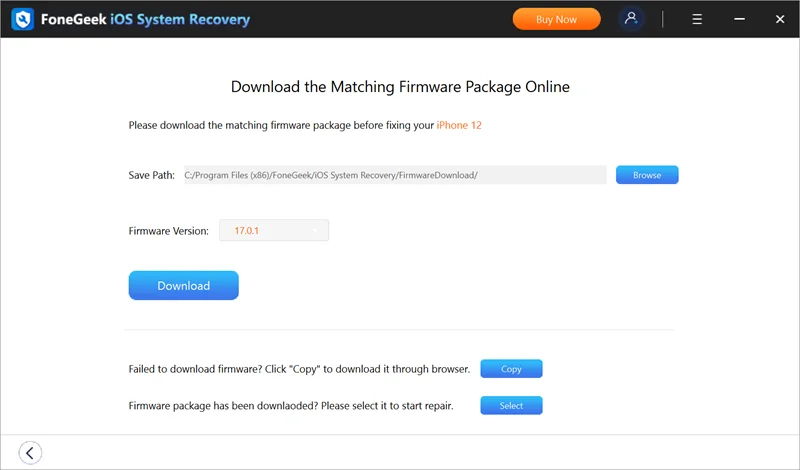 Step 3. Click on 'Fix Now' to recover your iOS system.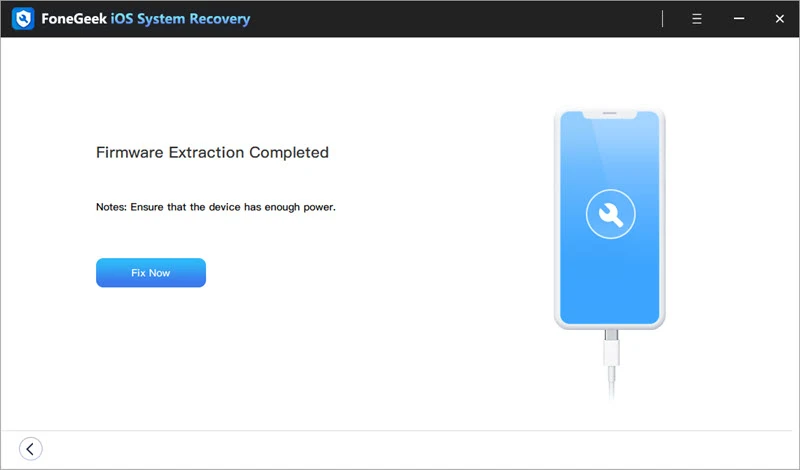 This recovery process should stop your Spotify crash. Try it out!
Conclusion
With these measures, you can now start enjoying your favorite music and albums without fear of Spotify crashing anytime soon. What are you still here waiting at me for? Enjoy some music!

Thursday on Aug 26, 2021, 14:18:53 GMT / Post By Joan J. Mims to iPhone Issues
Joan J. Mims is interested in researching all tips about iPhone, iPad and Android. He loves to share useful ideas with all users.

Home
>
iPhone Issues
>8 Ways to Fix Spotify Keeps Crashing on iPhone