Sending text messages is usually straightforward, but sometimes you may encounter problems like the Message Blocking is active iPhone error. This error can keep popping up every time you attempt to send a text, hence becoming a nuisance, especially if you regularly send text messages to your friends or colleagues.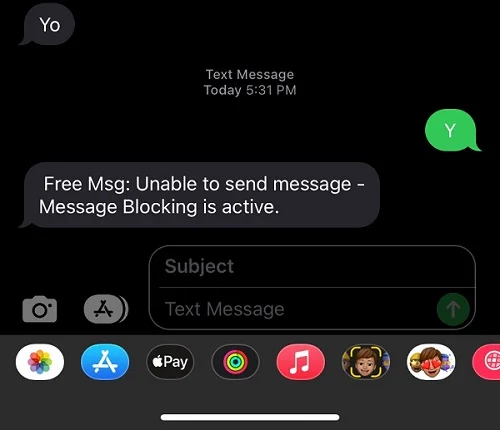 So, how can you fix it and resume sending messages on your iPhone as before? We will show you. Herein, you'll learn what causes this Message Blocking is active iPhone error to pop up and also discover 11 effective solutions for fixing it completely. Read along to uncover all these.
What Does Message Blocking Is Active iPhone Mean?
When you send a message, and you get an error message that says, "Unable to send message - Message Blocking is active," it means you've blocked the recipient – you've added their phone number to your backlist, and as such, your phone can't send message to that number. It can also mean your phone cannot send the message because the phone number or email address is wrong.
Now that you know the meaning of Message Blocking is active, start sending messages again by fixing the error using the following simple methods.
1. Verify the Phone Number
You may enter the wrong number without knowing when you try to send a text quickly. Maybe only one digit is wrong, or probably the country code. This simple mistake can cause the "Unable to send message - Message Blocking is active" iPhone error to pop up. So, first, verify the phone number before trying anything else.
2. Check Your Cellular Plan
You can't send test messages if you don't have an active cellular plan. If you do, but the error message still pops up, you may have reached your monthly text message quota limit – unless you're subscribed to an unlimited plan. Therefore, verify your plan; if it's exhausted, renew it, and the error will disappear.
3. Remove the SIM Card and Re-insert It
Skip this step if you have an eSIM on your iPhone.
The Message Blocking is active iPhone error could pop up because your SIM card is not set properly. This means if you take out the SIM card, set it properly in the tray, and put it back in the phone, you may fix the error – ensure you also clean the SIM card and there is no dirt on it before putting it back.
4. Unblock the Blocked Number
Does the error show up when you send a text to a particular contact? You may have unintentionally blocked that phone number. You can confirm this by checking the blocked contacts list on your iPhone. Follow these steps:
Get to Settings. Select the Phone option and tap on Blocked Contacts.
Select the Edit option (upper right corner). Go to the red minus sign next to the number or contact and tap it.
Tap on Unlock on the right end and finally tap on Done to finish.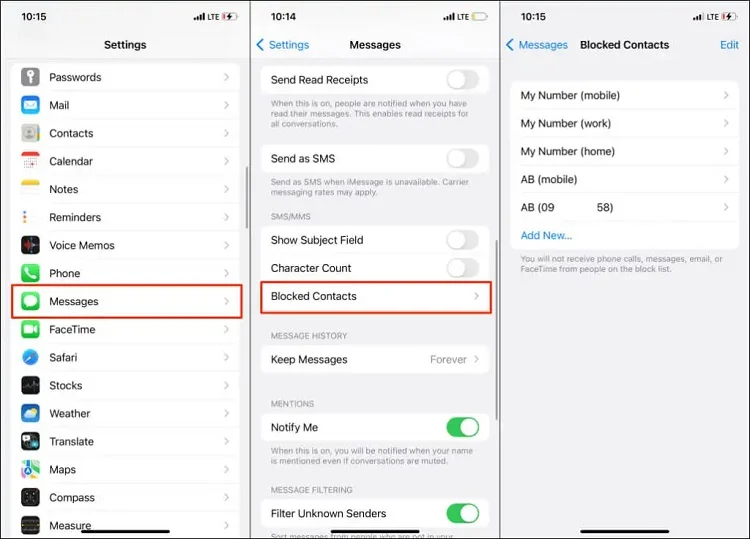 With the number unblocked, go to the Messages app and try re-sending the message.
5. Turn Off iMessage
Both iMessage and regular SMS on iPhone are sent from the Messages app. Because of this, conflicts and errors between the two services can sometimes occur – this may be why you're getting the "Unable to send message - Message Blocking is active" iPhone error. You can rule out this possibility by turning off iMessage and see if it resolves the issue.
Launch Settings and open the Messages tab.
Go to iMessage and tap the switch in front of it.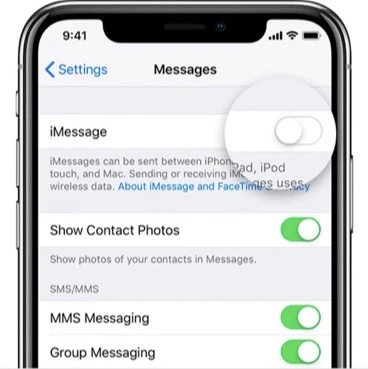 You've now disabled iMessage, so check if you can send messages.
6. Fix Incorrect Date & Time
Your iPhone's date and time have to always be correct. They should not be different from your region's actual date and time; otherwise, your iPhone may have issues like this Message Blocking is active error. Many services on the phone can stop working, too.
So, what should you do? Look at the date and time settings. If they're incorrect, we suggest you activate the Set Automatically option. To do that:
Head to Settings. Open the General tab.
Go to Date & Time and enable the Set Automatically option.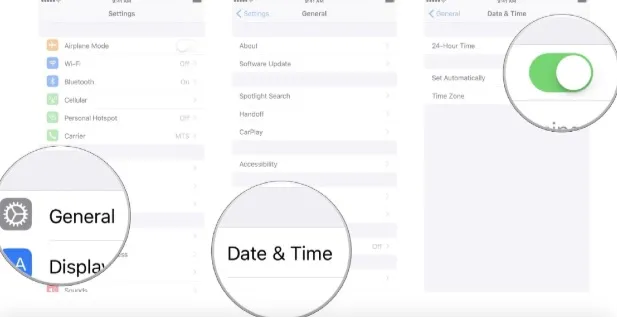 7. Update Carrier Settings
The updates that mobile carriers provide regularly can improve your iPhone's network connectivity and performance - which can help fix the Message Blocking error if outdated carrier settings cause it. So, follow these steps to update your iPhone's carrier settings:
Open Settings. Get to the General tab.
Tap on About. If an update is available, tap Update on the pop-up that appears and follow the displayed prompts to get the update.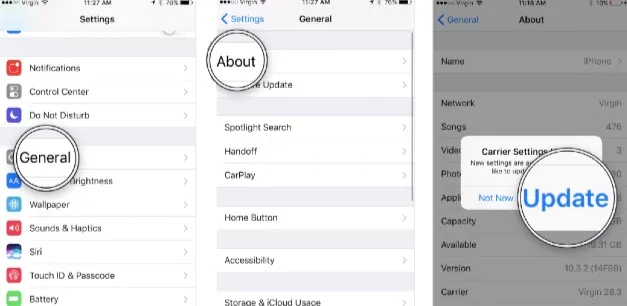 8. Reset Network Settings
Is the error still popping up after updating the carrier settings? There's probably an issue with your iPhone's network settings. If so, resetting all its network settings might clear the error.
Get to Settings and click General. Open the Transfer or Reset iPhone tab.
Click Reset. You'll see a menu- go to it and select Reset Network Settings.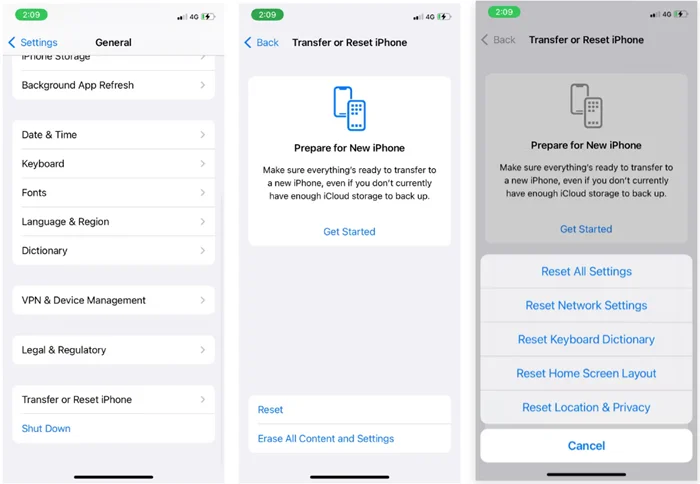 9. Update iPhone to the Latest iOS
An iOS bug or another software issue can also cause this error. Although there have been consistent improvements in iOS 16 compared to before, the software still has several bugs that could cause problems. Ensuring that the iOS version on your iPhone is the most recent one can help you avoid such software issues. To update your iPhone:
Launch Settings. Open General and select Software Update.
Hit Download and Install if an update option is available.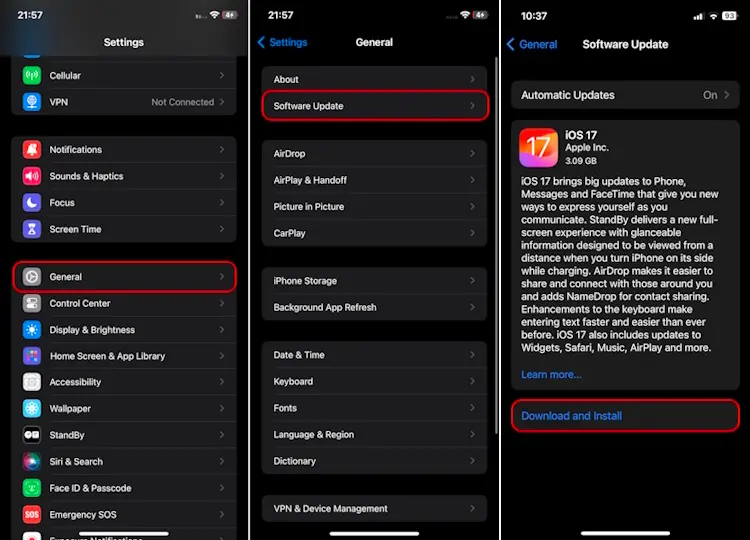 10. Repair iOS to Fix Message Blocking is Active on iPhone
When system problems are the reason behind "Unable to send message - Message Blocking is active" iPhone error, performing basic troubleshooting can prove ineffective. Your best bet is a reliable solution that can fix an iOS system. We strongly recommend FoneGeek iOS System Recovery - it will effectively repair your iPhone system and fix all issues, including this one and iOS stuck problems. Moreover, it will not delete your precious data during the process.
How to resolve Message Blocking is active iPhone error without data loss:
Download FoneGeek iOS Repair tool on PC and install it - when installed, launch it. To repair iOS, your iPhone must be connected to the PC. Connect it and choose Standard Repair.

Next, you'll see a Download button. Click it to download a firmware package for your phone.

With the firmware downloaded, initiate the repair process by clicking Fix Now. It may take a while, so wait until the end. After the iOS is repaired and the phone has automatically rebooted, you can resume sending texts as before.
11. Contact Your Carrier for Help
If the above methods don't work, the last step is to ask your carrier to help you remove the error. The problem is likely on your carrier's end, and they're probably unaware of it yet. Therefore, contact your carrier through their support phone or official website. The support team will help you resolve the issue if they notice it.
FAQs
When should I use Message Blocking on my iPhone?
If you often receive unwanted texts or spam, the Message Blocking feature can help you avoid them completely - you can use it to block all connection attempts from specific contacts that send you such texts. But, it can become an inconvenience, too, if you unintentionally turn it on or block a wrong number. That's why we advise you also to know how to turn it off.
What does Message Blocking is Active do?
When you see "Message Blocking is active" appear on your iPhone, it indicates that Message blocking has been enabled and is blocking the text you're attempting to send from being sent to the specific recipient.
Can I tell if my iPhone blocks a message?
Yes, you can. In case your iPhone is blocking messages, whenever you attempt to send a message, you'll see an error that says, "Message Blocking is active."
Am I blocked when I see Message Blocking is active?
No, you're not blocked. You're seeing the Message Blocking is active notification because you've probably blocked the contact to which you're sending the text. To confirm if so, check your iPhone's list of blocked numbers. If the number is in the list, remove it from there, and the error will disappear.
How do I know if someone blocked my number?
When your number is blocked, you can't call or text the person who has blocked you. So, if you send messages to a number and notice they're not read, or you call a particular number, but the call doesn't go through, the user has probably blocked you.
What happens when a message is blocked?
Immediately after a message gets blocked, you'll see a pop-up that notifies you about the blocking – it will say, "Message Blocking is active." If you do not turn on the Message Blocking feature, you can remove the pop-up using the above steps.
Conclusion
Getting the Message Blocking is active iPhone error shouldn't stop you from sending your text messages. Use the above-mentioned troubleshooting methods to remove this error and continue sending your messages as before.
To eliminate the error and address any other potential issue on your iPhone, we strongly suggest using FoneGeek iOS System Recovery. It's a safe and reliable tool that will fix any problem on your iPhone. So, use it first to fix the error fast.