With the help of a specific iOS feature, iPhone users are offered the opportunity to zoom into things on their screen to make viewing or reading the elements easier. This is a great feature and in fact a helpful one for many iPhone users.
Nonetheless, users may at times face a challenge with the same feature. This occurs when the feature is already enabled in iOS and the user inadvertently enters into the mode just to discover that the iPhone is stuck in zoom mode.
Apparently, an iPhone stuck on zoom in mode will show a screen zoomed way in and becoming unresponsive, making tapping or typing on the screen or exiting zoom mode impossible. This piece is set to unveil the reasons why the problem occurs, the different methods to deal with it, and how to prevent it from reoccurring.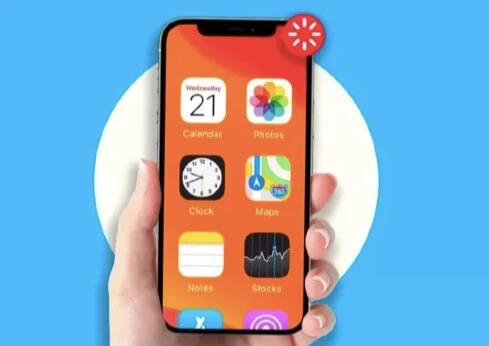 Part 1. Why Is My iPhone Screen Stuck on Zoom in Mood?
As you are curious about knowing how to solve the problem, you need to relax and know what is responsible for it in the first place. There are several reasons your iPhone screen can't leave the zoom mode. Some of these reasons include:
Zoom Mode is Enabled
If you see zoomed icons on your iPhone, what it means is that the feature ( zoom mode) has been enabled. If it is not disabled, there are chances that your iPhone may be stuck in zoom mode.
Minor Software Problem
Your iPhone is susceptible to becoming stuck in zoom mode if the iPhone's software has a minor problem. This minor problem may be because there is an alteration in one of the core files.
System Software Issues
Issues with your iPhone's OS can affect how screen responds when you zoom it in. When you discover that something has gone wrong with the system software, the wise step to take is to fix it on time before it begins to cause other problems on your iPhone.
Part 2. How do I Get My iPhone out of Zoom Mode?
There are logical steps to take to deal with iPhone stuck on zoom in mode. That your iPhone fails to respond when you try to tap on the screen or type does not mean that it has been damaged completely without solutions. If you seek available solutions, you're in the right place. The following are ways to get your iPhone out of zoom mode:
2.1 Use Three-finger Double-tap to Disable Zoom
This is a very easy method. What you need to do is to place the iPhone on a table or hold it in your other hand. Then double-tap the screen quickly with three fingers to disable zoom. This may fail sometimes, but you need to keep on trying until you see your iPhone turn off. However, if nothing happens, you can also use your PC or Mac.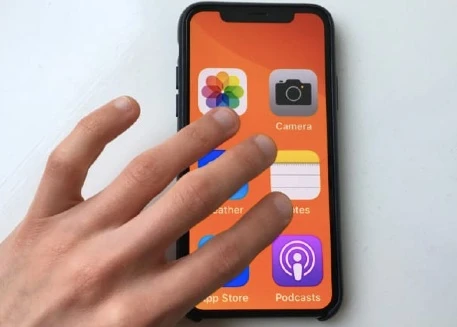 2.2 Force Restart Your iPhone
Restarting your iPhone with force is the simplest and easiest method of dealing with an iPhone stuck on zoom in mode. All this method requires is to turn it off then power it on again.
You can do this by pressing and holding down the Sleep/Wake button till the slide appears, then you can drag it to power off the iPhone. Repeat the same process to turn it on again.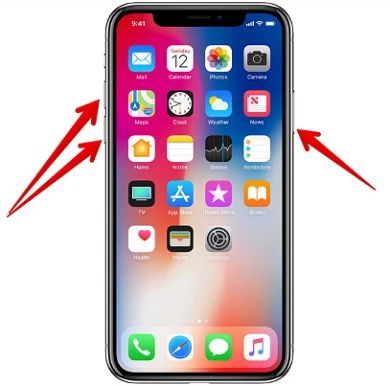 2.3 Disable Zoom Using iTunes or Finder
If you still have a challenge with zooming out after attempting the two methods above, you may want to try the use of Finder or iTunes app to turn off zoom mode. The iTunes or Finder app has an option that is useful in disabling the zoom mode feature on your iPhone from your PC.
Find below the detailed steps to disable the zoom mode using iTunes or Finder:
Launch the iTunes app or the Finder app on your PC.
Use an USB cable to connect your iPhone to PC.
Ensure you are in the General tab. Click on "Configure Accessibility" to change the accessibility option of your Phone.
Untick the box for Zoom and click on "OK".
Then the problem should be fixed.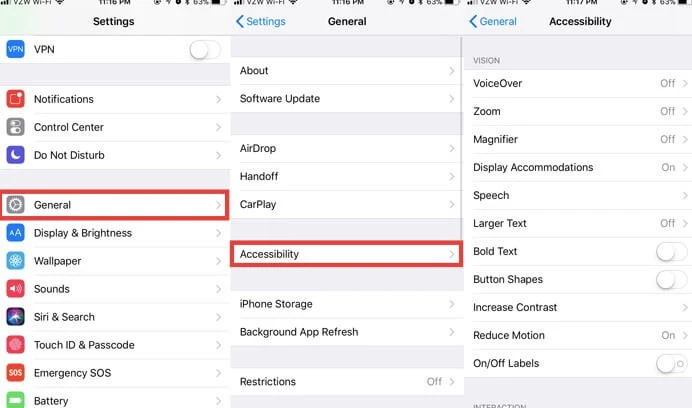 2.4 Reset All Settings
Resetting all setting happens to be one of the last options for fixing the problem. However you may lose your files if not backed up. So, before going on with the procedure, you are advised to back up your files first.
Find the detailed steps below to disable the zoom mode by resetting all setting:
Click on the General tab in the iPhone Settings.
Click on the Reset button.
Then click on" Erase all content and settings".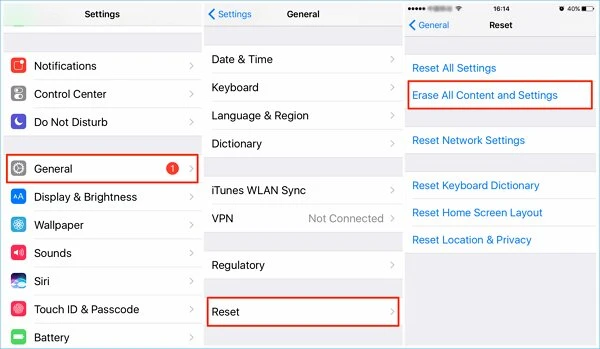 2.5. Fix iPhone Stuck on Zoom When Facing System Errors
The ultimate solution to fix the issue of the iPhone stuck on zoom in mode In 3 minutes is through FoneGeek iOS System Recovery. FoneGeek iOS System Recovery can be of immense assistance to repairing your iPhone when facing system errors and bringing it back to its functioning state.
Find below the detailed steps to fix iPhone stuck on zoom in mode by using FoneGeek:
Step 1. Connect your iPhone to your PC and choose the Standard mode.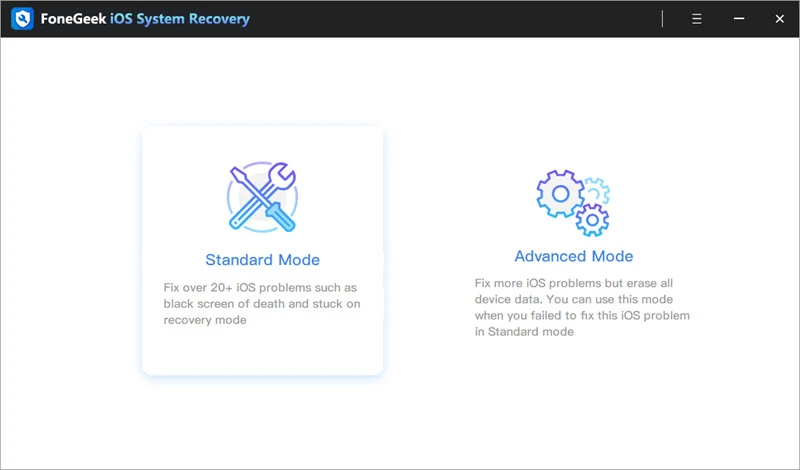 Step 2. Click on" Start". Press and hold down on the Sleep/Wake and Home button ( 8-10 seconds) to put the iPhone on DFU mode. Continue to hold the Home button ( for 5 minutes) after releasing the Sleep/Wake button.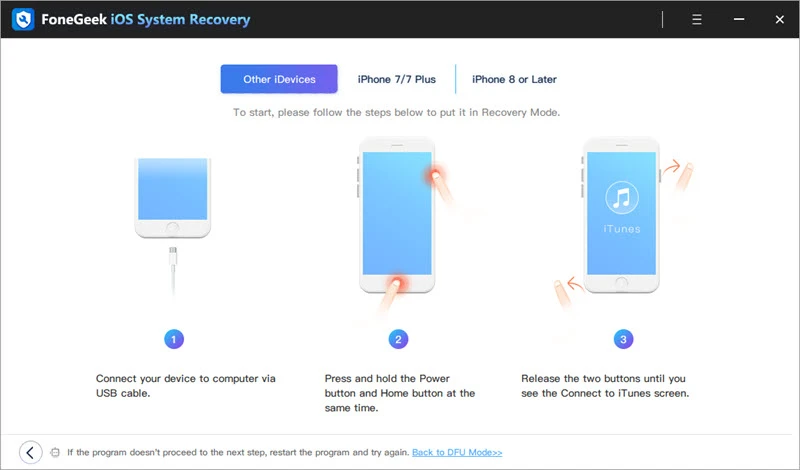 Put your iPhone in Recovery mode if it does not enter DFU.
Step 3. Download and install firmware on your iPhone. The program should automatically detect your iPhone but if it does not, download it manually.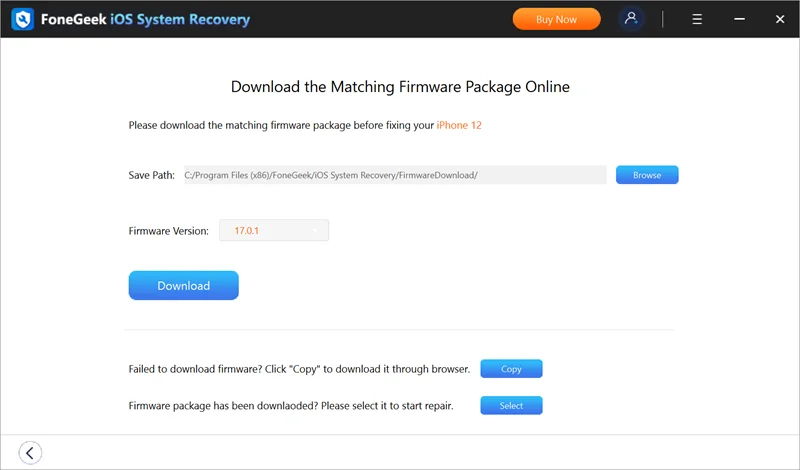 Step 4. Click on "Start" after the download is complete to fix the problem. Retry if your iPhone is still stuck on zoom mode.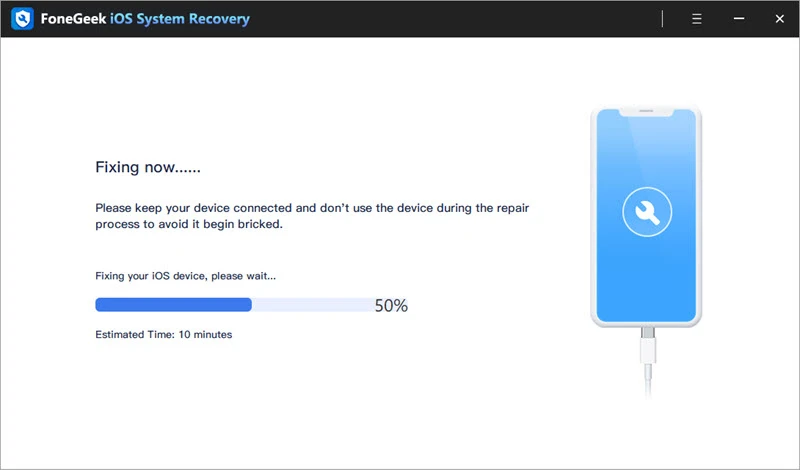 Part 3. Prevent iPhone/iPad from Being Stuck in Zoom Mode
To avoid the stress of looking for ways to fix the iPhone stuck on zoom in mode, you may want to take a preventive measure by disabling the zoom mode feature. How can you do this?
Double-tap on the screen with your three fingers to exit zoom mode.
Go to Settings > General > Accessibility.
Choose zoom and go for the OFF position.
Exit Settings and your iPhone's zoom mode should now be disabled.
Conclusion
With all the details provided, you should by now know how to fix your iPhone stuck on zoom mode. Besides, other things you need to bear in mind include what can erupt the problem and how the problem can be prevented. This knowledge will guide you to know the right way to handle your iPhone.

Saturday on May 22, 2021, 19:37:21 GMT / Post By Joan J. Mims to iPhone Issues
Joan J. Mims is interested in researching all tips about iPhone, iPad and Android. He loves to share useful ideas with all users.

Home
>
iPhone Issues
>5 Ways to Fix an iPhone Stuck on Zoom in Mode (Actionable Guide)