User Concern
"My iPad is unresponsive; it is fuzzy and shows a blue screen. Any ideas about the issue and how can I fix it?"
iPad users regularly complain about the iPad blue screen issue and seek practical solutions.
The iPad, with its widescreen, is more convenient than mobile phones for playing games, watching movies, and other functions.
However, on some occasions, the iPad blue screen issue, one of the most typical problems of iPads develops, interfering with your device's operations. Worry not, as this article explains its causes and the best ways to fix this problem.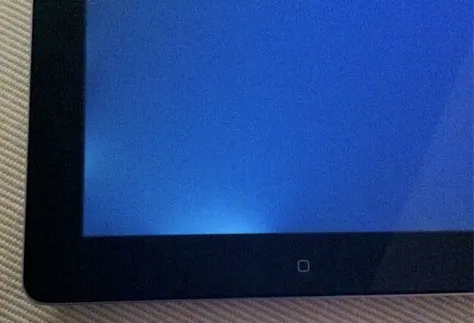 Part 1. Why is My iPad Blue Green and Fuzzy
Sometimes, iPad screen becomes fuzzy, and when it occurs, it could be due to a software glitch or hardware malfunctioning in other cases. Here we collect some of the common reasons for iPad blue screen.
It could be caused by certain apps on your device like FaceTime, Safari, or even the camera. Sometimes, it may be due to some inappropriate apps.
A software update is another cause of iPad blue screen because of associated bugs or errors. Many people have reported this issue after an update, but since iOS 10, Apple has released many updates that have improved the problem.
The problem could also arise from multitasking apps.
Though rare, iPad blue screen issue could be a result of hardware errors.
Part 2. How Do I Fix the Blue Screen on My iPad
Irrespective of how the problem occurred, you need a fast and effective iPad blue screen fix. Learn the best methods of iPad blue screen fix below.
2.1 Perform Hard Reset
A hard reset is a quick fix for iOS and iPadOS glitches, and you will need to perform it when you encounter the iPad screen of death. Follow the steps below for a hard reset.
Find the "Home" button and the "Sleep/Wake" button on your device.
Long press both buttons simultaneously for a while till the Apple Logo appears.
The iPad should restart when you release the buttons, and the iPad blue screen will be fixed.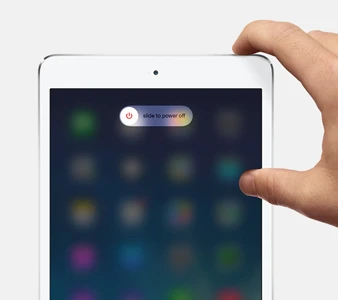 2.2 Fix iPad in DFU Mode
DFU Mode is another method of troubleshooting your iPad when the blue screen error occurs. Check below for a breakdown of the process.
Launch iTunes and connect your iPad to the computer with a USB cable.
Press the "Power" button for 3 seconds and turn off your iPad. Then, press the "Home" and "Power" buttons simultaneously.
Release the "Power" button after 10 seconds, and hold the "Home" button for five additional seconds. Your iPad is on DFU Mode if the screen remains black.
Finally, iTunes should ask you to update or request iPad.


Note
Use the "Volume Down" button in place of the "Home" button for iPad Pro 2018 upwards.
2.3 Fix iPad in Recovery Mode
This iPad blue screen fix method will help recover your iPad from the blue screen of death. The steps for recovery mode are highlighted below.
Turn off your iPad and launch iTunes on your computer.
Long press and hold down the "Home" button, and connect the iPad to the computer with the USB cable.
Release the "Home" button once the message "Connect to iTunes" pops up on your screen. Now, an alert detecting an iPad in recovery mode should be displayed by iTunes.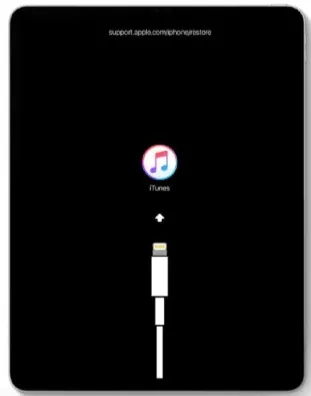 2.4 Fix Blue Screen on iPad without Data Loss
Another excellent solution for iPad blue screen will not result in data loss. This method uses a third-party tool like FoneGeek iOS System Recovery to fix iOS and iPadOS issues and facilitates recovery of iOS device that displays a blue screen.
The advantage of this method is that there will be no loss of data from your iPad, and the steps to follow for this procedure are easy. Check out the steps below.
Step 1. Download and install the software on your computer. Then, launch and open the application.
Click "Standard Mode" from the three options displayed, as this mode does not affect your device's data.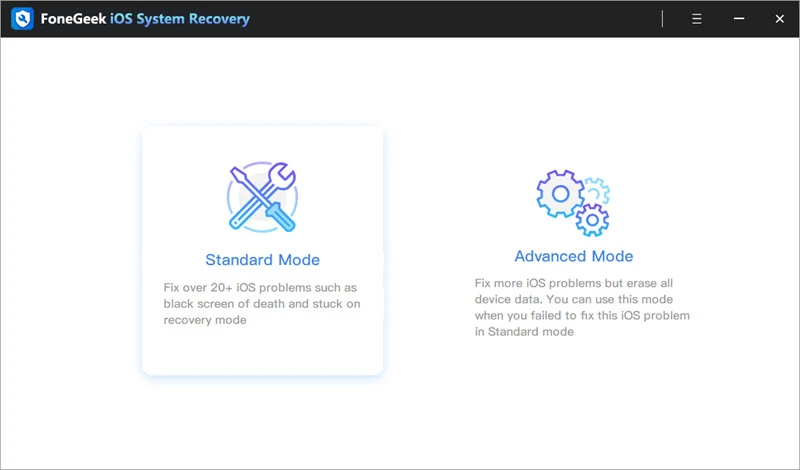 Step 2. Connect your iPad to the computer with a USB cable, and out the iPad in the DFU Mode. Follow the steps in 3.2 to put your iPad in DFU Mode.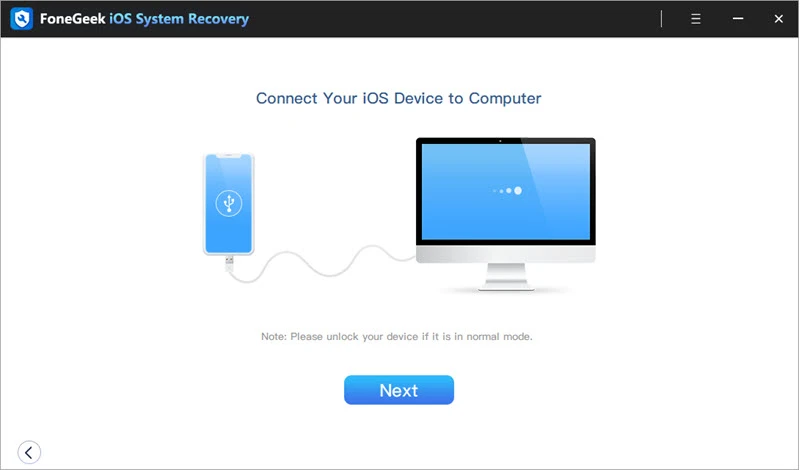 Step 3. Search for the firmware version that is compatible with your iPad on the new window that pops up.
Click download once the search is complete, and the firmware will be downloaded immediately.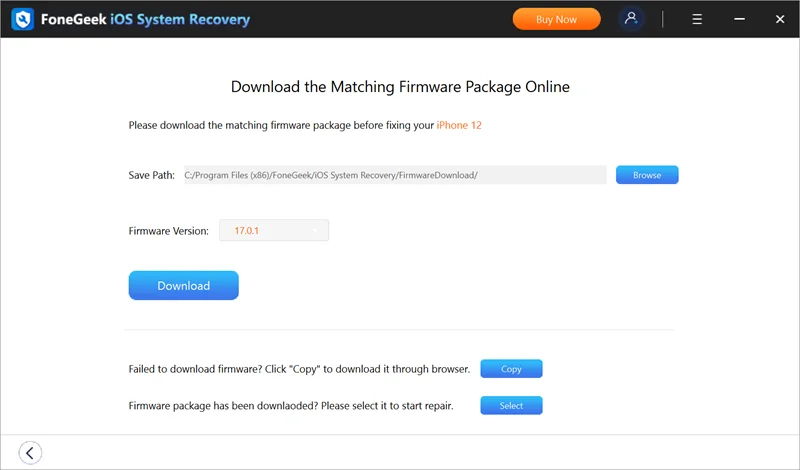 Step 4. Once the download is complete, click "Fix Now" to begin the process of repairing the iPad blue screen, which takes approximately 6 minutes.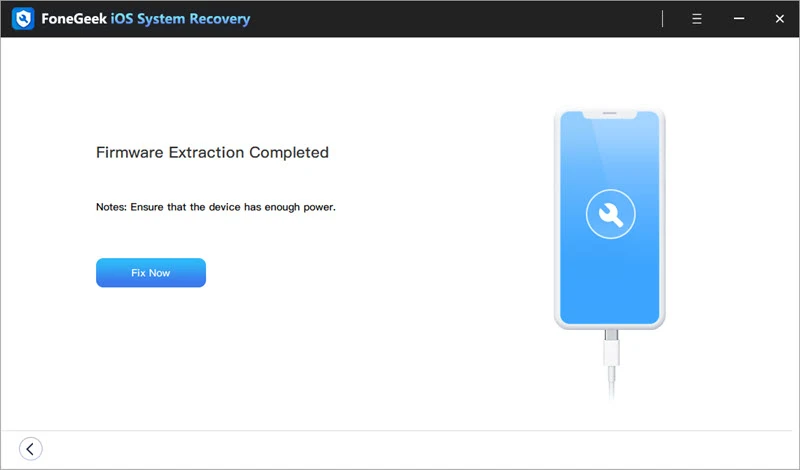 When the process is finished, you will get a notification that iPad blue screen has been fixed.
2.5 Factory Reset iPad
The factory reset method returns the device to factory settings. This process removes all forms of viruses, malware, and errors and erases personal data from the device when fixing the screen of death. Follow the steps below.
Reboot to the home screen and open the settings app.
Navigate to General > Reset > Erase all Contents and Settings
Enter your password to start restoring to factory settings. Once the process is complete, the welcome screen of the iPad is displayed.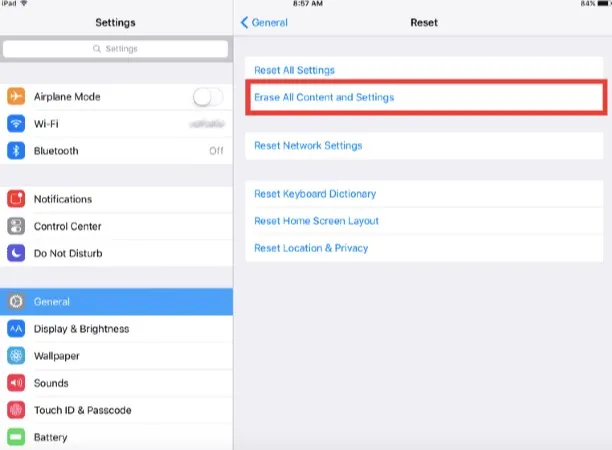 2.6 Turn Off iCloud Sync
Has your device screen turned blue? Just turn off iCloud sync for a quick fix because an error may arise from syncing your iPad's data with iCloud and result in the screen turning blue. Here are the directions to complete the process below.
Go to your device's settings and navigate to iCloud.
Click iCloud backup.
Turn off the iCloud drive toggle button.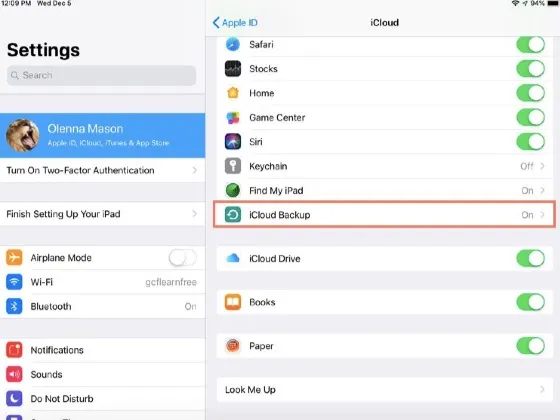 2.7 Have a Hardware Checkup
The iPad blue screen could be caused by hardware issues, especially if other solutions did not fix the problem. If this is the case, it is recommended to send your device to an authorized Apple service center for repairs. You will be provided with expert advice on your best options.
Conclusion
Now you see that the iPad blue screen error is easily fixable. So, whenever you run into this problem, use the iPad blue screen fix techniques in this post.

Sunday on Sep 12, 2021, 17:03:49 GMT / Post By Joan J. Mims to iPhone Issues
Joan J. Mims is interested in researching all tips about iPhone, iPad and Android. He loves to share useful ideas with all users.

Home
>
iPhone Issues
>[2021] 7 Ways to Fix iPad Blue Screen Issue