The issue of Instagram crashing every time you try to use it on your iPhone can be really annoying. It can crash immediately after you open it or after a few minutes of browsing through it. This frequent crushing can ruin your experience if you use the platform regularly - you won't see your feed or enjoy the different features the app offers. It's indeed frustrating, but are there ways to resolve this issue? Yes, there are 11 effective ways to deal with this Instagram keeps crashing on iPhone issue, and we're going to outline them in this post. But first, let's understand what causes this problem.
Why Does the Instagram App Keep Crashing on iPhone?
The reason why your Instagram keeps crashing on iPhone is because the version of the app itself is outdated or it has some bugs. Or maybe it's your iOS version that's outdated or incompatible with the app.
Some other factors like Instagram server issues, lack of memory or insufficient storage on your iPhone, and poor internet connectivity can also cause this Instagram app keeps crashing iPhone issue. It's generally hard to single out one exact cause. Nevertheless, fixing this issue is easy. Here are 11 effective methods you can try.
1. Check Your Internet Connection
What you should first do before anything else is ensure your internet connection is strong and stable. Instagram can fail to load and even stop working properly when the Wi-Fi connection is poor or if you depend only on your mobile data.
So, try to search for something on Google or play some videos on YouTube to check if the internet connection is strong. If it's weak, try using another network or simply wait until it becomes stronger and stable before you try running the Instagram app again.
2. Turn Airplane Mode On & Off
Turning on Airplane mode and then turning it off again after a few seconds is a simple step that often solves all sorts of iPhone issues. Once the Airplane mode is activated, your iPhone will disconnect from all network connections and reconnect afresh when you turn off the mode. This simple process could possibly fix the Instagram issue. Just open the Control Center and tap the small plane icon to enable/disable it.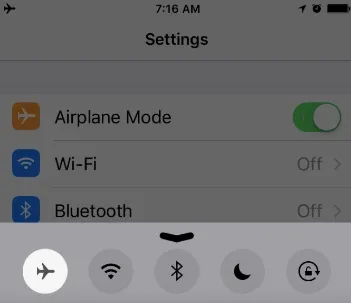 3. Check Instagram Server Status
Sometimes, Instagram faces outages. So, maybe it's also facing downtime now. You can check on Twitter, Facebook, or some other social media platform to confirm this. You can also visit Downdetector to see if Instagram is down. If the Instagram servers are working fine, try these other methods to fix the issue.
4. Force Quit the Instagram App
Apps like Instagram might have temporary glitches that cause them to crash. They can also just crash if they've been running in the background throughout. In such cases, force quitting the app and restarting it can remove these errors and allow it to run smoothly. Follow these steps to force quit your Instagram app.
If the iPhone has a Home button: Double-tap the Home button to access the App Switcher. Find the Instagram app and swipe up on it to close it.
If it's an iPhone with Face ID: To launch the App Switcher, swipe up the screen from the bottom and hold at the center. Find the Instagram app and swipe up on it to close it.
Now that you have quit Instagram, restart the app to check if it works smoothly. Consider also closing other apps that are running in the background - this will help enhance the overall performance of your iPhone if it's lagging or experiencing crashes.
5. Restart Your iPhone
Another way of getting rid of temporary glitches is simply restarting your iPhone. Doing this will refresh your iPhone and remove any errors causing Instagram to crash often. To do that:
Step 1: Start by powering off the phone
For iPhone X and above – long-press both the Volume Down and Side buttons.
For iPhone SE (2nd & 3rd gen), 7, and 8 series – long-press just the Side button.
For iPhone SE (1st gen), 5s, 5c, & 5 - long-press the Power button (it's at the top).
Step 2: A power slider should appear - drag it to the right to shut down the device.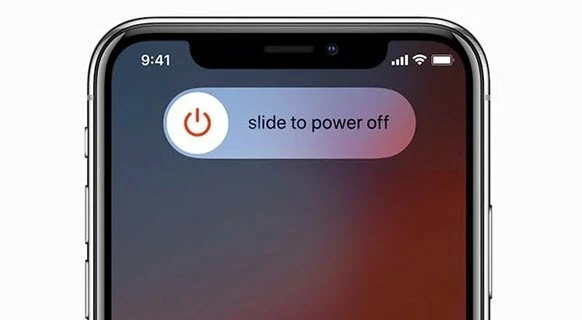 Step 3: Now, power up the device – long press the Power button.
If the Instagram app keeps crashing iPhone issue persists after the phone restarts, check the next solution.
6. Check Your iPhone Storage
Have you downloaded any large files or taken a lot of photos recently? You may have exhausted your iPhone's storage space, and that's probably why your Instagram keeps crashing. You have to create sufficient space to allow the app to function properly. Follow these steps:
Open Settings. Tap on General and get to the iPhone Storage tab.
Tap every app to see how much space they've used up.
Now, tap Offload App to delete any unnecessary apps so that you can free up some space.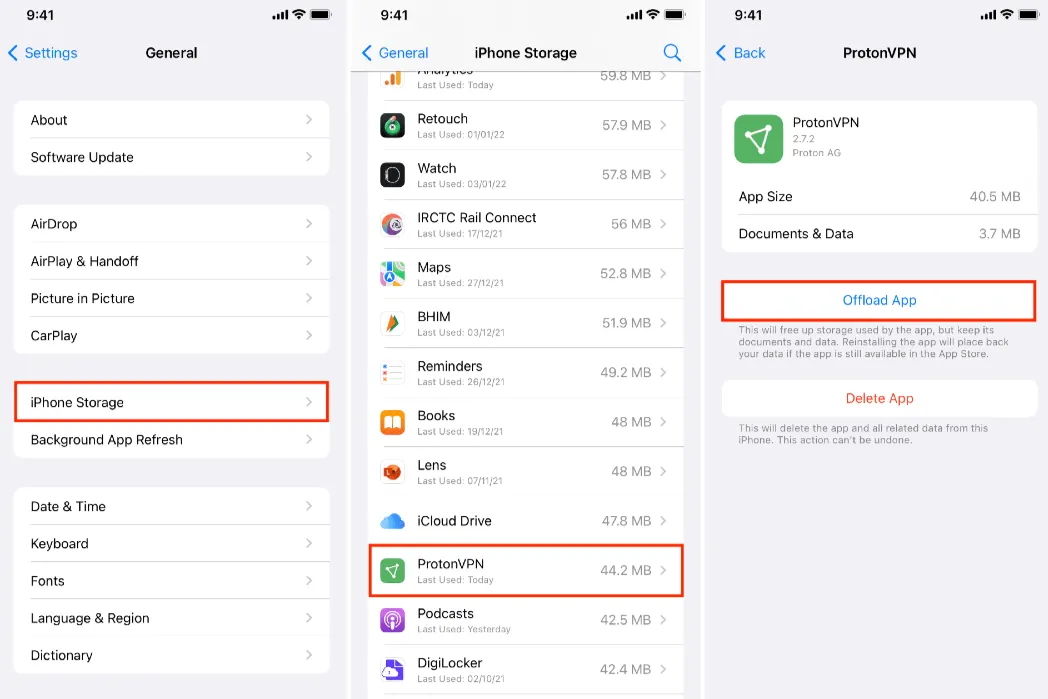 7. Update the Instagram App
The version of Instagram you're using may be outdated and not compatible with your iPhone anymore; that's why you're experiencing the Instagram app keeps crashing iPhone issue. You can update the app to the latest version to fix this issue:
Launch the App Store. Get to your profile to access the apps list.
Navigate down the list to the Instagram app.
If there's any pending update, download it.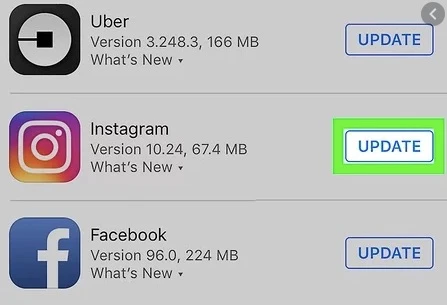 After the new update is installed, check if the crashing issue is fixed.
8. Update Your iPhone
Your iPhone's iOS has to also be up to date so that it's compatible with the latest Instagram app to avoid crashing issues like this. To update it:
Open the Settings app. Tap on General and go to Software Update.
If any pending update shows up, Download and Install it.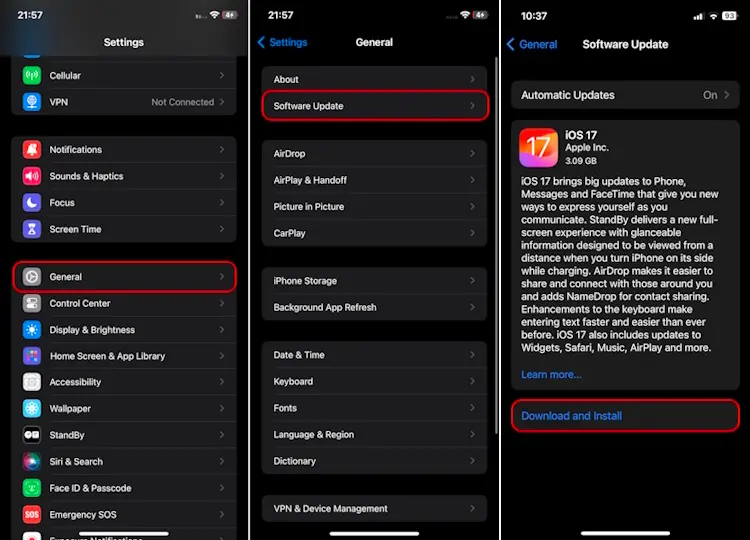 These updates are usually released regularly by Apple and contain bug fixes and other improvements that could allow apps on your iPhone, like Instagram, to run smoothly.
9. Grant Instagram All Necessary Permissions
Some apps, especially social media apps like Instagram, require certain permissions to access necessary data for them to function properly or execute actions. Without these permissions, they can malfunction and crash. So, ensure your Instagram app is granted access to your iPhone's features:
Open Settings and navigate down to view all the apps installed on your iPhone.
Find Instagram and tap on it. Now, enable/allow all permissions the app needs.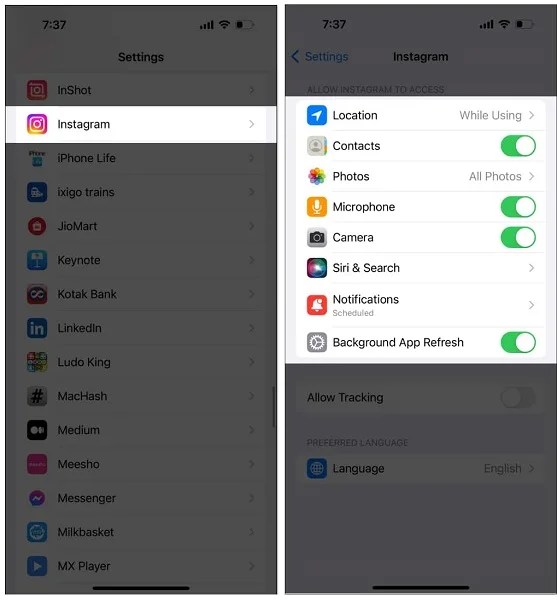 10. Fix Instagram Keeps Crashing on iPhone with FoneGeek
With FoneGeek iOS System Recovery, you can solve nearly all kinds of issues that may show up on iPhone, iPad, or iPod Touch. This comprehensive iOS system repair tool offers various solutions for fixing both complex and common iOS issues. It's able to fix app crashes, iOS system errors/glitches, screen freezing, and so on.
What makes FoneGeek iOS System Recovery even more valuable is that it has multiple repair modes for tackling specific problems. For instance, you can use the Standard Mode to fix this Instagram keeps crashing on iPhone issue completely if it was triggered by upgrading to the iOS 17 or by any other system issue. It's definitely an ideal tool for novice and experienced users, especially considering that the interface is also simple to navigate.
How to solve Instagram keeps crashing on iPhone issue without data loss:
Start by downloading FoneGeek iOS System Recovery. Install it on your PC and run it. Take your iPhone and use a USB cable to connect it to your PC.
Next, click the Standard Mode option. Follow the on-screen instructions to put the iPhone into Recovery or DFU mode.

Check your device details. If they are correct, Download the firmware package for it - download the one suggested by FoneGeek.

With the firmware downloaded, go to the Fix Now button and click it to begin repairing your iPhone.

Let the iPhone restart after it finishes the repair process, and then confirm if the Instagram app issue is fixed.
11. Contact Instagram Support
The final step you can take when the above solutions don't work is to seek help from the Instagram support team. It's easy to contact them as you can do it right from the app itself. Just follow these steps:
Go to the Instagram app and tap the Profile icon (at the bottom). Now, find the hamburger menu (top right corner) and tap on it.
Next, tap the Settings and Privacy option. Go down to the Help option and tap it. Tap on Report a problem.
Here, you can shake your phone to launch a pop-up where you can report the problem. Alternatively, you can do this manually by choosing Report Problem without Shaking.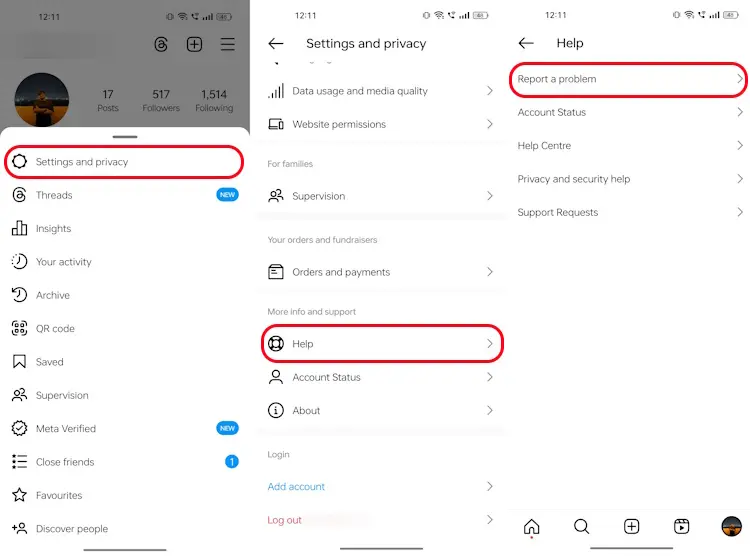 Once you report the problem, it may take a while before Instagram responds. That's why we've put this step towards the end. It's a time-consuming process, but if all other methods can't fix the Instagram crashing problem you're experiencing, it's your only last option.
Conclusion
When Instagram keeps crashing on iPhone, you can't enjoy using the app. Fortunately, with the 11 solutions we've given above, you'll be able to solve this issue and get your Instagram back to normal. Of course, the best way to completely get rid of this problem and any other issue your iPhone has is to use the FoneGeek iOS System Recovery tool. It will fix the Instagram crashing issue with a 100% success rate and save you time, as you won't need to go through all the other methods. So, try it first.