A blurry or blue square box can suddenly appear on iPhone screen and when you try to remove it, it doesn't go away. This box can be annoying as it affects user experience - making operating the phone become challenging.
So, what causes it? How do you get rid of it? Well, in this post, we'll tell you why this blue boxes on iPhone problem happens and after that, we'll show you how to resolve it using 12 effective methods. Join in!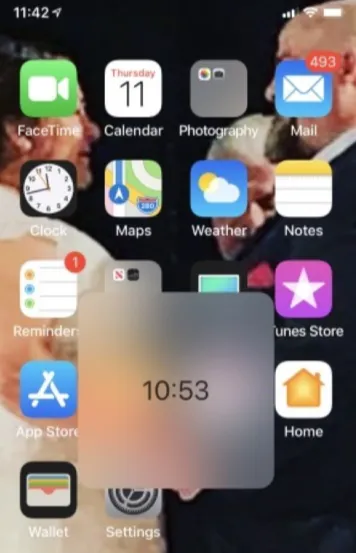 Why Is There a Blue Box Appearing on My iPhone Screen?
It's common to see an iPhone stuck on colored screens or lines. Below are the most likely reasons why a light blue square may appear on your iPhone.
Accessibility feature is turned on – You may get a blue box on iPhone screen if you have the Switch Control of Accessibility enabled on the device.
Bugs on iOS software – iOS bugs may also trigger or cause blue squares to appear on the screen.
Firmware issues – System issues within your iPhone, like firmware file corrupt, can cause the iPhone to get stuck on the light blue square – even when Switch Control is off.
These are just some of the common causes of the transparent box on iPhone screen. Below are various practical ways you can fix them and get rid of this annoying box.
Basic Methods to Remove Blue Boxes on iPhone Screen
The following are various basic troubleshooting steps you can use to remove blue boxes on iPhone. Give them a try.
#1. Restart the iPhone
An easy method you can try to solve this iPhone small square on screen issue is restarting your iPhone. It often works, so just follow the steps below based on your iPhone model.
To restart iPhone 14/13/12/11/X:
Start by long-pressing the Power/Side button together with the Volume Down button.
Shut down the device by dragging the slider that appears to the right.
Now, long-press the Side button to switch on the device after about 30 seconds.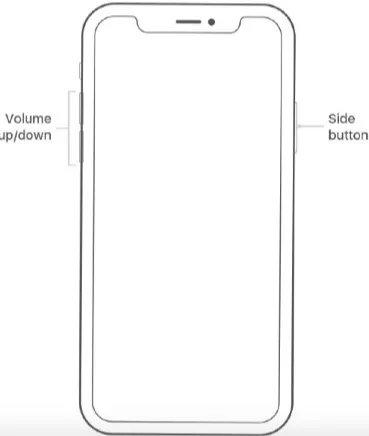 To restart iPhone 7 model, or SE (2nd and 3rd gen):
Long press the device's Side button to get to the power off slider.
Shut down it by dragging the slider to the opposite end.
Wait 30 seconds and then Power up the device by long-pressing the Power button.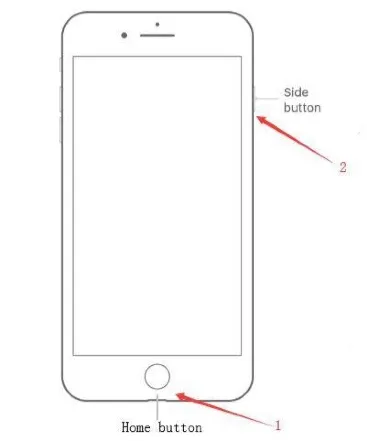 To restart iPhone 6 and older models:
Open the power off slider by long-pressing the Top button.
Drag the slider to the other end and allow the iPhone to go off.
After 30 seconds, long-press the Side button until it boots up.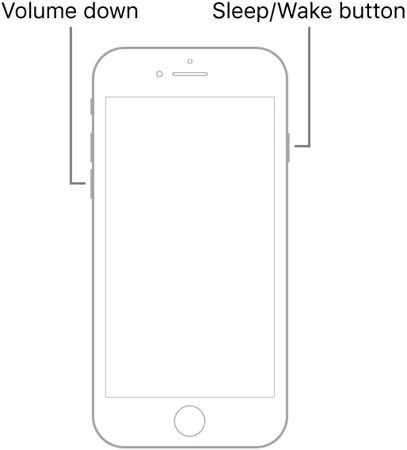 The annoying iPhone small square on screen issue should now go away after your phone restarts. If it doesn't, this next solution might work.
Try the 3-Finger Tap
Performing the 3-finger tap is another simple method you can use to remove blue squares on iPhone. How do you do it? Just tap the Home screen of the iPhone twice with your three fingers. If nothing happens, tap the screen again, but do it faster this time with your fingers slightly separated – not too close together.
Now, check your device to confirm if the transparent box on iPhone screen has disappeared.
Disable the Zoom Feature
When the blue square box appears on your iPhone screen and you tap it, it may display the full-screen and zoom out options. This means you've turned on the Zoom Accessibility feature without knowing and as such, it may lead to your iPhone screen to get stuck in zoomed in mode. If so, you can solve it easily by disabling the Zoom feature – which should get rid of that blue box on iPhone screen. To do so:
Get to Settings. Open the General tab and go to Accessibility.
Select the Zoom option and disable it – tap the toggle before it.
If the toggle it green, it should turn grey to show that the Zoom feature is off.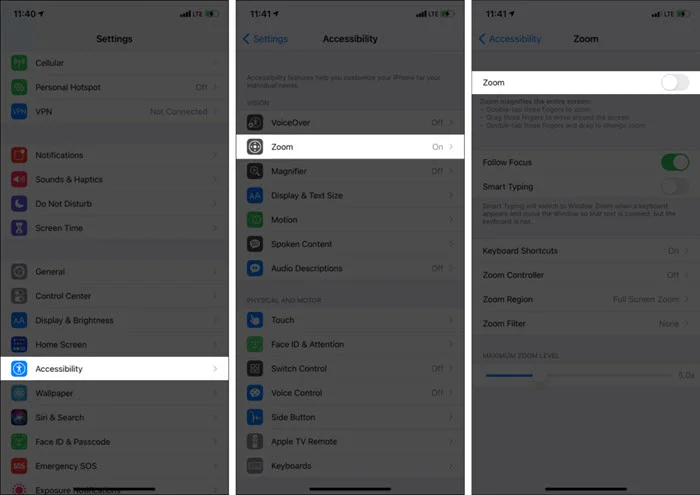 Zoom Out the Blue Box
If you see the blue square box and your iPhone screen is zoomed in too, the cause behind it is the Zoom feature. The Zoom feature is a useful tool that aids those with visual impairments. However, your iPhone screen can get stuck on zoomed-in with the blue square box tucked into a tiny section of the screen. If that's the case, here's how to remove the box.
Go to the small blue box on iPhone screen and tap it.
You'll see a Zoom level slider/magnifying glass line - tap on it.
Now, select Zoom Out.
Disable Switch Control
Accessibility features like Switch Control are aimed at enhancing users' experience so that they can use their iPhone optimally. It lets users select, press, drag, and even drop actions or perform other functions on their iPhones using simple commands such as open mouth and shaking head - users don't need to use both hands at all.
The transparent box on iPhone screen, on the other hand, allows users to access certain features on their iPhone more precisely. So, in short, Switch Control is a very convenient feature if you don't like using your hands to control your iPhone. But, if you turn it off, the transparent square box will go away too. To do that:
Launch Settings and get to the Accessibility tab.
Open Switch Control and disable it – tap the toggle off.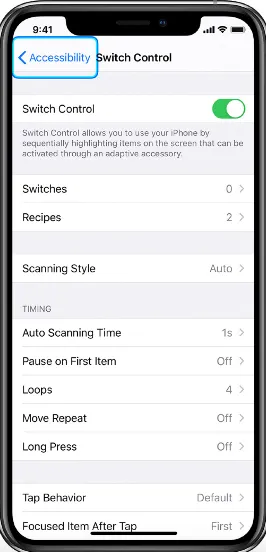 Turn Off Larger Accessibility Size Feature
You may also be able to remove the blue squares on iPhone by simply turning off the Larger Accessibility Size feature. Follow these steps:
Go to Settings. Select Accessibility.
Open the Display and Text Size tab.
Go to the Larger Text option. If it's turned on, turn it off by tapping the switch that's before the Larger Accessibility Sizes option.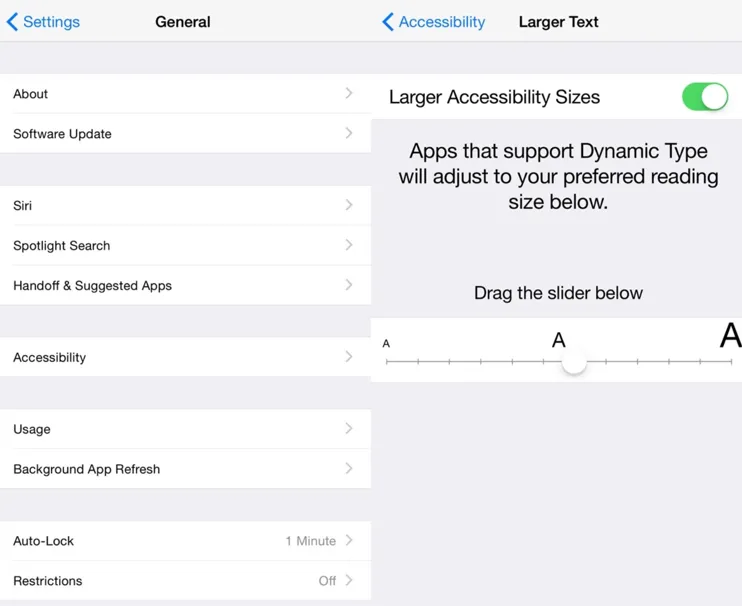 Adjust the Brightness
Sometimes you may get a blurry square box because of some changes you made to your iPhone display settings. If so, adjusting the features under the display settings menu can help resolve this issue. Here's what you should do:
Head to Settings. Open the Display & Brightness tab.
Turn on Dark Mode if the phone is on Light Mode, or vice versa.
Go to the Brightness option and increase it by dragging its slider to the right.
Close the page when done and check your phone's screen to see if the box has gone.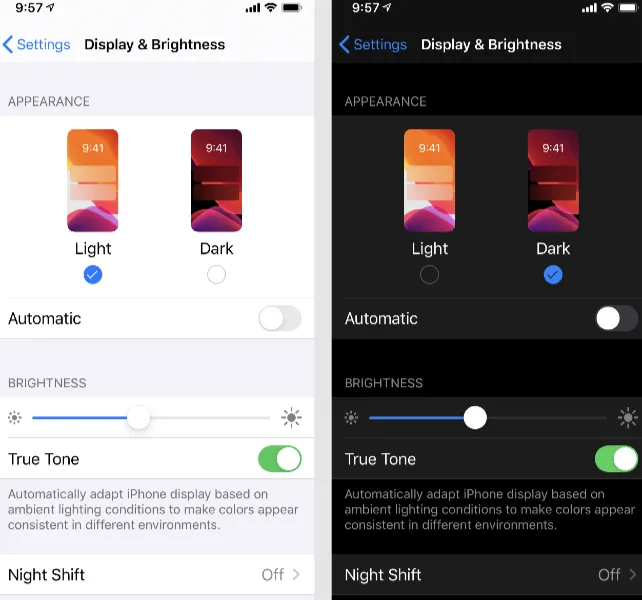 Advanced Methods for Removing Blue Boxes on iPhone
If the basic solutions don't solve the iPhone small square on screen issue, the 3 advanced methods given here will fix it. Let's go through them.
Remove the Box Using iTunes
iTunes can help you get rid of the transparent box on iPhone screen – with a 50% success rate. Here's how to use it to remove the box:
First, get a computer and connect your iPhone to it - using a USB cable
When the device connects to the PC, you'll see iTunes launch automatically. Go to your iPhone's icon at the top of iTunes and click on it to open the iPhone.
Under your iPhone section, select the Summary option and then click on Configure Accessibility under Options (right side).
Under Accessibility, click on Zoom and unselect the Zoom option. Click OK to finish.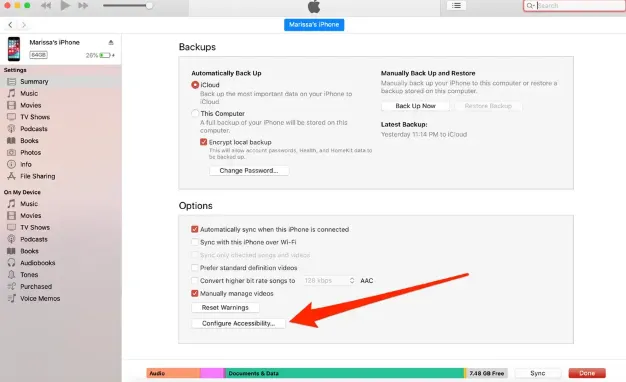 With the Zoom mode now disabled, you won't see the blue box on iPhone screen anymore.
Update the iOS Version
The operating system of your iPhone is crucial to its performance. That's why Apple usually releases iOS updates regularly. You have to install these updates to continue performing at its best, otherwise, it's likely to malfunction and result in blurry squares appearing on the screen and various other issues.
Therefore, to fix this blue squares on iPhone issue, update your iOS by following these steps:
Launch Settings. Get to the General tab.
Tap Software Update. If you a have data connection, the latest iOS update will appear.
Now, go to the Download and Install button and click it to get the update.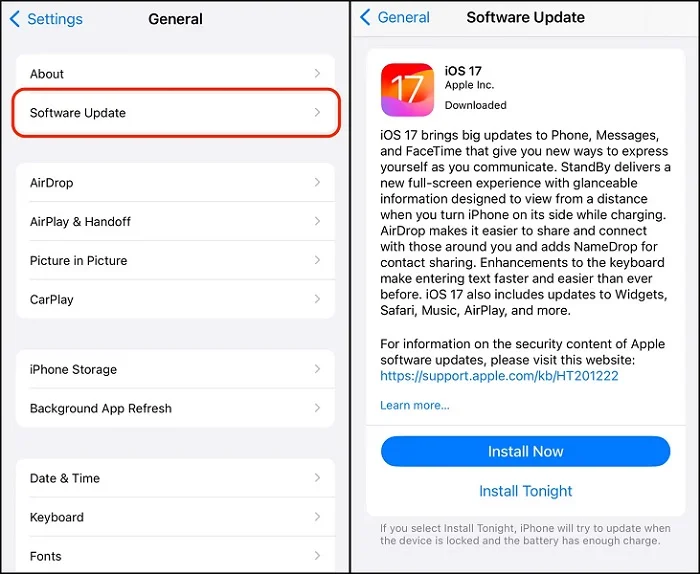 Allow your iPhone to download the update and automatically shut down to install it. Once the installation is done, check the screen for any blurry square box – it should have disappeared.
Remove Blue Boxes on iPhone without Data Loss – 100% Success Rate
The iPhone small square on screen issue should now be gone if you tried the solutions we've given above. Not many users have the time to try all of them, though. If you're in this category, find the easiest solution will be much more convenient for you, and there's no better option than using a professional software such as FoneGeek iOS System Recovery.
It offers standard and advanced modes for fixing any type of issue, even this one.
The interface is easy for all, so anyone can repair their device within minutes.
The tool is fully compatible with all iOS devices and iOS versions.
Top online sites like GetDroidTips, Pakainfo, Mobile Mall recommend it.
Steps to remove blue squares on iPhone through FoneGeek iOS System Recovery – using the standard mode:
Install FoneGeek iOS System Recovery on your PC and then open it. Go to the Standard Mode option and click on it.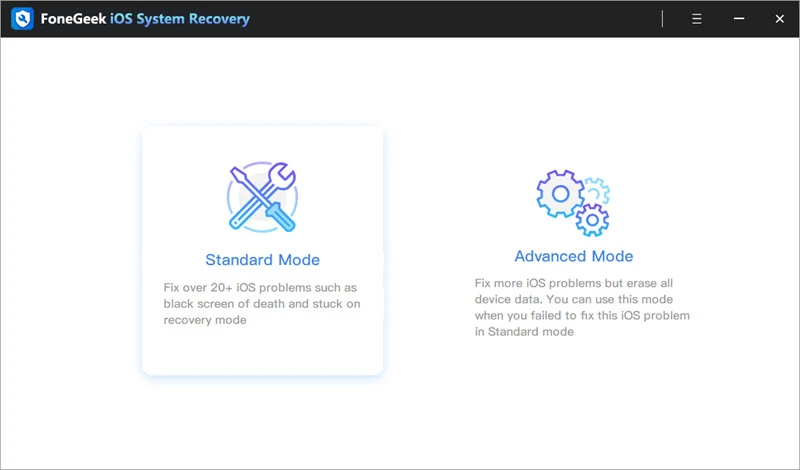 Get your device and connect it to the same PC. Hit Next. FoneGeek will identify the device. If it doesn't, run the device in Recovery/DFU mode by following the given instructions.
FoneGeek will now detect the model of the device and display the firmware versions for it. Choose the right version and download it by clicking Download.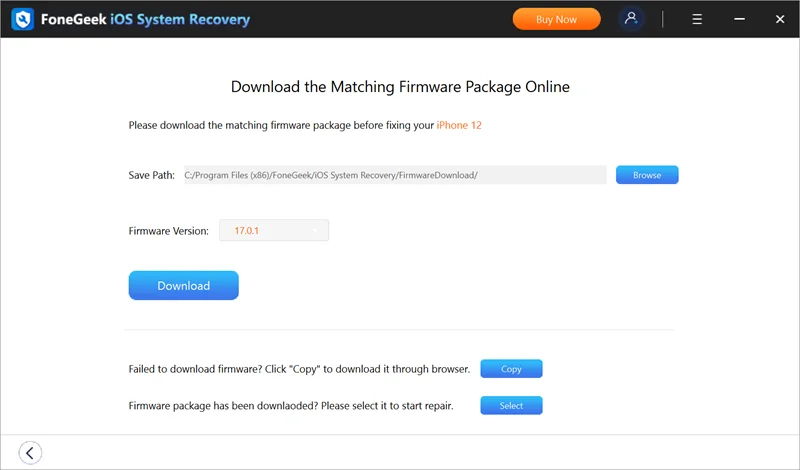 Once the firmware is verified, hit the Fix Now button. Let the repair process run until FoneGeek iOS System Recovery is done fixing the blue box issue – keep the phone connected throughout.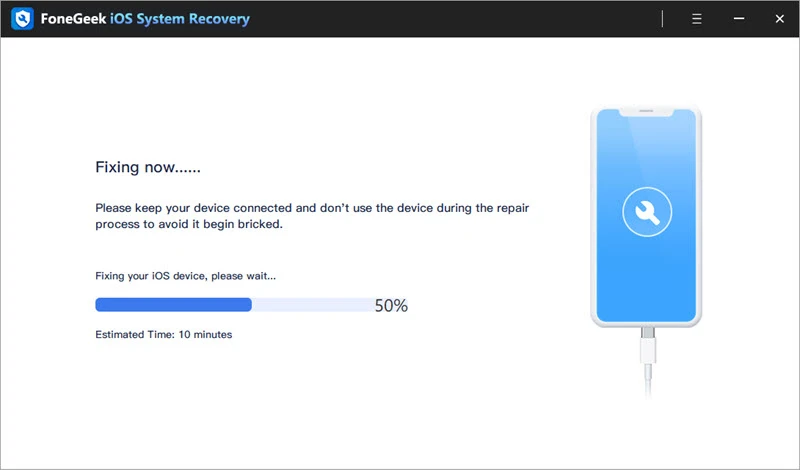 Conclusion
You can put an end to this frustrating blue box on iPhone issue by using the solutions we've given above. Start with the basic solutions. If none of it works, try the advanced solutions - we strongly recommend FoneGeek iOS System Recovery, especially if you need a quick and easiest solution to this problem. It fixes all issues affecting iOS devices, with a 100% success rate and no data loss at all.