If you are a fan of Apple products, then you would understand that the iOS system sometimes misbehaves. This may occur in different ways including a black screen, a white screen, an activation error, an iTunes error, or even a starting amongst others. Truth be told, despite iOS devices being quite expensive, these errors do occur and can be quite frustrating. But the good news is that they are quite easy to solve.
iMyFone Fixppo is one of the most helpful software you can have on your phone. This is because this program can help you fix most of the issues your phone might have. And the program has an intuitive interface that is very straightforward. So, whatever the issue might be on your iPhone, you can easily use this software to fix it.
However, the downside of this software is that it takes time to fix some of the minor programs. So, if you are looking for alternatives to iMyFone Fixpoo, then you are in the right place. Here are the top 8 iMyFone Fixppo alternatives.
1. FoneGeek iOS System Recovery
FoneGeek iOS System Recovery is the ideal iMyFone Fixppo alternative because you can use it to fix most of the issues on your iPhone. Moreover, the design of the software is such powerful that you can use it to fix more than 150+ iOS system problems. These issues include iPhone black screen, stuck on boot loop, white Apple logo, won't turn on, stuck in a spinning circle and so much more.
One of the advantages of using this software is that you can also use it to fix almost all iOS system errors without losing any data in 3 simple steps. If for any reason you want to downgrade iOS 15 without jailbreaking the device or iTunes, FoneGeek is the perfect software for the job. FoneGeek iOS System Recovery has two modes to fix almost all iOS issues effectively: Standard Mode and Advanced Mode.
30% OFF Coupon Code: REPACG30
Pros:
Exclusive technology: Almost all iOS issues can be easily fixed with the the 2 repair modes provided by FoneGeek.
One-to-one support: Whenever you have any issues using FoneGeek software, you can contact their support team. They will reply to you in 24 hours.
100% secure and clean: your privacy is FoneGeek's top priority. They guarantee that your device data will be safe while using the software.
Simple to use.
Cons:
The selective scanning process is sometimes time-consuming and tedious.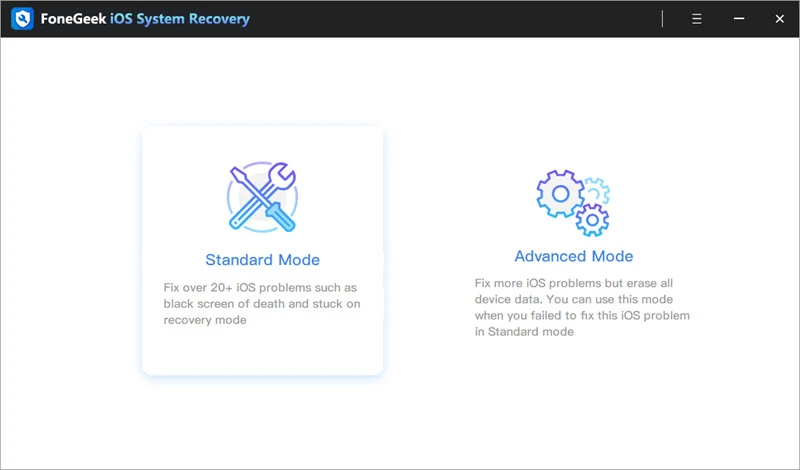 2. Tenorshare Reiboot
Another best and safe alternative to Fixppo is Tenorshare Reiboot. Tenorshare Reiboot helps you deal with most errors such as screen freezing, stuck on the Apple logo, boot problem, update stuck, suck in recovery mode, and so on. Fixing these issues without an software can be quite complex and tricky, especially when the home button is unresponsive.
Tenoshare Reiboot was developed with the purpose to provide iOS users with a reliable yet simple tool for solving iOS problems without compromising their storage data. Tenorshare Reiboot is compatible with iOS 15 system issues. Moreover, Tenorshare incorporated modern features in this software to make it a very useful tool. And it is loaded with tons of smooth features that make it the ideal tool to resolve major issues on iOS devices.
Pros
No lags.
Straightforward features.
Detect minor issues.
Reliable tool to use.
Cons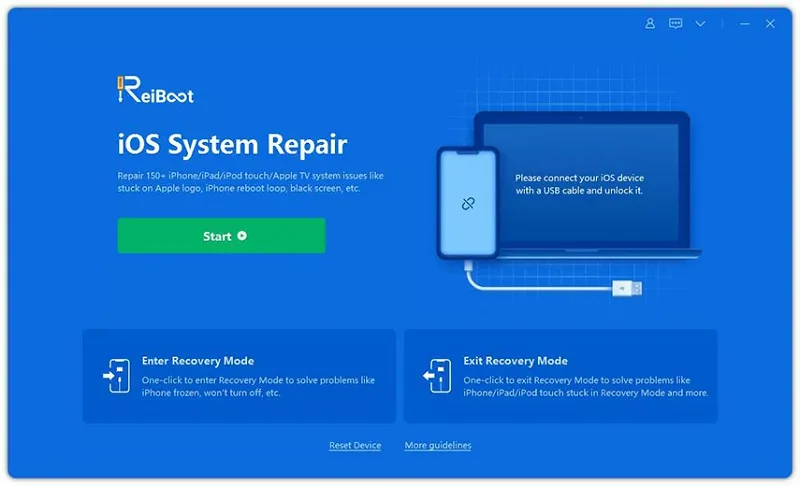 3. TunesKit iOS System Recovery
One of the advantages of the TunesKit iOS System Recovery is that you can use it to quickly fix several common iOS issues without seeking help from Apple technical specialists. So, it doesn't matter whether your iPhone is stuck in recovery mode, white Apple logo, DFU mode, or becomes black, frozen, blue, or disabled screen, this smart iOS repair tool can recover our device back to normal efficiently and easily.
TunesKit iOS System Recovery can be used to fix over 50+ iOS problems without any data loss. As one of the most powerful iOS repair software, this software provides you with 2 different modes, including Advanced and Standard modes to fix complicated as well as the most common iOS errors in a few minutes. Furthermore, this software is fully compatible with all iOS including the latest iOS 15/14.
Pros
Compatible with almost every modern iOS device.
Protects your data from being lost.
Straightforward to use.
You do not need to be experienced to use this software.
Cons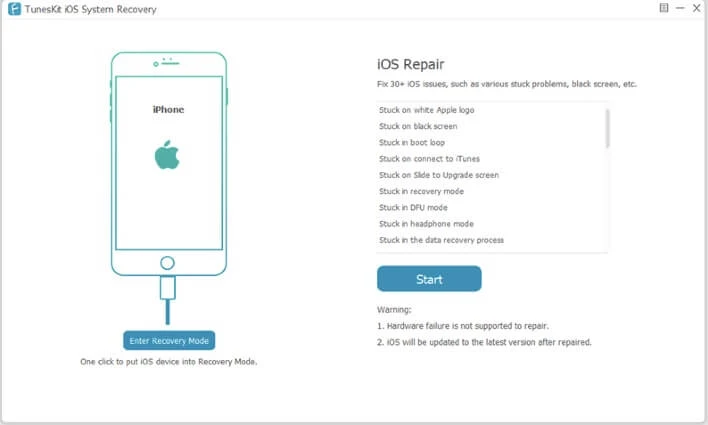 4. Dr.Fone
Dr.Fone is another alternative software you can use in place of the iMyFone Fixppo. Dr.Fone is an all-around software you can use to manage data on your iOS and Android devices. It is an outstanding iOS System Recovery from Wondershare. Dr.Fone is an effective tool you can use to fix most of the issues you may encounter with your iOS device.
Another main advantage of this software is that it is compatible with versions of iOS including iOS 15/14. Additionally, Dr.Fone is available for a reasonable price. Moreover, it comes with a great UI/UX that makes the software easy to understand and use.
Pros
User-friendly software.
Supported by all iOS devices.
Fix most common iTunes errors.
Fix most iOS related issues without data loss.
Cons
Data recovery features may not be able to recover all your files.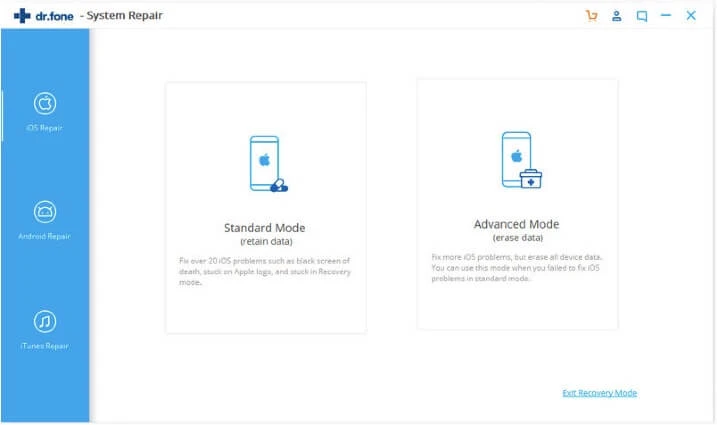 5. FonePaw iOS System Recovery
Another standout software is FonePaw iOS System Recovery with which you can use to fix countless issues on iOS devices. And the best thing about FonePaw is that you can use it to fix issues yourself without any help.
FonePaw iOS System Recovery can be used to fix up to 50+ common problems. These common problems include issues like update error, frozen status, restart continuously, stuck in updating, and iPhone disabled, amongst others. The FonePaw iOS System Recovery comes with 3 repair modes to fix abnormal iPhone errors namely quick fix, standard mode, and advanced mode.
Pros
A simple way to fix and restore iOS issues.
Can be used to restore iPhone without iTunes.
Fix most common iOS system issues.
Cons
Can't be used to enter or exit recovery mode.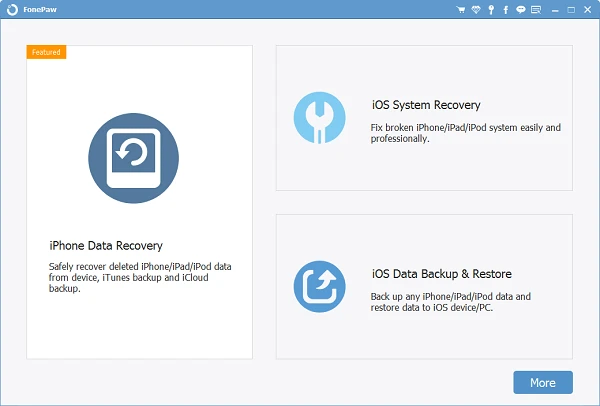 6. PhoneRescue for iOS – iOS System Recovery
PhoneRescue is a user-friendly and hassle-free iOS System Recovery you can use to fix several issues on iOS devices. PhoneRescue has helped several iOS users fix issues on their iPad, iPod touch, or iPhone successfully. It is now one of the best PhoneRescue software in the industry for over 3 years now and counting. You can use this software to fix a wide range of issues including common iTunes errors, repair iOS upgrade failure, stuck in DFU/recovery mode, stuck in boot loop, iOS device keeps restarting, upgrade failure, and white, black or blue screen of death.
Pros
Fully compatible with all models of iOS devices
Ability to recover forgotten encrypted iTunes backup passwords
Can fix most common iOS related problems
100% safe and clean with no risk of data leak
Cons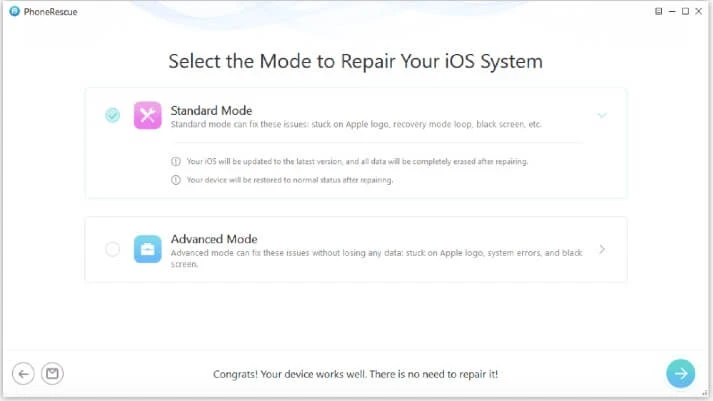 7. Primo iPhone Data Recovery
Lastly, check out the Primo iiPhone Data Recovery, the perfect iMyFone Fixppo alternative. The beauty of this software is that you can use it to recover data even if you don't have iCloud or iTunes backup.
Additionally, Primo iPhone Data Recovery is capable of handling the most common issues with iOS devices including a wide range of iTunes errors with no risk of data loss or info leak. This software is also designed with the facility to choose more than one file type.
Pros
Very user-friendly
Data recovery and scanning speeds are fast
Fix common iOS system problems and iTunes errors
Cons
There is no option to check/uncheck all file types while recovering files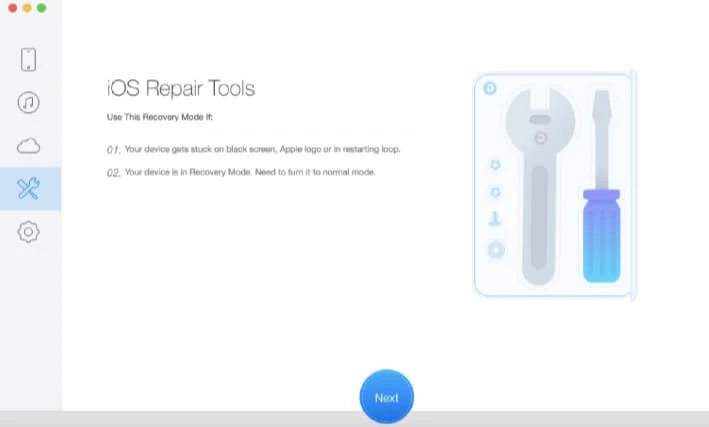 8. FoneLab iOS System Recovery
FoneLab iOS System Recovery is a modern tool specially designed to effectively fix most issues on iOS devices. It doesn't matter whether you had dropped your phone for a long time because it isn't functioning properly, this Fixppo alternative will fix the error for you in no time. It is compatible with all sorts of gadgets including iPod, iPad, iPhone and so on.
All you need to do is download and install the software on your iOS device. Using this software is effortless, as all you need to do is follow the simple steps. So, even if this is your first time using this software you wouldn't find it difficult getting your hands around it.
Pros
Detects issues in no time
Can detect even the most minor issue
Compatible with a wide array of iOS devices
Optimally reliable
Cons
You need to have the right device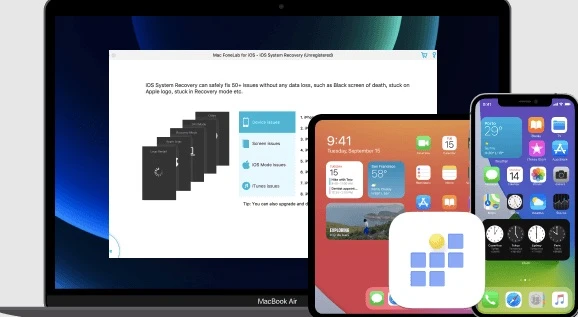 Conclusion
In conclusion, these 8 programs are suitable alternatives to Fixppo. All that you need is to go through the app and choose one that best meets your need perfectly. With this information, you are empowered to choose the best alternative to iMyFone Fixppo.

Tuesday on Jun 29, 2021, 18:17:41 GMT / Post By Edwin J. Parke to iPhone Issues
As a professional writer who is interested in technology, Edwin J. Parke has helped thousands of users by offering various tips to solve their problems.

Home
>
iPhone Issues
>2021 Update: 8 Best Alternatives to iMyFone Fixppo to Fix iOS Issues