If you've activated the FRP Samsung feature, no unauthorized person can wipe your device data and settings if you lose it. However, while this security feature is quite helpful in preventing other people from using your device, it can also become a problem if you can't remember your Google account password, or if you need to give away or sell the device.
That's why, in this post, we will discuss in detail 7 methods you can use to bypass FRP Samsung easily with or without a PC. But before we explore these methods, let's understand what this Samsung FRP feature is all about.
Everything about Factory Reset Protection (FRP) Feature
What is FRP?
Factory Reset Protection, commonly known as FRP, is a default security feature from Google that is placed on Android devices that run on Android Lollipop 5.1 and above. It works as a failsafe in case your device gets lost or stolen. Once you have FRP activated on your device, anyone who wants to factory reset it will need to first log into your Google account using your username and password. That means it's harder for others to wipe the device and use it as theirs.
Generally, when the Factory Reset is done, your device returns to its default settings. All your custom settings, installed apps, valuable files and media get deleted in the process. This is why setting up your Google account as an Android device owner is essential because it automatically activates FRP on your device. As such, if you factory reset the device, you'll first have to sign into your Google account to use or do anything else on the device. If you have several Google accounts, you can sign into them too.
Note that when the factory reset is allowed, you'l have to go to "factory data reset" in settings to perform it. After the factory reset, you won't need to sign into your Google account when setting up the device again.
How Does Samsung FRP Work?
Before factory resetting the Samsung device, you first have to log into your Google account using the exact same details you used when setting up the device. It's the same case if you sold or gave out the device. The new owner won't be able to reset it without logging into your Google account. If you give them the account details to log in, they'll be able to reset the device and even create new login details. Once you do that, change the details right away, especially if you use the same password on other accounts - wait at least 72 hours before deleting the old Google account from your other device to avoid being locked out of the account.
Can You Bypass FRP Samsung Lock?
Yes, you can indeed bypass the FRP lock. While FRP on Samsung devices may be almost foolproof, there are a few reliable methods and tools you can use to do Samsung FRP bypass. A good example is Google Account Manager, which can help you remove the FRP Samsung lock. Another great option is to use a third-party tool, such as FoneGeek Unlocker or Odin to bypass FRP Samsung lock.
You can also use an APK or your SIM to get a password reset link through text. Only Odin is hard to use in all these methods as it takes some technical knowledge to understand it. Read on for in-depth details about the various methods for Samsung FRP bypass.
How to Bypass Samsung FRP without PC
We will discuss here 5 simple methods for doing Samsung FRP bypass without using a computer. They include:
FRP Bypass with Google Account Recovery Options
The Google account recovery options can help you regain access to the Google account that you used when setting up your Samsung device if you can't remember the password. Follow these steps:
Step 1. Factory reset your device to bring up the FRP lock screen. Go to the screen and tap on "Forgot Password?".
Step 2. When the next screen appears, choose the Google account that was synced on your device.
Step 3. Select the recovery option you prefer from the account recovery tab:
Get a verification code – you'll receive the code on the recovery email or phone number you provided when setting up your Google account. Input the code to verify account ownership.
If you set up the 2-step verification and printed out the backup codes, you can input one of those codes.
Answer the question you set up for account recovery.
After recovering your account, the FRP lock will get deactivated and you'll now access your device.
Bypass FRP Samsung using Your SIM PIN Code
It's possible to bypass FRP Samsung without a PC using a SIM PIN code as shown in the steps below – these steps make use of the Samsung S9 as an example.
Power up your Samsung device and get it connected to a strong Wi-Fi.
Head to the Google verification page and tap it. Follow the image below.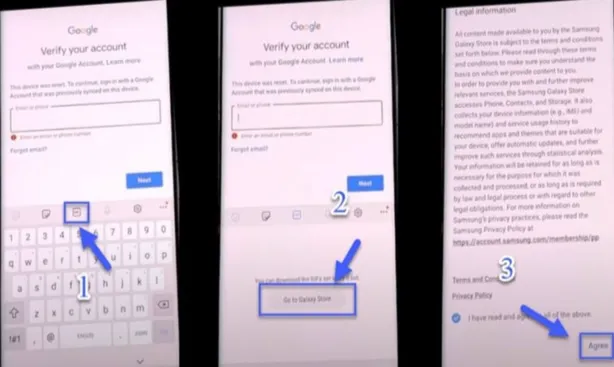 Update Play Store – let it update until it closes automatically.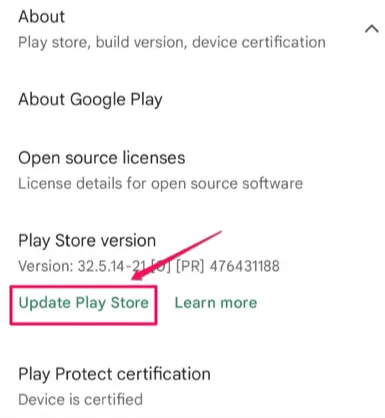 Tap in the search bar and search for Samsung Internet Browser.
Get the browser updated. When the update finishes, launch the browser.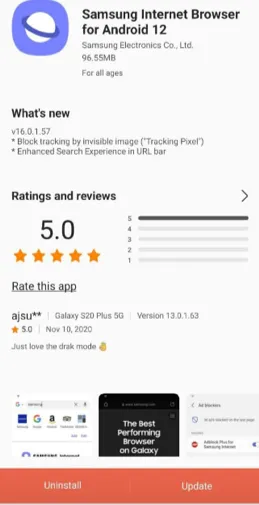 Go to the browser and find an FRP bypass apk like Apex Launcher. Download and install it.
Tap "Settings" and then open the "Biometrics and security" option.
Tap the "Other security settings" option.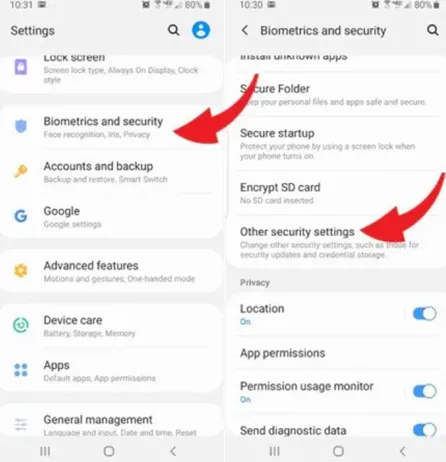 Go to the "Pin Windows" option and tap it. Choose "Use Screen lock type to Unpin".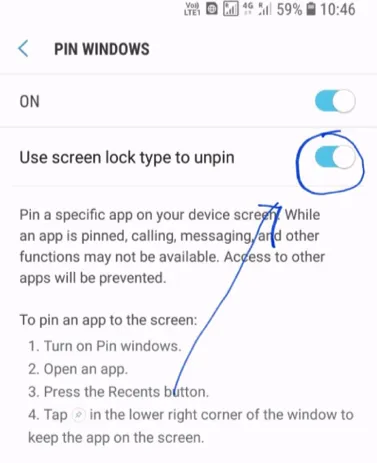 Start the Samsung device as usual again once you set up the PIN code. That's it. Now you won't be required to sign into your Google account.
Samsung FRP Bypass Using Google Voice Typing
If the touch function of your device is unresponsive or the screen is damaged, using the on-screen keyboard to type your Google account credentials can be tricky. In this case, use this method to bypass FRP Samsung lock.
Go to the FRP lock screen and tap the microphone icon to do Google voice typing.
Now clearly speak out the username that you set up for your Google account for the device to type it out automatically.
After the username is typed, speak out the password for the account. Find a private space where you can speak aloud if the password information is very sensitive.
The device will enter the password using voice typing. Once it's done, just tap "Verify" to log in and bypass FRP.
FRP Bypass with Samsung Find My Mobile
Have you enabled the Find My Mobile function on your Samsung Account? If you have, it can help you bypass FRP Samsung lock remotely. Here are the steps:
Go to findmymobile.samsung.com on any browser on a PC.
Log into your Samsung account.
Select your locked Samsung device and tap the "Unlock" option.
Or simply tap the "Factory reset" option to perform a factory reset remotely.
Whatever option you select in this method, you'll be able to bypass the FRP lock when you power on your device and connect it to the internet.
How to FRP Bypass Samsung with PC
If you wish to use PC to do Samsung FRP bypass, here are a few best methods you can try.
FoneGeek Android Passcode Unlocker
FoneGeek Android Passcode Unlocker can help you bypass FRP Samsung fast and easily. It's your go-to tool if the methods discussed above don't work or if you're just short of time to try all of them out. It doesn't matter which device you have. As long as it's an Android device, FoneGeek Android Passcode Unlocker will bypass the FRP lock on it easily. It works with over 6000 Android device models and system versions. Besides bypassing FRP lock, this tool can also unlock other Android screen locks like face ID, fingerprints, patterns, passwords, PINS, etc. It's simply a one-stop solution for unlocking Android locks.
Pros
You can use it with various Android device models and system versions, even Android 13.
It involves just a few steps to bypass FRP lock on Samsung, Redmi, and Xiaomi devices.
Ideal for unlocking any kind of Android lock, including face ID, fingerprints, patterns, etc.
Has a high success rate and it's recommended by many users.
How to FRP bypass Samsung using FoneGeek Android Passcode Unlocker
Install the FoneGeek Android Passcode Unlocker on your PC – download it from the above link. Launch the app and select Remove Google Lock (FRP).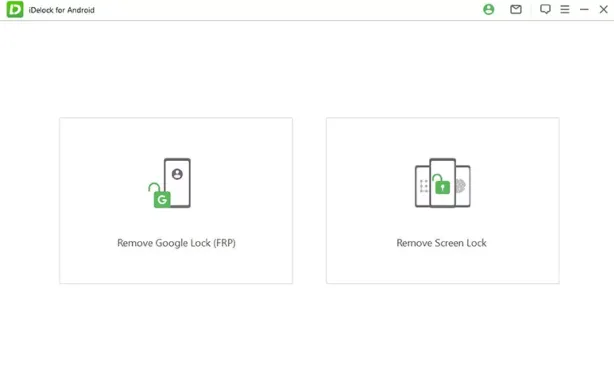 Get an original USB cable and use it to connect the locked device to the PC. Go to iDelock and choose your system version. Now, click on Start.
From there, FoneGeek will recommend an ideal firmware installation package for your device. Download the package by hitting the Download button.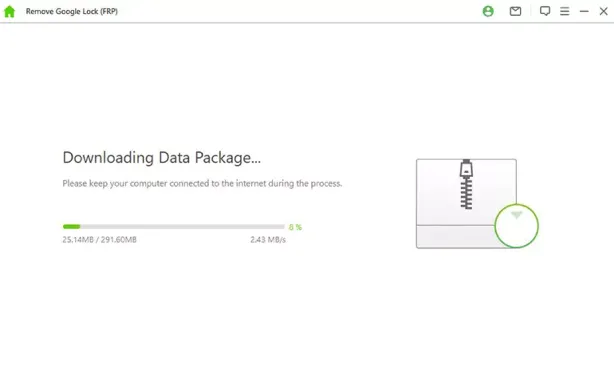 Extract the firmware package after the download finishes and then enable OEM unlock and USB debugging on your device. When the package is done extracting, FoneGeek will start to unlock the device right away.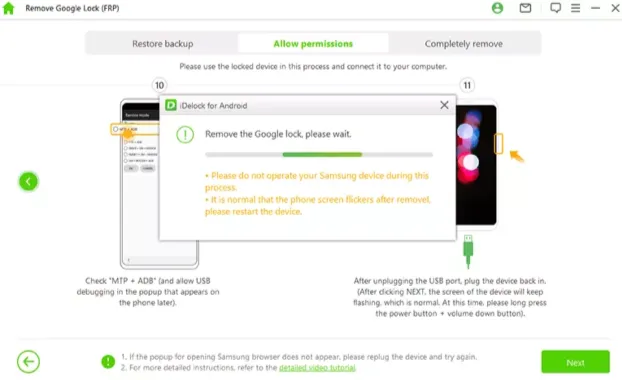 Give the program several minutes to complete the unlock process and you'll be able to access and use your device.
Bypass FRP Samsung with Odin
The other option for Samsung FRP bypass with PC is through Odin, which is Windows-based software developed by Samsung. Odin allows rooting of Samsung devices and enables Android users to install firmware updates and even kernels on their devices - it basically upgrades Android device with custom feature. It can also bypass the Google lock on Samsung. However, the bypass process requires some technical technology and there are several pre-requisite files you must install on your PC first, which include:
The Samsung FRP files
The Samsung USB Drivers for Windows.
When you successfully install these files, follow these steps to bypass FRP Samsung using Odin.
Download Odin and then install it on your Windows PC.
Next, get Samsung device and put it into Recovery mode - long press the Power button and the Volume down button. Let go of the Power button, but still keep on pressing the Volume button until there's a Recovery Mode prompt on the screen.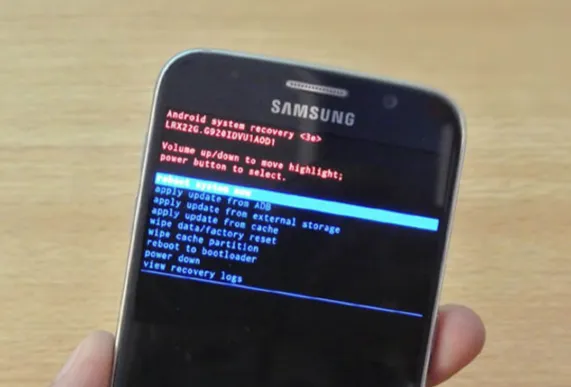 Once the device is in Recovery mode, use a USB cable to connect it to the PC and launch Odin.
You'll see .zip files on Odin which you'll use for the Samsung FRP bypass process.
Choose the AP, CP, and CSS tabs. Now browse through the Samsung FRP files that you downloaded earlier to import them.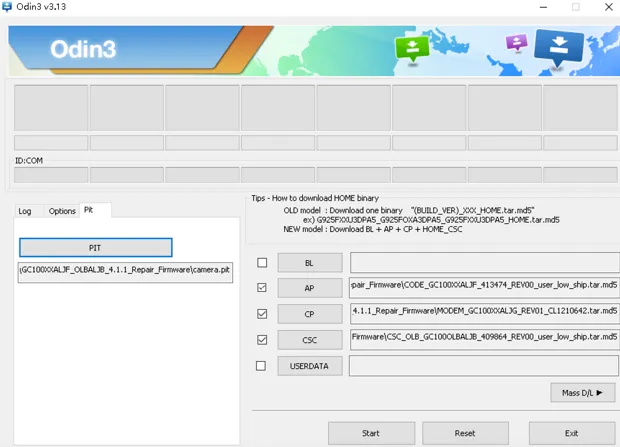 After all the files are imported, hit "Start" to begin the FRP bypassing process.
Wait until the process completes, which is a few minutes. Once it's done, a "PASS" prompt will appear, meaning the FRP Samsung lock is successfully removed.
If you find this process quite tricky and challenging, we suggest you use the WooTechy iDelock above because it's easier than other methods.
FAQs about FRP Samsung Lock
Q1. Where and how can I download the FRP bypass APK?
You can download and use the FRP bypass APK on any Samsung device that runs on Android Lollipop 5.0 and above. Or on any Android device that runs Android Marshmallow 6.0, Nougat 7.0, Orco 8.0, Pie 9.0, or Android 10 Q version. It's not tricky to find the FRP bypass APK because it's available on the Android security patch of your device.
The size of APK file is around 2MB, so it will take just a few seconds to download it. When it comes to the FRP Bypass tools to use, the options are many. However, you have to ensure you select one that won't get detected immediately after you start to use it. Some of the options you can consider are:
Google App Settings Access.
Apex Launcher.
Sidebar Lite 4.4.0.
Amazon Offers.
Account Login.
Google Play Services.
Launch Google Settings.
Bypass any Samsung Google Account Lock.
Samsung Smart Switch v3.6.06.10 apk.
File Commander APK, etc.
Q2. Can I permanently remove the FRP lock using an APK?
It's not easy to remove FRP permanently. There are some FRP Bypass APKs that claim they can remove it permanently but the process often involves additional steps and doesn't always work for all devices. Generally, FRP is important because it helps protect your locked device from unauthorized access.
Conclusion
As stated in the post above, FRP is a useful security feature that helps ensure your data remains safely kept on your device and no unauthorized person can use the device. However, if for any reason you need to bypass the FRP on your Samsung device, we've listed above different methods to help you do this.
Some of these methods have fairly long steps, though, and others are even a bit complicated and may not work on all devices. So, we suggest you use FoneGeek Android Passcode Unlocker as its steps are short and very simple. Moreover, it's effective on all Samsung devices and any other Android device. If you use it, you'll be able to bypass FRP Samsung lock quickly and easily.