Certain problem can occur immediately after an iOS 14 update and recently some users have reported that GIFs are not working on iPhone. This feature is only available in some countries and if you are not in one of these countries, it may not work regardless of the steps you take.
But if GIFs had been working on your iPhone and now are failing after an iOS update, this article offers you 9 troubleshooting tips to fix the issue.
Part 1. Back Up Your iPhone Before Fixing
Before we suggest any solutions to fix GIFs not working on your iPhone, we must point out that some of the ways may cause data loss on the device. Therefore, it is important to backup all important data before attempting any of the solutions.
You can back up all the data on your device using either iTunes or iCloud before you begin fixing the device. If you would like an additional safety net for your data, you can use FoneGeek Backup & Restore (iOS), a third-party backup tool that will allow you to create a full backup of your iPhone data on your computer. And you're allowed to view the contents in the backup and restore the backup to your device at any time you need.
Part 2. 9 Tips to Fix GIFs Not Working on iPhone
The following are just some effective solutions to help fixing GIFs not working on iPhone:
2.1 Fix GIFs Not Working on iPhone without Data Loss
As mentioned before, some of the methods introduced in this article to fix the GIFs not working issue can cause data loss. But there is one exception that is effective, easy to use and will protect the data on your iPhone. It is FoneGeek iOS System Recovery, which is designed to fix all iOS related issues. The program can fix the device without any data loss and you don't have to be technically savvy to use it.
Key Features of FoneGeek iOS System Recovery:
No Data Loss: It can help to fix GIFs not working on iPhone issue without the risk of losing data on the device.

Fix All iOS Issues: It is a powerful iOS repair tool that can fix a variety of iOS related problems like iPhone message notification not working, iPhone call volume low, iPhone keeps switching to silent, white Apple logo, iPhone is disabled, etc.

Two Repair Modes: It offers Standard mode and Advanced mode to ensure high success rate.

High Compatibility: It is fully compatible with all iOS devices even the newest iPhone 12/11 Pro. iOS 14/iPadOS 14 is also supported.

Easy to Use: No tech knowledge is required and everyone can fix iOS system issues with a few simple clicks.
Here's how to fix GIFs not working on iPhone issue without data loss:
Step 1: Install FoneGeek iOS System Recovery on your computer and then launch the program. On the home page, click on "Standard Mode" to continue.
Step 2: Connect your iOS device to the computer using USB cable. If your device is in normal mode and running iOS 12 or later, unlock it and click on "Next".
If your iPhone cannot be detected, just follow the on-screen instructions to put it into Recovery/DFU mode.
Step 3: In the next screen, the program will detect the model and present the necessary firmware for that device. Click on "Download" to download the firmware.
Step 4: Once the download is complete, click on "Fix Now" and the program will begin repairing the device immediately. Keep the device connected to the computer until the process is complete. The device will restart and the GIFs should be working normally again.
FoneGeek iOS System recovery is very highly rated by some of the top tech blogs and highly praised by those who have used it to fix their devices.
2.2 Disable Reduce Motion
The Reduce Motion is a function to tone down some of the animations on your iPhone. It is helpful to save your device's battery life, however, it may reduce some of the device's functionality such as the animated GIFs. Here's how to disable the Reduce Motion function and fix GIFs not working problem:
Open Settings on your iPhone and then tap on General > Accessibility.

Tap on "Reduce Motion" and toggle it off if it is enabled.
2.3 Turn on #images
You need to turn on #images for GIFs to work properly. To start using the GIFs, you'd better first to check if the #images function was turned off accidentally.
On your iPhone, head to Settings > Cellular.

Locate #images and if it turned off, turn it on.
If you don't see this option, it is possible that you are in a region where GIFs are not supported. If you don't see #images, change the region to UK and then back to US. Restart the device and change the language to English (UK).
2.4 Re-Add the #images
Re-adding the #images might also be a good way to fix GIFs not working issue. Follow these simple steps to do it:
Run the Messages app by clicking on its icon.

In the Messages interface, open the app drawer and click on "+" icon.

Now choose the "Manage" option and tap on remove #images. Then add #image again.
2.5 Restart the Messages App
Restarting the Messages app is another way to get the GIFs working normally again. Here's how to restart the app:
Double-tap on the Home button to open the recently used apps.

Then locate the Messages app and then swipe upwards to close it.

Wait a few seconds and open the app again to see if the GIFs work.
2.6 Check Internet Connection
You might experience GIFs not working problem on iPhone because of bad internet connection. To solve the internet connection issue, you can try the following steps:
Go to Settings > Wi-Fi to turn it off, wait for several seconds and enable it again. Or you can try to connect to a different Wi-Fi network if available.

Restart your Wi-Fi router by unplugging it from the power source and then re-plugging it in.

If you use cellular data, you need to ensure that Cellular Data is enabled. To do that, go to Settings > Cellular > Cellular Data and turn it on.

Turn on Airplane Mode on your iPhone. Wait for a minute and then turn it off again.
2.7 Update iOS to Latest Version
Updating your device to the latest iOS 14 is one of the best ways to eliminate software glitches and bugs that could cause the GIFs not working on iPhone problem. Here's how to update your device:
Open Settings on your device and then tap "General > Software Update".

If an update is available, tap "Download and Install" and wait for the device to complete the update.
2.8 Factory Reset Your iPhone
If the common solutions above don't work, you may need to factory reset the iPhone. This method will work to eliminate any settings or data that could be causing the issue. Follow these simple steps to factory reset the device:
Go to Settings > General.

Tap "Reset" and then select "Erase all Contents and Settings".

The device may ask you save all the contents on it to iCloud. Once you've done that, tap "Erase Now" to begin resetting the device.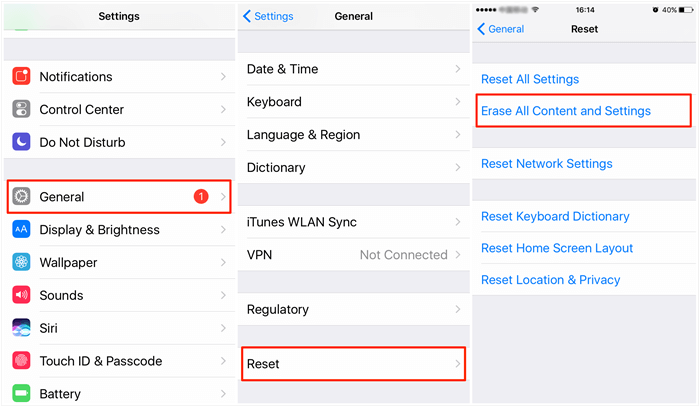 When the process is complete, set up the device again and check if the problem has been resolved.
2.9 Restore iPhone in iTunes
You can also restore the iPhone in iTunes to remove any settings that can cause the issue. Here's how:
Connect the iPhone to the computer using USB cable and then launch iTunes.

Select the iPhone when it appears in iTunes and then click on "Restore iPhone" under "Summary".

Click on "Restore" again and iTunes will erase the device and install the latest iOS version on it.
Once the process is complete, the device will restart. You can set it up and check if the issue has been resolved.
Part 3. Recover Lost GIFs & Images from iPhone
There is a chance you will lose some of the GIFs and images on your device if you use one of the methods above to repair the device. Restoring the lost images from your iTunes or iCloud backups could cause you lose all the existing data on the device. To avoid this problem, use FoneGeek iPhone Data Recovery to recover the missing GIFs and images. It is one of the most popular tools for data recovery because it allows you access into iTunes and iCloud backups, allowing you to select the data you want to recover. You can also use it to recovery data directly from the iOS device without backup.
Conclusion
The methods outlined here can be very useful when faced with GIFs not working on iPhone issue. Select a solution that you can trust and follow the steps to fix the problem. If you have any questions or comments regarding this topic or any other iOS related issue, feel free to contact us and we'll do our best to help.

Thursday on Sep 05, 2019, 23:09:28 GMT / Post By Joan J. Mims to iOS 14
Joan J. Mims is interested in researching all tips about iPhone, iPad and Android. He loves to share useful ideas with all users.

Home
>
iOS 14
>9 Tips to Fix GIFs Not Working on iPhone (iOS 14 Supported)