WhatsApp is one of the most popular instant messaging tools in the world. According to the statistics in July 2022, 1.6 billion active users worldwide exchange free information on WhatsApp every month. Unfortunately, you may sometimes come across the issue of deleting some important WhatsApp messages and media files accidentally on your Android phone.
In that case, you must want to know how to read and recover deleted WhatsApp messages on Android phone. No need to worry, the 3 solutions below will help you bypass this issue.
1. Recover Deleted WhatsApp Messages on Android without Backup
Nothing is worse than deleting WhatsApp messages by accident and no backup file available. If you have no backup for the deleted WhatsApp chats, you can also recover lost WhatsApp chats and media with the assist of FoneGeek Android Data Recovery.
With this tool, all the WhatsApp messages and the attachments such as photos, videos, emojis and files can be retrieved. And all the Android brands are supported by this program, including Huawei, Samsung, Sony, OnePlus, LG, etc.
Now you can download this freeware on your computer and have a try!
Step 1. After downloading this Android data recovery tool, click on 'Recover WhatsApp Data'.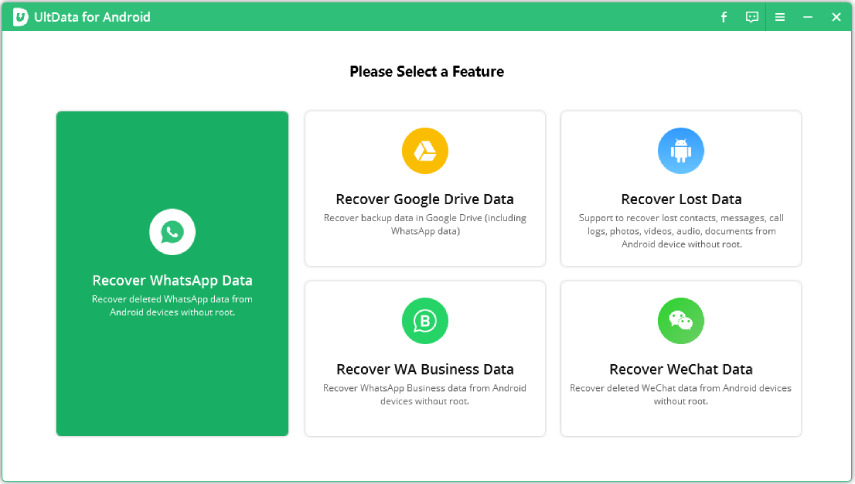 Step 2. You will be asked to run it and connect the Android device to your computer via an USB cable.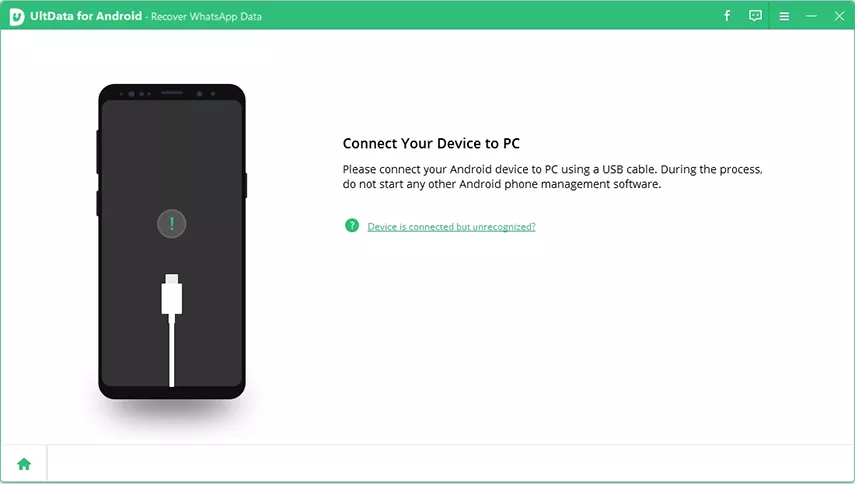 Step 3. The whole process will take for several minutes, mainly depending on the data size of the WhatsApp messages. The larger the data size of the deleted WhatsApp messages, the longer the scanning process will last, and vice versa.
Step 4. All the WhatsApp chats (including the deleted and undeleted files) will be presented on the left panel. Preview all the chats history and choose the one you want to retrieve. Finally, tap on 'Recover' to recover deleted messages and media files on WhatsApp from Android phone.
The data saved on our cell phones can get lost for various reasons, for example, the system crash, virus attack, broken screen, etc. To prevent yourself from suffering from the issue of data loss, it is always advisable to use free FoneGeek Android Data Recovery. Almost all data can be retrieved from your Android phone with this recovery tool.
2. How to Restore WhatsApp Messages on Android via Google Drive Backup
Android users rely on Google Drive to back up their files, documents and other important data. If you keep syncing your WhatsApp chats to Google Drive, you can also get the benefits of restoring deleted WhatsApp messages.
Note: Before you start, it is recommended to uninstall WhatsApp from your Android device.
Step 1. Reinstall WhatsApp from the Google Play store. After successfully installing the application, launch it on the main screen.
Step 2. Click on "Agree and continue" option, and you will be asked to verify your country and provide your phone number.
Step 3. After verifying the phone number, click on "Restore" option and the WhatsApp messages will be restored to your Android phone.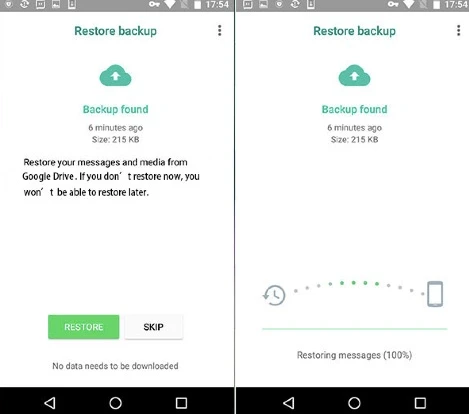 Essential preparations for restoring WhatsApp backups from Google Drive:
Use the same contact number and same Google account on both devices.
Ensure that enough space is maintained on the Android device.
Google Play services must be installed.
The restoring process may take for a long time. Therefore, the Android phones must be fully charged.
The stable internet connection is required. The faster the speed is, the shorter the recovery time will be.
Disadvantages:
The Backup will be deleted after one year: By default, Google Drive tends to erase the WhatsApp backup files that have not been revised for more than a year.
Backup may be overwritten: The whatsApp backup will be automatically overwritten by new-created data in Google Drive.
Unprotected end-to-end encryption: Google Drive does not protect files by adding an end-to-end encryption layer to the backup file.
3. Restore WhatsApp Messages on Android from Local Backup
Haven't found any data from the Google Drive? Don't get fret about that, you can still retire WhatApp messages from the local backup with the steps below.
Step 1. Find the Android file manager application on your Android phone and click on 'Internal Storage/WhatsApp/Databases'. You can know the backup time from the file extension.
Step 2. Change the name of the backup document from "msgstore-YYYY-MM-DD.1.db.crypt12" to "msgstore.db.crypt12".
Step 3. Delete the WhatsApp application and then reinstall it. Open the app and tap on 'Restore'.
Conclusion
You need not fear that you cannot retrieve your deleted WhatsApp messages if you don't have any local backup or Google Drive backup. PR Android Data Recovery can recover deleted files from WhatsApp on android without backup. With this tool, you can get all the lost data backup on your Android phone.
If whatsApp messages are deleted from your iPhone, you can also read this article of 'How to recover deleted whatsApp messages on iPhone'.