TIFF is widely used amongst graphics designers and other professionals because of its benefits. However, one issue with the file format is it's very big in size. Another problem is that not everyone has the right tool to open this file format. As a result, sharing the file with others can be tricky. However, the good news is you can convert the tiff file to pdf to solve these issues.
In today's write-up, we will let you know what TIFF file is and different ways to convert this tricky file format into a PDF. So keep reading this guide to find out the exact process of converting TIFF to PDF without much hassle.
Part 1. What is TIFF?
Simply put, TIFF is an image file format, and it stands for Tagged Image File Format. It is a widely used format, especially for storing files to retain the quality of the image. The file format is primarily used by graphics designed to store files with high-end graphics and colors. One of the interesting facts about the file is you can store multiple images in one TIFF file.
Another amazing fact about the TIFF is that it has lossless compression. As a result, it is often employed in publishing and digital printings to store several images in one file without losing the quality while being able to reduce the size. The TIFF file format is also capable of storing the metadata, color depth, resolution, and other information of an image. These data are stored as tags embedded within the file.
Although TIFF is not supported by all image viewers, you can do so by using some popular tools like Windows Photo Viewer and Apple Preview. In addition, many images editing software, including GIMP and Adobe Photoshop, enables you to view this file format.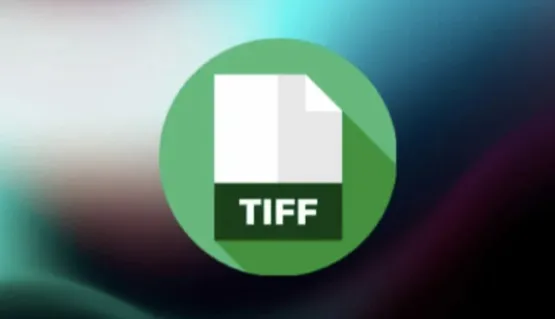 Part 2. Convert TIFF Files to PDF on Windows 10
If you have a PC running on windows 10, then you are in luck. There is an impressively easy way to convert a TIFF file in this operating system. You will be glad to learn that there is an app called Microsoft Print to PDF within the Photo app of the Windows 10 operating system, which enables the user to assemble a PDF file from the TIFF file format easily. Below are the steps you require to follow for this procedure:
Step 1. Browse the TIFF photo on your Windows PC and open it with the default Photo app on your PC. After that, open the Print window by pressing the "CTRL+P" keyboard shortcut. If there is more than one file that you want to turn into a PDF, then the procedure will be a bit different. In this case, you need to organize the file together and then select them. After that, press the keyboard shortcut again (CTRL+P). You can also right-click the file and select "Print".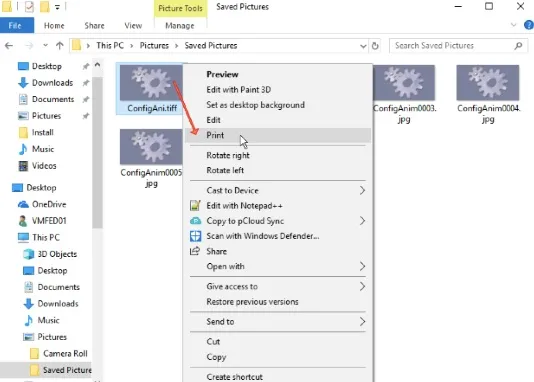 Step 2. Now, you should see the print screen. Select "Microsoft Print to PDF" under the Printer option on this page. You can also modify the page size and quality of the output for the PDF. At the base of the screen, you will find the text "Fit picture to frame" with a checkbox. Mark it if the TIFF picture is in different sizes.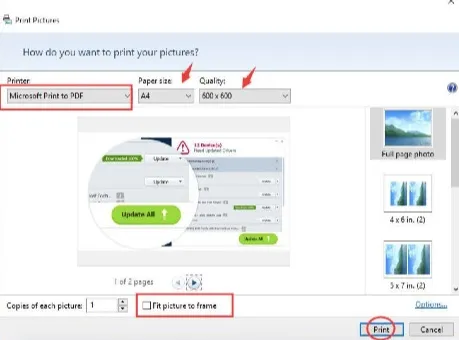 Step 3. After setting up the page for converting to PDF as desired, press the "Print" button. Once you do so, a popup screen will show up, asking you to give the PDF a name and select the format for saving the file. Enter the name and click on "save as type" PDF. Then press "Save".
Done! You should now have the TIFF file as a PDF document.
Part 3. Convert TIFF to PDF on Mac
You can also save a TIFF file as a PDF on Mac computers through the built-in Preview app, which we usually use to view photos and other documents. The steps you to pursue are given below:
Step 1. Open the folder where you have stored the TIFF file. You can also select multiple files if you desire. Just right-click on it and select "Preview".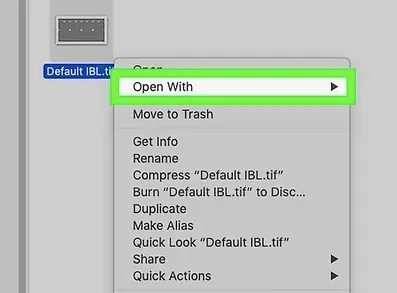 Step 2. If you want to change the order of the photo, you can do so by using the app's drag-and-drop functionality. You can also alter the picture's orientation by pressing the orientation icon at the top when the picture is in preview.
Step 3. Now press the "File" option from the top-left of the screen and select "Print" from the options. You should see a settings window after doing so. Tap the"Save as PDF" from the bottom left of the window.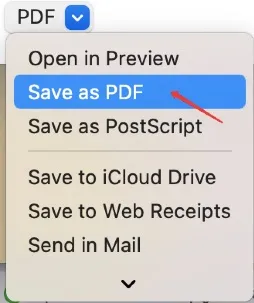 Step 4. After doing so, you should see the "Save As" window, where you can pick the file name and the location to store the file. Make sure to enter .pdf after the file name to save it as a PDF. Click "Save", and you are done!
Part 4. Convert Tiff to PDF File Online
Some online tools also enable you to convert TIFF files to PDF easily. Here are some of these tools for online TIFF to PDF conversion:
#1. PDF Online
PDF Online is a versatile tool that enables you to convert different variations of the file format into PDF. With the help of this converter, you can easily convert Excel, PowerPoint, image, and text documents into PDFs. The best thing about the tool is you can convert the file with just a few clicks. Simply drag and drop the desired file, select the output format, and press Convert. Done!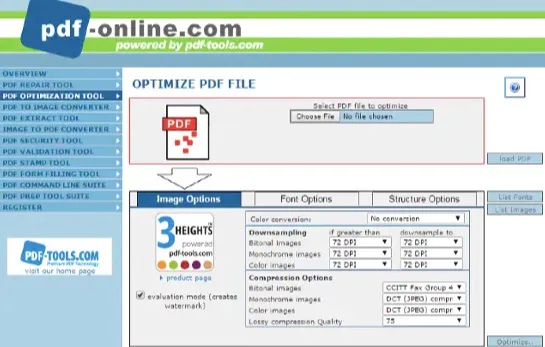 #2. Convertio
Convertio is a unique online file converter that lets you convert a file to various other formats. Apart from converting TIFF files to PDF, it also enables you to convert the file to formats like Excel, Word, Text, etc. You can also select a handful array of input file formats in this tool, including JPG, PBM, GIF, TIFF, TGA, PDF, and so on. In addition, it lets you convert files at 15 frames per hour for free users (without registration).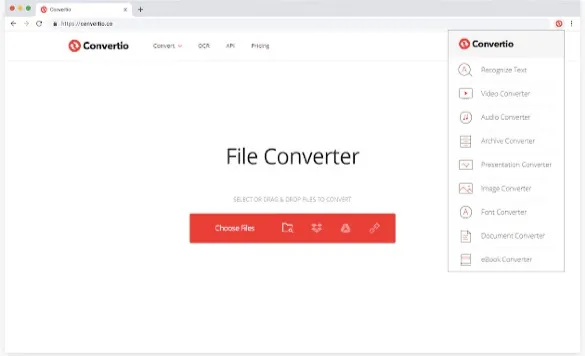 #3. Docupub
Docupub is a simple yet versatile tool that lets you easily turn your TIFF image into PDF format. It's impressively easy to use. It also enables you to select the resolution of the output file and customize page rotation. Moreover, you can get the converted file from the website directly as well as get it to your email.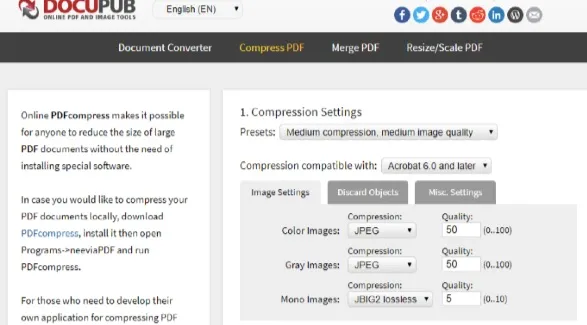 Limits of Online TIFF to PDF Converter Tools
The online pdf tools are mostly easy and free to use. But there are also some hidden limitations to these tools.
Such as, they frequently restrict you from converting big files, convert slowly or ask you to disclose your image for the conversion. Some of these tools are also packed with advertisements which can be very disturbing.
Another considerable issue is they don't enable you to customize the PDF after you are done with the conversion.
Moreover, you can never be assured of security and privacy while using these tools. As a result, there are chances of data leakage while converting confidential files.
Part 5. Convert Tiff to PDF with a Reliable Software
If you often require converting files to PDF from various other formats, then FoneGeek PDF Editor will be a great companion for you. It enables you to easily manage, edit, or just view PDF files from your computer. The powerful tool is easy to use and lets you play with your PDF the way you want. It is also obtainable for a variety of operating systems, including Android, iOS, Windows, and Mac. Try it out now!
Here are some of the top functionalities of the PDFelement desktop program:
Enable you to customize your PDF in various ways, including adding text, changing font size or type, changing colors, and much more.
Equips built-in OCR feature that supports around 20 languages.
Support various output formats, including HTML, office, image, text, etc.
Enable you to convert multiple files at once.
You can view, print, edit, and save the PDF directly from the interface.
It enables you to create a password to protect your PDF document.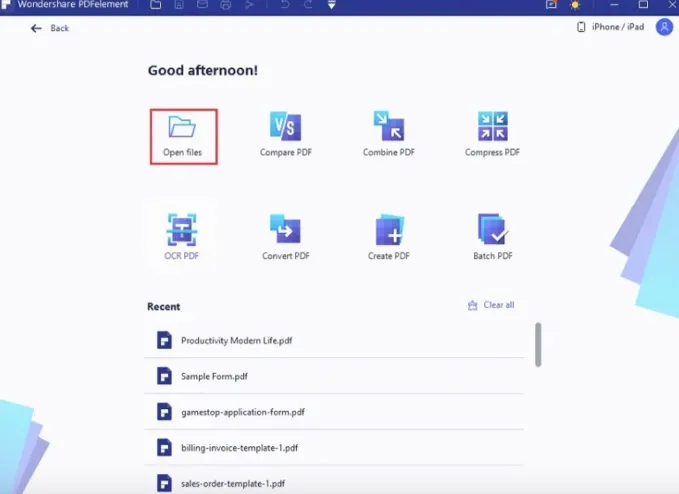 Conclusion
As you see, there are a handful of options available when it comes to converting TIFF files to PDF. If you occasionally need to convert between these formats, simply utilize the built-in Photo or Preview app on your PC or the online conversion tools. However, FoneGeek PDF Editor will be the best option if you frequently need to convert files to PDF and if you work with confidential files.