The Emergency Alert feature on iPhone is a built-in system that collects data from our vicinity and informs us regarding any circumstances that can potentially harm us or result in an inconvenience.
Emergency Alerts sometimes stop working in iPhone. But no worries, you've come to the right place. This article discusses the various solutions you can employ to fix the problem.
It is widely endorsed to turn on "Emergency Alerts" on iPhone as it will save your time and sometimes even life if things go south. It is also a bit cool to some extent that without sticking to television, you can know if a possibly troubling situation is heading towards you, whether that trouble is a violent mob or some wild winds.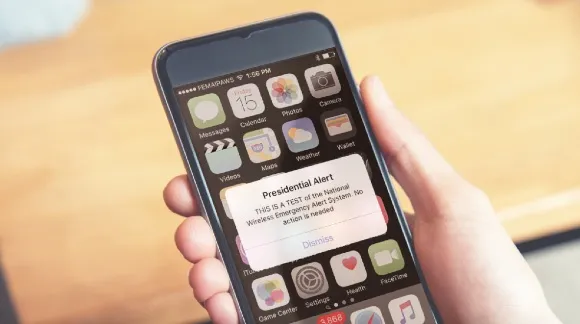 1. How Do I Turn On Emergency Alerts?
Chances are slim that the Emergency Alert mode will, by default, be active. It has also been observed that iPhone do by default send alert notifications but after some time, they stop sending Emergency Alert notifications for unknown reasons.
To solve the Emergency Alerts not working on iPhone issue, first, you've got to check whether the emergency alert is active or not.
After unlocking the device, go to settings by tapping the Settings icon on the Home Screen.
From settings, click on "notifications".
At the very bottom, you will see "Government Alerts" option.
Enable "Government Alerts". It usually consists of "Amber Alerts", "Emergency Alerts" and "Public Safety Alerts".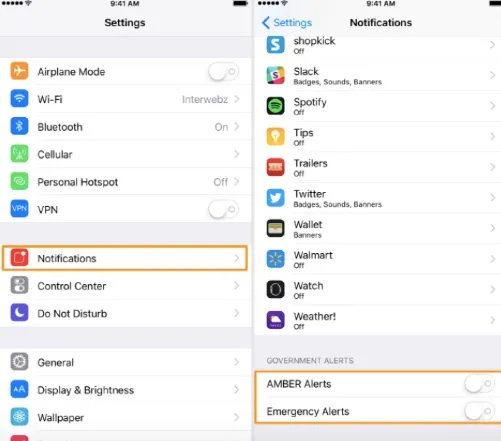 By the end of this procedure, you have checked whether the feature is turned on, and if not, you've turned on the Emergency Alerts on your iPhone.
2. How Do I Get Emergency Alerts Back on iPhone?
Oftentimes, Emergency Alerts still fail to work on iPhone even after you've turned them on from settings. But fret not, this is a common problem and there are several methods of solving it. We will discuss all methods one by one in detail.
2.1 Turn Airplane Mode On and Off
Turning the Airplane Mode on and off usually solves the problems in the first attempt. Changing network settings can get "emergency alerts" back on iPhone.
Go to settings on the Home Screen.
Find and tap on the "Airplane mode" to turn it on.
Then turn off the "Airplane mode" option after 2 to 3 minutes.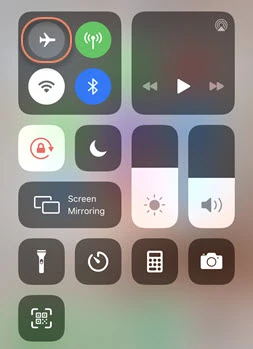 2.2 Restart iPhone
Restart your iPhone is another straightforward solution in case of Emergency Alerts on your iPhone is not working even after being turned on.
Unlock the device first.
To restart the device, press and hold the "Power Button". If you are using an iPhone X or another advanced model, then press and hold the "Power Button" with any of the "volume buttons". For other models including iPhone 8 and below, press and hold the "Power Button" only.
Wait for the slider to appear on the screen.
Turn off the iPhone by sliding the slider.
Then turn it on after some time.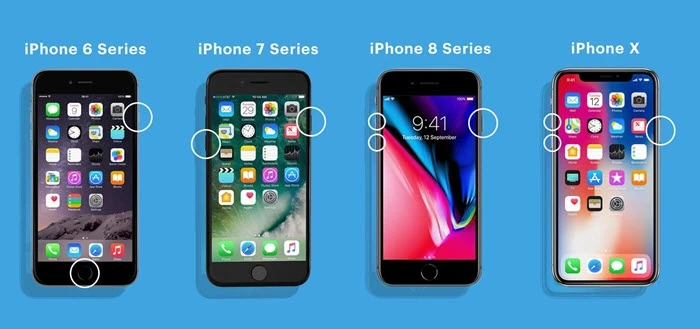 2.3 Reset All Settings
It is common that the "Emergency Alerts" did not activate even though you've tried the first two methods. Resetting your iPhone is the next option.
Open settings from the Home Screen.
Click on the option named "General".
From there, tap on "Reset". There you will see "Reset All Settings". The important thing here is that you will have to enter your passcode to proceed further.
After being done with it, tap on the confirm option.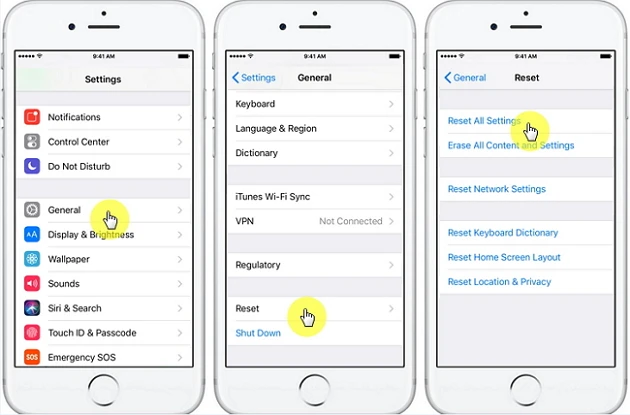 And you are done with the resetting.
2.4 Factory Reset Your iPhone
If you are having trouble with all of the above methods, Factory Reset your iPhone is one of the most feasible resorts. Before you continue, bear in mind that by Factory Resetting your iPhone, you will lose all your data from the device.
It's suggested to back up your data before conducting a Factory Reset. Backup is a copy of your information, which can be used in case if the device is replaced, damaged, lost, or reset.
Now that you are aware of the drawbacks of factory reset your iPhone, so let's begin.
When you have opened settings, click on "General".
Find "Reset" option.
Tap on "Erase All Content and Settings".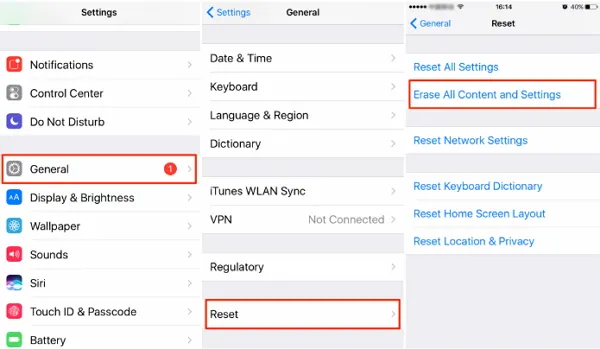 This will Factory Reset your iPhone.
2.5 Upgrade iOS to the Latest Version
Updating iOS to the latest version solves tons of issues all by itself and we all know it, and it may also manage to solve the Emergency Alerts not working on iPhone issue.
Once again, go to "General" in settings and then find and tap "software update".
Once you have opened this option, the system will start searching for the latest updates. You will see the "Download and Install" option if available. It will be available if and only if the system finds the latest updates.
 Tap on the "Download and Install" option.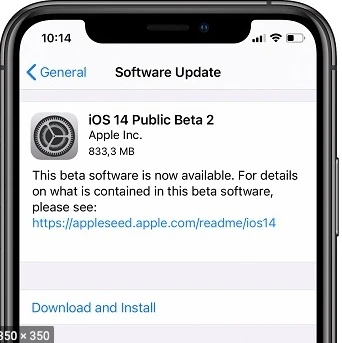 2.6 Fix This Issue via a Professional Tool with No Data Loss
If none of the above-mentioned methods carried the fruit of success and you want to solve the problem without facing the risk of losing your data, you can opt for professional tools that will solve the issue like a breeze. Sometimes the core reason for this issue is some sort of software issue.
Several tools are available that can easily deal with software issues on iPhones. FoneGeek iOS System Recovery tool is one of the best available tools on the market.
This pro tool will not only make the Emergency Alerts feature work perfectly, but it is a one-stop solution for a range of different iOS problems such as iPhone stuck in recovery mode, frozen iPhone, iPhone Boot Loop, and many more.
How to Use FoneGeek iOS System Recoveryto Fix the Emergency Alerts Issue?
Step 1: Download FoneGeek iOS System Recovery. Install and launch it on your computer, then select "Standard Mode" from the home screen.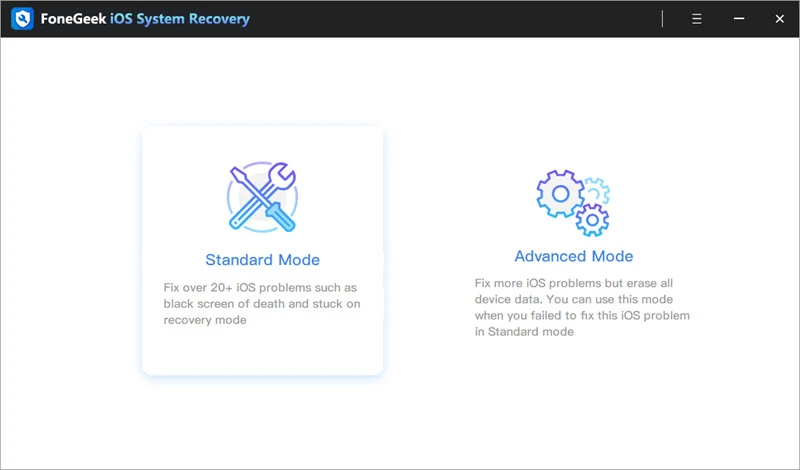 Step 2: Connect your iPhone to computer on which the program is installed via an USB cable. Unlock your device and then click on "Next" .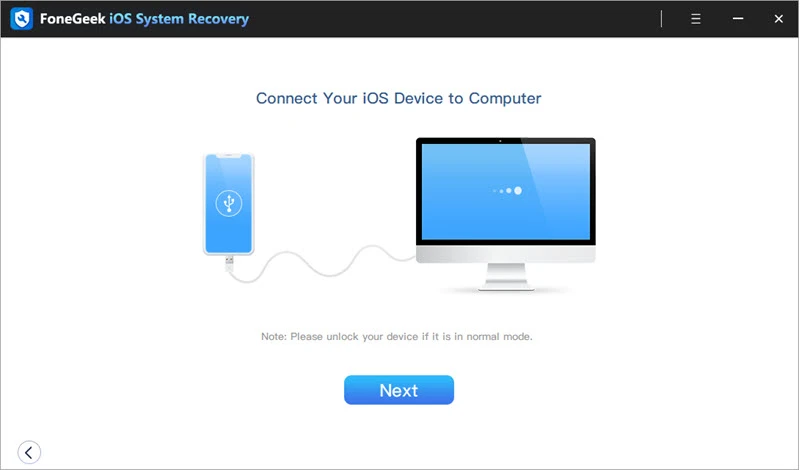 The program will let you know if the device failed to connect to the computer and will also guide you to shift towards Recovery Mode or DFU Mode. This will surely connect your iOS device to your computer.
Step 3: The program will display all available firmware packages. Download the one you prefer.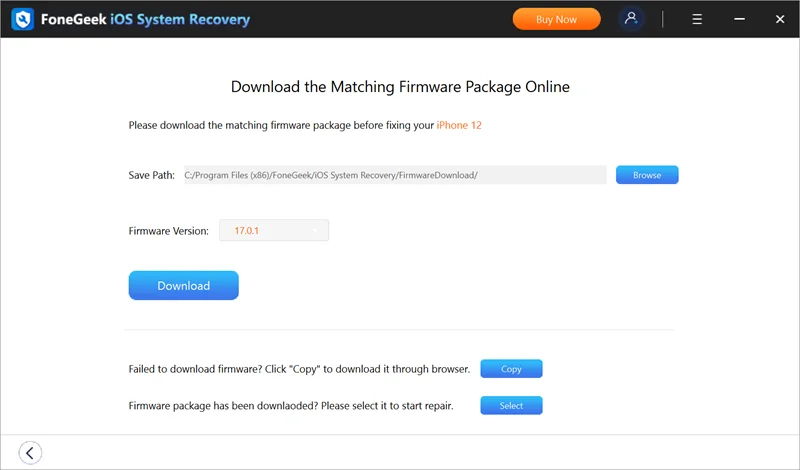 Step 4: Once the downloading is done, click on "Fix Now", the system will fix all your iOS issues including the emergency alert issue.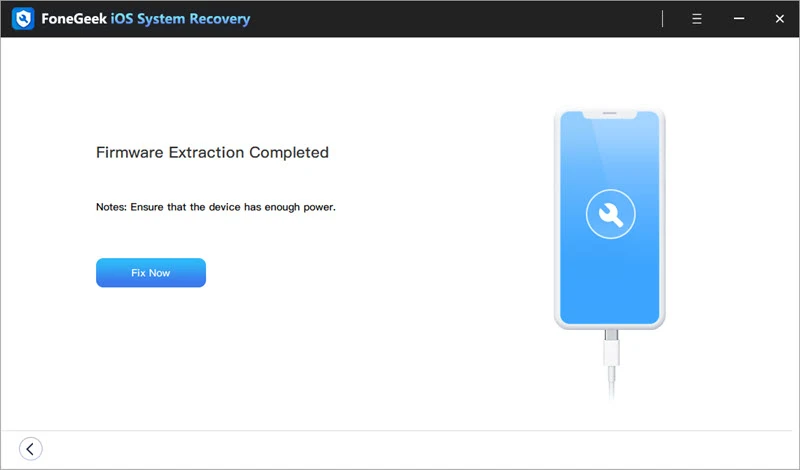 2.7 Contact Apple Support
If you are still not able to solve the problem with all of the above-listed methods. Then your iPhone may have some serious issues with hardware. If that's the case then it is best to make contact with Apple Support Center.
Reaching local mobile repairing shops is not recommended, especially if they suggest opening an iPhone. That is why Apple Support Centers are recommended. The people who work there know the nitty-gritty of iPhone best. From there, they can guide you to ship your iPhone to their headquarters or else.
Conclusion
Although, Emergency Alerts is a built-in system, sometimes you have to help yourself. And you have various options to help yourself.
If nothing seems to work, professional tools like FoneGeek iOS System Recovery are always there to make iPhone troubleshooting an effortless affair.

Monday on Sep 06, 2021, 20:19:29 GMT / Post By Joan J. Mims to iPhone Issues
Joan J. Mims is interested in researching all tips about iPhone, iPad and Android. He loves to share useful ideas with all users.

Home
>
iPhone Issues
>7 Handy Ways to Fix 'Emergency Alerts Not Working on iPhone' Issue