After Pokémon Go was launched, many interactive maps and trackers were set up to assist players with seeking and finding almost everything in the game. However, Niantic took action against these apps and sites that saw most of them shut down or go offline - only a handful survived.
In this blog, we'll go through some of these remaining Pokémon Go maps pro and trackers, including the exciting features they offer and the downsides they have. But before that, you may be asking, "Do I really need to use a Pokémon Go map or tracker?" So, let's answer that first.
Why Use a Pokémon Go Map or Tracker?
Pokémon Go maps or trackers vary depending on the information they offer - the quality of the information can be inconsistent, too. Still, though, these tools can help players find what they are looking for more quickly.
For instance, if you're looking for a Machop nest to do a Machamp power-up, there's a map that can show you all the nests within an area and the type of Pokémon that spawn there. In case you're hunting a certain raid battle, you may find maps for that, too. Some maps will assist you in finding the biggest clusters of Pokestops and gyms in a new area that you're visiting. Some sites can even assist you in tracking only rare Pokémon spawns.
Unfortunately, not all players see these tools the same way. Some see them as cheating, while those who use them find them to be really helpful - they provide invaluable guidance that enhances their Pokémon Go experience. If you're among those who see the good in these sites, below are a few great options you can consider.
Pokémon Go Maps Pro Still Work in 2023
Of all the Pokémon Go maps and trackers that are still running, the following 4 stand out.
Go Map for Pokémon Go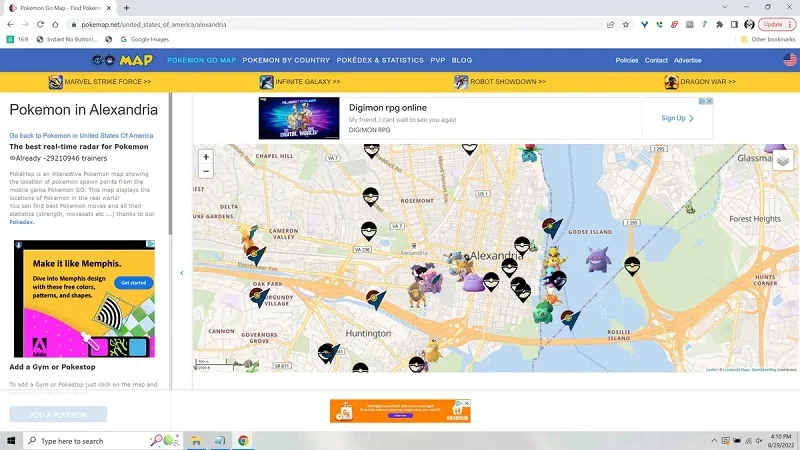 If you want a live Pokémon Go map, consider the Go Map. This site displays Pokestops, gyms, and Pokémon spawns in real-time. It also has an interactive Pokédex where you can view the statistics of each Pokémon as well as their in-depth details. Go Map provides a PVP guide, too. The guide includes step-by-step instructions and even a detailed recommendation of ideal Pokémon for PVP battles.
Navigating the site is simple - there are options to sort Pokémon according to country and city (Or major cities). Alternatively, you can use Go Map just the way you use other traditional maps. The only downside is that the Map may be more useful in certain areas than others because all the information - the locations and spawns - are provided jointly by the players.
PokeHunter for Pokémon Go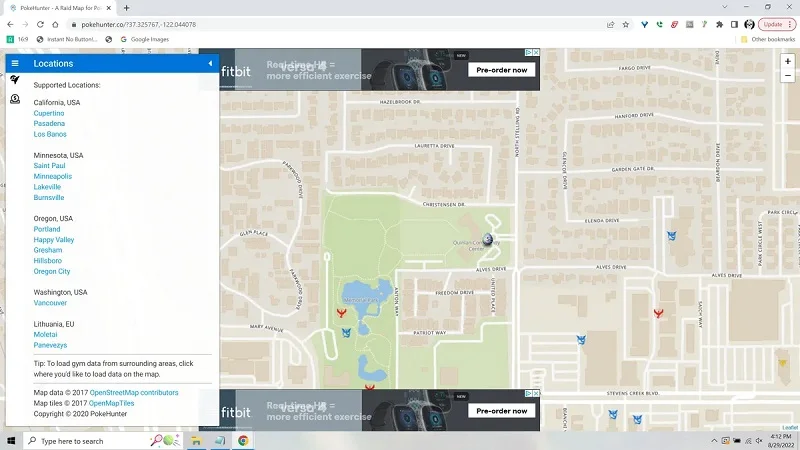 PokeHunter not only works remarkably well than most other maps and trackers that are still around, but also offers the most reliable way to find gyms in Pokémon Go. It provides detailed information on all gyms, from the locations of gyms around an area to the Team that has control over a gym at any time.
The web source even includes information on the number of remaining spaces in a gym and also where Raid Battles are happening. It's a fantastic tool for finding gyms, but one problem with it is that it's not available worldwide. It only works in the United States, specifically in three states – California, Minnesota, and Oregon. If you live in the following cities of these three states, you'll find the PokeHunter quite helpful.
California – Santa Clara, Mountain View, Sunnyvale, Pasadena, North San Jose, Los Banos, Downtown Campbell and Cupertino.
Minnesota – Lakeville, Eagan, Apple Valley, South Minneapolis, Savage, Prior Lake, Burnsville, and North Saint Paul.
Oregon – Hillsboro, Gresham, Happy Valley, and Downtown Portland.
PogoMap for Pokémon Go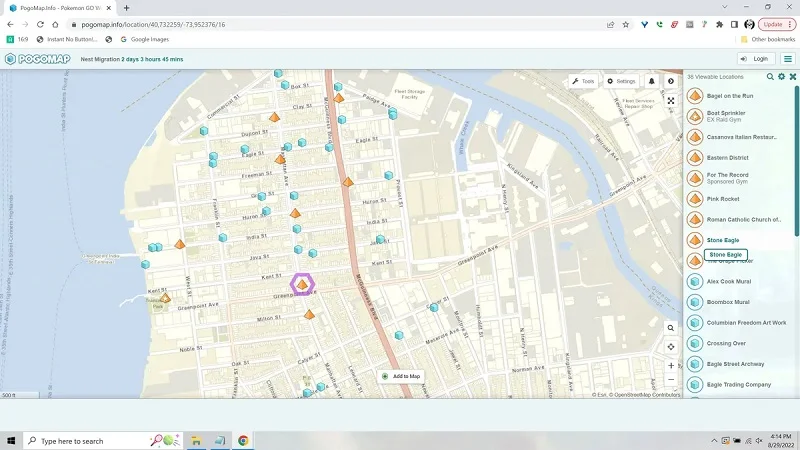 PogoMap is as comprehensive as Go Map when it comes to the type of information it offers. With this Pokémon Go map, you'll find details on all gyms, nests, and Pokestops. It doesn't just stop there. Besides showing normal gyms, the PogoMap shows gyms that can offer EX Raid Passes, making it an invaluable tool when EX Raids are actually happening.
It's a map that generally reports many useful details, like which Pokémon are currently spawning in a particular nest when a PokeStop is invaded by Team Go Rocket, or which Field Research tasks are being handed out by a particular PokeStop. These are very useful details that the PogoMap offers. Although they may be underutilized in some areas, those in areas that have more active players will definitely find them super helpful.
The Silph Road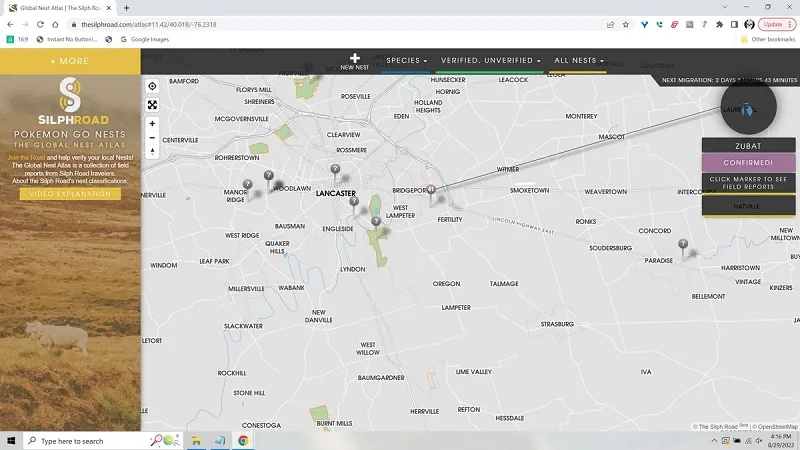 If we were to pick one best Pokémon Go maps, it would have to be the Silph Road. This is the biggest and the most organized collaborative Map for Pokémon Go players. It's a site that is run by knowledgeable and dedicated players from all over the world. You'll find more details on the Pokémon Go game here than on any other map, including a comprehensive Pokedex and many guides on Pokémon Go.
You'll also find information on all the nest locations and nest spawns – both confirmed and potential spawns. Moreover, the Silph Road has an unofficial League Map where you can find locations of players for real-world meet-ups. It's generally the go-to site for everything Pokémon Go.
Bonus: How to Play Pokémon Go without Walking
A software solution like FoneGeek Location Changer can help you change your device's location to ensure that nobody knows your whereabouts or where your device is. This desktop software makes faking your location simpler, and you can use it even on Pokémon Go. If you find yourself in an area with insufficient Pokémon to catch or limited Raids to participate in, you can utilize FoneGeek to alter your device's GPS location to a more desirable location.
How to spoof your GPS location and play Pokémon Go without ever walking:
Download the FoneGeek Location Changer package from the official website and install it onto your PC.
The device and the PC have to be connected for FoneGeek to work. So, connect them.
Run the software and click on the Teleport Mode. Choose the location, and then type the particular location that you want change to.
Once you enter the fake location, hit the Move button. Your location in Pokémon Go and all apps that use GPS location will switch to this new fake location.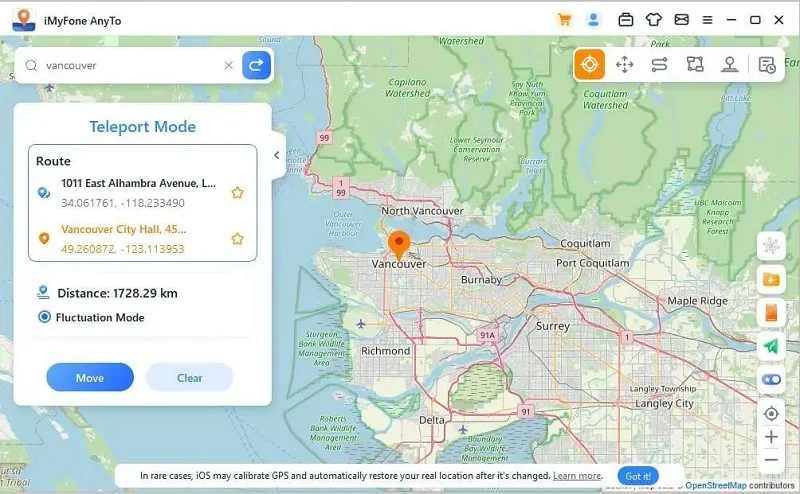 Now that you have spoofed your location, you can sit and relax at home while your avatar walks for you.
Conclusion
The four Pokémon Go maps pro we've provided above are functional and have very useful features and information that can enhance your Pokémon Go game experience. They will help you in finding Pokestops, gyms, nests, and more. In addition, we've included an excellent location spoofing tool, FoneGeek Location Changer, which you can use to alter your device's GPS location.
With this handy tool, you can fake your location to access country-specific restricted Pokémon Go maps pro like PokeHunter. Most importantly, you can use it to spoof your location in Pokémon Go and play the game remotely from your home without walking. You can even teleport to the place where your desired Pokémon is located or where you can capture more Pokémon. Download it now to access and use all these features.