Thrilling fights? Epic monsters? Augmented reality? Tons of weapons and armor? Existing hunting adventures? Endless fun?
All this and much more is what you will get to experience in Monster Hunter Now, a mobile phone game in which you get to fight and slay monsters while walking around your neighborhood.
We know the game sounds more than interesting, but don't go outside playing it right away!
Let's first check out its mechanics, strategies and hints, pre-registration rewards, and how to move around the map without actually walking! Yes, you read that right - we'll show you how to walk in the Monster Hunter Now world without walking in this world!
Part 1. Game Mechanics Summary
If you're familiar with Pokemon Go, you'll be comfortable playing Monster Hunter Now since these two games have identical gameplay mechanics.
But still, let's explain these simple mechanics. Characters are moved by the movements that the players control. You search for the monsters in your vicinity by checking a fixed radar until one of them appears exactly on the radar. When that happens, the monster pops up, and you, as a player, have to tap it so your character can engage in a fight with the monster.
Fight mechanisms are also quite simple to grasp since the game is mostly playable with one finger: you can attack the monster with a single tap, move to the left or right to avoid getting hit by the monster, or long-press to defend against its attack.
One of the most important aspects of the game is the so-called urgent quests in which the character you choose has to fight a monster in order to catch it and complete the quest.
The reason why we say this is one of the most important aspects is that catching the monster is crucial not only for finishing quests but also for earning Zenny and Gems, which are the game's only currencies.
All in all, even though Monster Hunter now has some limitations, it compensates by delivering a wealth of adventure, which ensures players enjoy an incredible gameplay experience.
Part 2. Monster Hunter Now Pre-Registration Rewards
Anyone who registers for Monster Hunter Now before its global release will receive a bonus of awesome in-game goodies you can use to build up your character.
The exact reward depends on the number of players who have pre-registered for the game. As of right now, that number is above 2 million, meaning you will get the bonuses for the first three milestones: 500k, 1 mill, and 2 mill!
Here are all the Monster Hunter early registration rewards listed:
500k Pre-registration Milestone: 10x Recovery Potion, 3x Paintball
1 Million Pre-registration Milestone: Founder Metal, 3x Magic Pebbles
2 Million Pre-registration Milestone: 2x Special Makeup, 500x Item Box Expansion
3 Million Pre-registration Milestone: 2x Special Makeup, 3x Double Rewards Tickets
5 Million Pre-registration Milestone: 10k Zenny, 500x Item Box Expansion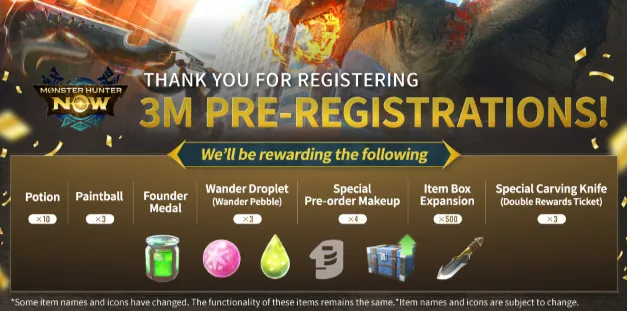 Part 3. Strategies and Hints for Newcomers to Monster Hunter Now
Although jumping straight into the game might be more than tempting, it's always useful to learn a thing or two about the game's strategies and hints before playing. These will not only help you advance in the game faster but also decrease the frustration newcomers usually experience. Let's check out the five most important ones!
1. Safety first
Since Monster Hunter Now is a game you go out and play, you have to remember that you're moving in the real world even though you're playing a game on your phone in a fantasy world. While you're outside, periodically check your surroundings to see where you currently are so you do not fall into a manhole, trip over a rock, or get hit by a car!
2. Hunt as many monsters as possible
The game is called Monster Hunter Now for a reason: the goal is to hunt as many monsters as you can. Doing this will help you on many levels: completing quests, leveling up as quickly as possible, and collecting in-game currencies. The more currency you have, the easier it will be to upgrade the features of your character and, therefore, advance faster in the game.
3. Finish the quests within the designated time frame
Doing the quests that are part of the game on time is beneficial in two ways. The first way is to help you earn currencies, which, as we just spoke, are important for feature upgrading. The second one is related to getting experience points, which facilitates quicker advancement through the levels.
4. Complete the urgent quests
Even though players have both daily and urgent quests that are assigned to them, urgent quests are much more important for two reasons: they need to be finished within a dedicated time frame, and they bring players more rewards than the daily quests.
Because of this, you should do them as soon as they appear, especially in the beginning when urgent quests are quite easy to complete.
5. Regularly update your character's equipment
Earning all the currencies and rewards we mentioned won't mean anything if you don't use them timely and properly. That is why it's of the utmost importance to use all the resources you own to upgrade your character's weapons and armor. Doing so will strengthen the character, making it easier to kill and capture the monsters.
Part 4. Simulate GPS Movement for Limitless Monster Hunting
If you're interested in an endless supply of monsters for hunting but walking around endlessly isn't up your alley, we recommend you check out a mobile app for automatic walking and changing location called FoneGeek Location Changer.
What's great about it is that it will do all the leg work by modifying your GPS location. Besides that, it's suitable for devices operating on Android and iOS. Let's look at its most important features quickly:
Change your position on the map with only one click, which means you can battle as many monsters as you want without having to wait or walk to them.
With this tool, you and your friends can choose the same location and hunt monsters together without actually having to be in the same place.
It's compatible with a wide range of games, including Pokemon GO and Dragon Quest Walk.
Offer a better gaming experience with various modes for Monster Hunter Now, single-clicky location changing, joystick mode, multi-point mode, and genuine travel speed simulation.
We're sure you're more than excited to try this tool, which is why we provide a quick tutorial on how to install it so you can try out all the features and hunt all the monsters you want!
Step 1. Connect your iPhone to computer and download FoneGeek Location Changer.
Step 2. To start the installation, you have to open the downloaded file and click on the "Install" button. After the installation is finished, you don't have to click on anything to open the tool, as it will automatically do so. Click on the "Get Started" button to start using FoneGeek Location Changer.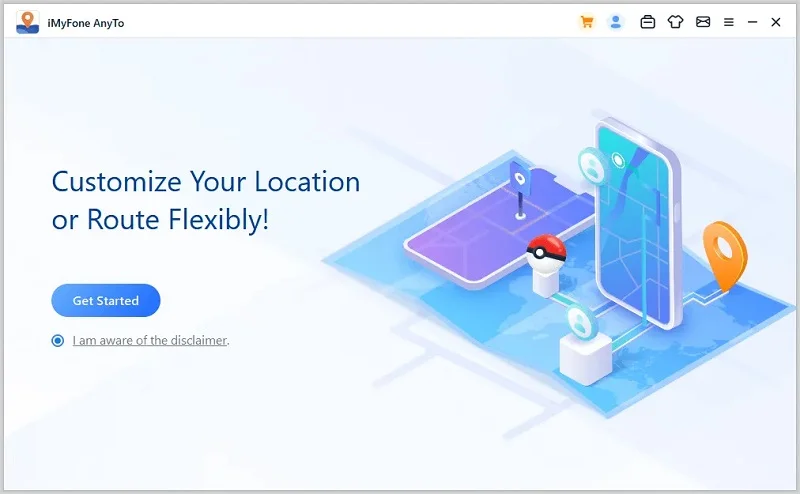 Step 3. When you open the tool, you will be in Telport mode by default, which allows you to change your GPS location to anywhere in the world. If you want to find a desired location, you can zoom in and out or move around the map. Alternatively, you can enter the location in the location search bar.
Step 4. Once you've found the location, you need to click on the "Move" button, and you're good to go. You can play Monster Hunter Now in this new location from the comfort of your home!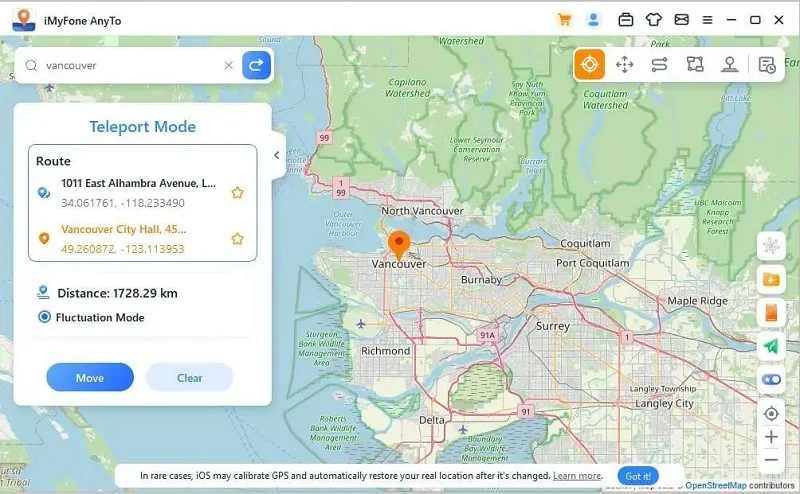 Part 5. FAQs about Monster Hunter Now
Q1. On what platforms can you play Monster Hunter?
You can play Monster Hunter on many platforms, such as PlayStation, Xbox, Nintendo Switch, and PC.
Q2. How many Monster Hunter games have been released?
When we count the spin-offs and remakes, the Monster Hunter game series had 16 mainline games released by the year 2021.
Q3. Does Monster Hunter support multiplayer gameplay?
Yeah. Monster Hunter is a game that supports multiplayer mode, which was designed with the idea of collaboration among players to battle monsters with joint forces in mind.
Q4. Is Monster Hunter playable solo?
Yes. Monster Hunter is a game that you can play solo, but before hopping on and immersing yourself in the game on your own, you should know that some encounters against monsters might pose a greater challenge when playing alone. The game is primarily designed with multiplayer in mind for cooperation.
Q5. Is there such a thing as the best weapon in Monster Hunter?
In the world of Monster Hunter, there isn't a weapon that the game designers created as the best or most potent. Each weapon comes with its strengths and weaknesses, which allows players to choose weapons based on their preferences and playstyle and results in an immersive gaming experience.
Q6. Is Monster Hunter World a suitable entry point for newcomers?
Yes, Monster Hunter World is an excellent entry point for newcomers due to the fact that it has better graphics in comparison to other Monster Hunter games and a simplified and smooth-running gameplay experience.
Conclusion
Repetitio est mater studiorum is Latin for "Repetition is the mother of learning", so let's go through all the good stuff that Monster Hunter Now brings: simple yet effective mechanics, great pre-registration bonuses, easy-to-remember-and-follow tricks and tips, exciting quests, and augmented reality. That's a lot of stuff, right?
The only thing that's left for you is to go and play Monster Hunter Now, now!
But before doing that, don't forget to install FoneGeek Location Changer so you can limitlessly hunt the monster without breaking any sweat. Chill and play in your home for as long as you want!