User Concern
"What happens when I restore my iPhone? By this I just mean 'restore', not restore from backup."
Restoring an iPhone is a process that resets the device back to its factory defaults and reinstalls the operating system, which is helpful to fix a variety of iOS issues. If your iPhone is malfunction due to corrupted iOS 16 update, app installation, software errors, you can try to restore your iPhone to fix it.
You may be wondering what happens when you restore your iPhone, keep reading to find out the answer.
What Happens When You Restore Your iPhone?
As stated earlier, most problems that your iPhone is experiencing will be fixed by restoring the device to its factory settings. The restore process will automatically update your iPhone's operating system to the most recent version.
Just like formatting a computer, all the data on your iPhone will be wiped after restoring the device to factory settings, including all settings, text messages, contacts, photos and videos, songs, etc.
Therefore, before restoring your iPhone, you'd better create a backup to avoid data loss. You can either backup your iPhone by using iTunes or third-party tool like FoneGeek iOS Backup & Restore.
How to Restore Your iPhone Using iTunes
Above is what you really need to know when you are looking to restore your iPhone to factory settings. If you decide to do this, just follow the steps below:
Open iTunes and connect your iPhone to the computer.
If a message pop-up to ask for your device passcode or to Trust This Computer, follow the on-screen steps.
Click on the iPhone icon when it appears in iTunes. Then click "Restore iPhone".
Click "Restore" again to confirm the action. iTunes will erase the device and install the latest iOS 16.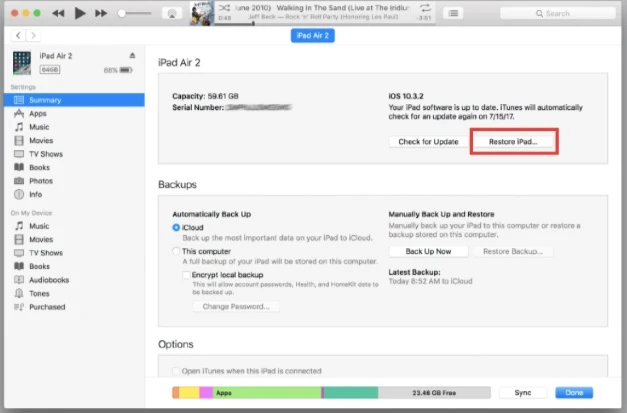 What Happens When You Restore iPhone from Backup
An iPhone restore can also mean restoring a previous iPhone backup to your device. If you've made a backup through iTunes or iCloud, you can choose to do a full restore. In this way, all the data and settings in the backup will be restored to your iPhone.
However, restoring a backup from iTunes or iCloud will completely erase the existing data on your iPhone. In other words, everything that's not in the backup will be replaced and deleted.
Restore iPhone from iTunes Backup
Run the latest version of iTunes on your computer and make sure that the device is connected.
Hit on the iPhone icon appeared in iTunes and click on "Restore Backup".
Choose the most suitable iTunes backup and click on "Restore" to confirm the restoring process.
Restore iPhone from iCloud Backup
To start with, you should erase all the data and settings by going to Settings > General > Reset > Erase All Content and Settings.
Follow the on-screen instructions to set up your iPhone. In the "Apps & Data" screen, choose "Restore from iCloud Backup".
Enter your iCloud account credentials as required. After signing in, restore your iPhone with the most relevant backup file you select.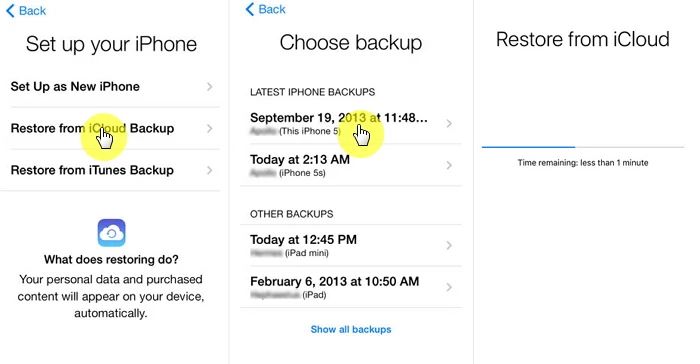 Selectively Restore iPhone from Backup via 3rd-party Tool
If you fear the loss of data on your iPhone, you possibly need something more powerful to restore your iPhone. Here we recommend FoneGeek Backup & Restore (iOS) - a professional backup and restore software to flexibly control the whole process. Before getting started, you shall get to know the special aspects of this tool.
Trusted software: This software is developed by FoneGeek, which is a trustworthy brand widely recognized by Macword, TechRader, Cult of Mac, etc.
Guaranteed data loss: By using FoneGeek iOS Backup & Restore, all of your personal data will be well protected.
Selectively backup and restore: You can back up specific data you want for free and restore them to your device.
High compability: this tool works well with all iOS devices and iOS versions, even the newest iPhone 14 and iOS 16.
How to Selectively Restore Your iPhone from Backup
Start by downloading and installing FoneGeek iOS Backup & Restore program on your computer when you are trying to restore your iPhone.
Step 1. Start this program and click on "Backup & Restore" on the welcome interface.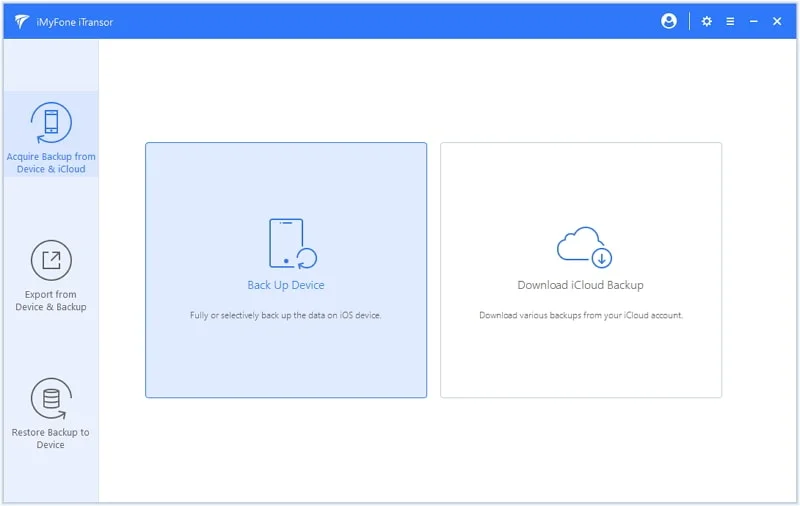 Step 2. Click on "Restore" and choose the backup you have made before, then click on "View".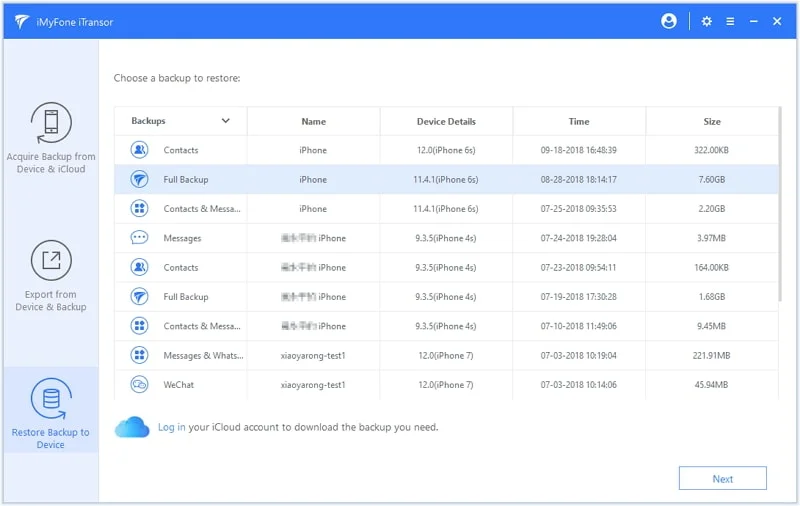 Step 3. Select the data you want to restore and wait for the software to analyze the selected file. In the end, click on "Restore to Device" to restore the selected files to your iPhone.