There are several workarounds you can use to back up your iPhone data to iCloud without connecting  the device to computer. However, some users may get nervous when they run into the problem of 'restore from iCloud backup taking forever'. Well, you shall not worry about it, we truly understand your feeling and share 6 solutions if your iPhone couldn't restore from iCloud backup.
Method 1. Check Network Connection
The first and most basic requirement to restore iPhone from iCloud is stable network connecting on your iPhone. The iCloud restoring process will be aborted if the your iPhone is connected to a weak wifi network.
To ensure a stable wifi network connection, try to power off the router for nearly 20 seconds and power it on. We also recommend you to connect to a more stable wifi network on iPhone.
Method 2. Force Reboot iPhone
If you have tried to check the network connection and it is still failed to restore iCloud backup file, you are opt for turning off and turning on your iPhone. The procedures to restart the iPhone are vary from different models.
For iPhone 8 and newer models: Press Volume + button and quickly release it. Then press Volume - button and release it instantly. Next, keep holding the Power button until the iPhone is turned on.
For iPhone 7/7 Plus: Hold down the Power and Volume - button at the same time until the device is booted up.
For iPhone 6 and older models: Simultaneously pressing Home and Power button until Apple logo is displayed on the screen.
Method 3. Ensure Enough Storage on iPhone
One odd thing we suggest here is to keep enough storage on your iPhone before restoring from iCloud backup. If the storage available on iPhone is not enough to keep the data in iCloud backup, the iCloud restoring process will take forever. To check the free storage on iPhone and the data size of the iCloud backup, check the guide below.
iPhone storage: For iOS 11 and newer iOS versions, click on Settings > General > iPhone Storage. For iOS 10 and older iOS versions, go to Settings > General > Storage & iCloud Usage > Manage Storage.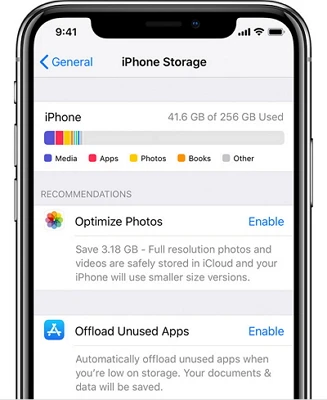 Data size of the iCloud backup: If you have upgraded your iPhone to iOS 10.3 or later, you can go to Settings > Apple ID > iCloud > Manage Storage to check the iCloud storage.
Suggestion: It's fairly easy to solve if your iPhone storage is less than the storage of WhatsApp messages, just remove apps that take large storage on your iPhone.
Method 4. Ensure the Same iCloud Account and Phone Number
Many of us may not be aware that restore iPhone from iCloud will fail if the phone number you used is not the same as the iCloud ID. If they are not the same, you should change the phone number and use the same iCloud account.  
Method 5. Update iOS Version
It is another free option to bypass "restore from iCloud backup taking forever" error when you are intended to restore from iCloud backup. Some users may not know why it matters. The pre-condition for backing up and restoring is that the devices shall run the same iOS version. Thus, you should check the iOS version and update or downgrade it in accordance with the actual conditions。
To update the iOS version, go to Settings > General > Software Update. You can also employ iTunes to install the newest iOS version on iPhone.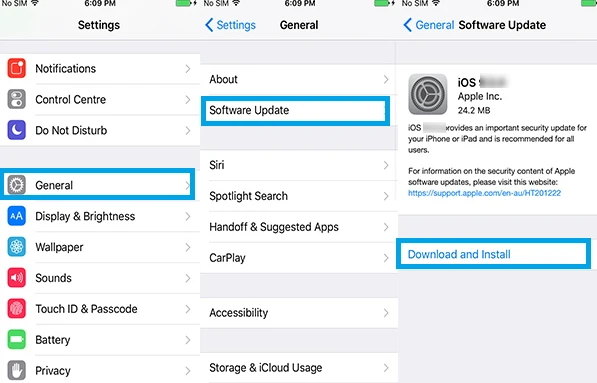 Method 6. Alternative Tool to Restore from iCloud Backup
To avoid more trouble with the issue of 'restore from iCloud backup taking forever', there is a perfect alternative way you may want to know. This 3rd-party program will act its best for the iCloud restoring process without data loss.
The software we are going to introduce briefly here is specially developed for the backup and restore needs for iPhone users. Furthermore, it guarantees the safety of your iPhone data. You guess it. We are here to talk about  FoneGeek Backup & Restore (iOS) .
FoneGeek iOS Backup & Restore Key Features:
Back up and restore phone data and social app data on your iPhone, including WhatsApp, Photos, Contacts, Messages, Kik, Viber, etc.
Fully or selectively backup and restore are supported, and they can be done in one click.
You can preview any items from iCloud or iTunes backup and then restore them to your device.
Export any items you want from iPhone/iCloud/iTunes backup to computer.
Step 1. Go to the mode of 'Backup & Restore' and choose 'Restore from iCloud Backup' and type in the iCloud credentials.
Step 2. FoneGeek will scan the iCloud backup files and list them in this window. Choose your desired iCloud backup and click on Download.
Step 3. When the iCloud backup data are shown in this window, check the data you need and restore them to your iPhone by tapping on 'Restore to Device'.
Conclusion
Thus, we hope that your fear of 'restore from iCloud backup taking forever' is dispelled now. If the first 5 methods fail to work, you can reply to FoneGeek iOS Backup & Restore to restore iPhone from iCloud backup. This program is highly recommended to and is said to be the best alternative to iCloud.

Wednesday on Mar 11, 2020, 23:07:22 GMT / Post By Fay J. Melton to Backup & Restore
Fay J. Melton has explored the area of technology and software for more than 5 years and he is enthusiastic about helping users solve various technology issues.

Home
>
Backup & Restore
>Extensive Guide to Restore from iCloud Backup Taking Forever Issue