User Concern
"I bought more iCloud storage, the 50gb plan and I have a 64gb phone with 13gb left on it but I'm still getting the 'not enough iCloud storage' popup. Am I doing something wrong? Thanks for any help."
iCloud is the cloud-based service provided by Apple. Its chief function is to backup and sync data for iOS users. The files stored in iCloud include some application data, contacts, notes and photos from iCloud Photos Library. Yet, you should realize that Apple only provides 5GB of free iCloud storage which is far from enough for most people.
You need to pay extra money to gain extra storage. However, some users who have upgraded the store plans give the feedback that "I bought more iCloud storage but it's not showing up". Regarding this issue, we have listed 6 working solutions for this issue.
1. Check iPhone Memory Usage and iCloud Storage
Generally, there are 4 capacities for all modes of iPhones: 16GB, 32GB, 64GB, 128GB and 256GB. You can check the local storage of your iPhone by going to Settings > General > iPhone storage.
If the free memory usage of your iPhone is more than the free storage of iCloud after purchasing more storage, the extra storage will still not show up. And simultaneously, you will be reminded to purchase larger iCloud storage.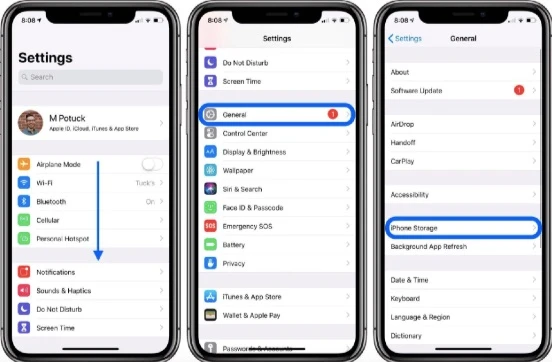 Note
For users who are looking for a free iCloud alternative to back up or sync iPhone data,
FoneGeek Backup & Restore (iOS)
program introduced in Way 6 will be quite useful for you.
2. Force Restart iPhone
You can also resolve this issue on iPhone by restarting the device. This is the second recommended solution which has solved this problem for a number of users.
For iPhone 8 and newer models: Instantly press and release Volume Up button and then press and release Volume Down button. Next, hit on the Power button until the device is restarted.
For iPhone 7 and 7 Plus: Hit on Power and Volume Down buttons, and then release the 2 buttons when Apple logo is shown on the screen.
For iPhone 6 and older versions: Hit on the button of Power and Home button for 8 seconds until Apple logo appears.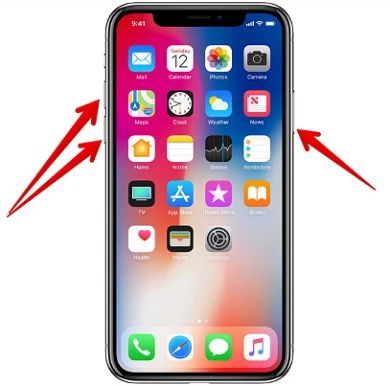 3. Sign Out and Sign Into iCloud
If the "extra iCloud storage not showing up" problem still persists, it becomes necessary to sign out of the iCloud account on your device and sign back in. This method is the common workaround for most iCloud issues. The steps are here:
Tap on Settings app on iPhone and look for Apple ID.

Click on Apple ID and scroll down to click on "Sign Out" option.

Input the password of the Apple ID when prompted.

Now, you can choose the data you need to keep in your device by enabling that data type.

Then, click on "Sign Out" again.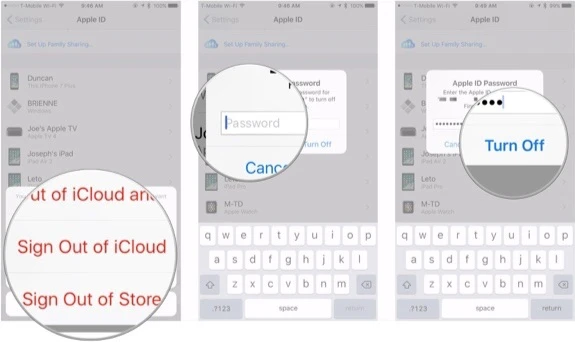 4. Check iPhone Network Connection
What few people know about is that the iCloud storage will not show up when they have upgraded the iCloud storage if the device doesn't connect with a stable network. Thus this is also the reason behind this iCloud issue. Hence, you should ensure that the WiFi connection is strong enough by resetting network settings. To perform this solution, try the procedures given below.
Click on Settings and General option.

The find "Reset" option located at the bottom and click on it.

Hit on "Reset Network Settings" and enter the password you set.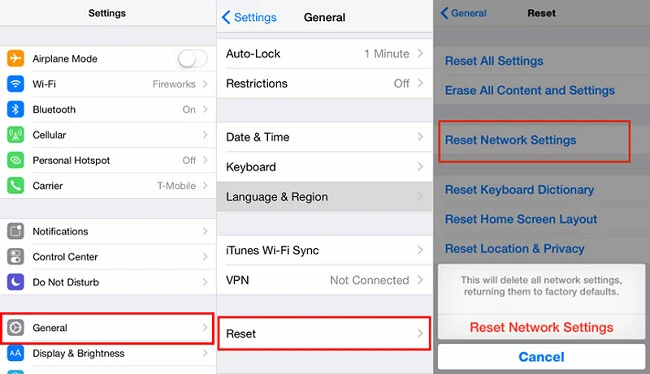 Note
After the network settings is reset, the WiFi password and VPN settings will be erased.
5. Contact with Apple
One more potential reason behind this iCloud storage not showing up problem is the arise of service outrage in Apple system status.
The iCloud storage will not show up after you purchase more storage if there is something wrong with Apple server. In situation like this, you need to check Apple system status here.
6. Best iCloud Alternative to Back Up iPhone for Free
Instead of focusing on fixing the iCloud storage not showing up problem, you can also back up your iPhone data with the aid of third-party backup tool. The best tool we recommend for you here is FoneGeek Backup & Restore (iOS) program. Through the use of FoneGeek, you can back up as much data as you can without purchasing more iCloud storage.
Unique Features of FoneGeek iOS Backup & Restore
It can fully or partially back up iPhone or iPad data for free without storage limitation.
Multiple data types can be backed up by this program, including contacts, notes, voice memos, photos, videos, WhatsApp messages, Viber chat history, etc.
It guarantees that the existing backup files will not be overwritten by new backup files.
The following is how you can back up iPhone data with iCloud:
To get started, you need to go to FoneGeek official site to download and install it on your computer.
Step 1. Select the "Backup & Restore" option from the top menu when you have run the backup tool.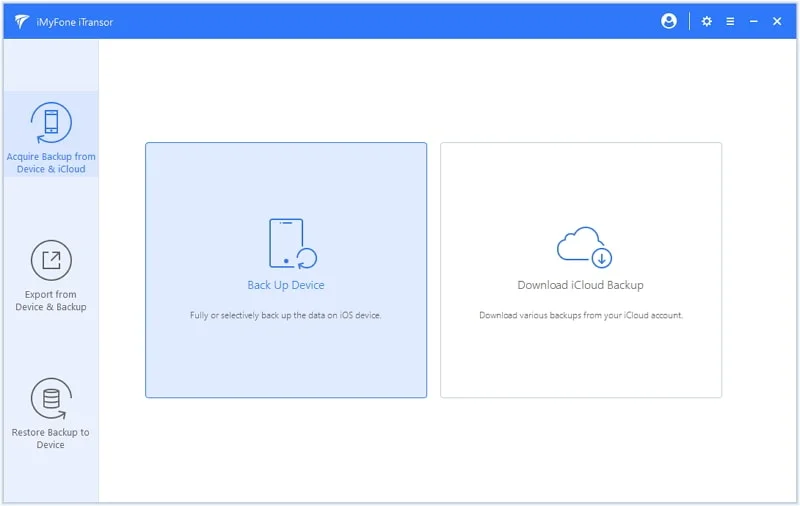 Step 2. Connect your device to the program and wait for the program to detect it.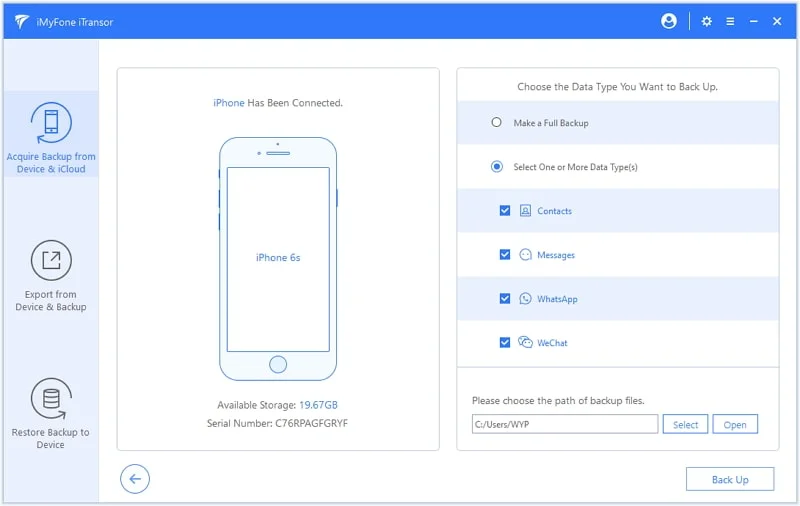 Step 3. As soon as the device is connected, click "Backup". After the backup process, you can view all the files on your computer.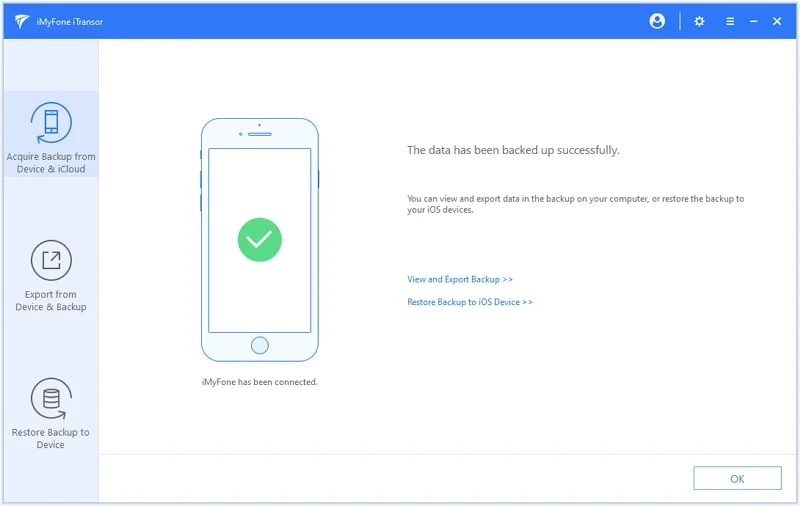 Monday on Feb 10, 2020, 17:46:39 GMT / Post By Edwin J. Parke to Backup & Restore
As a professional writer who is interested in technology, Edwin J. Parke has helped thousands of users by offering various tips to solve their problems.

Home
>
Backup & Restore
>I Bought More iCloud Storage But Its Not Showing Up, How to Fix?