One of the leading technologies employed by Apple to provide unparalleled protection for iOS devices is the iCloud Activation Lock. It prevents unauthorized users from gaining access to an iPhone or iPad that does not belong to them.
Though this is an excellent method present in lost or stolen iDevices to prevent the misuse of personal information, it may prove to be a setback while purchasing a second-hand iPhone whose previous owner has not unlinked their iCloud account.
In situations like these, third-party tools such as iMyFone iBypasser comes in handy, and in this article we will take an in-depth review of this iCloud bypass tool and see if it really does the work.
Part 1. When You Need iMyFone iBypasser?
iMyFone iBypasser can be used in countless scenarios. Some of the more common scenarios include:
Forgetting your Apple ID account or password. Therefore, you can't unlink the previous iCloud account, and must bypass the Activation Lock.

Purchasing a second-hand, iCloud locked iPhone, wherein the previous owner has not logged out of their iCloud account, thus leading to the iCloud Activation Lock.

Factory resetting your device without logging out of iCloud. This results in the emergence of the Activation Lock, and requires the Apple ID and password to activate.

Fail to disable Find My iPhone. iBypasser also proves to be beneficial when FMI is turned off without knowing the password of the Apple ID account.
Part 2. What Is iMyFone iBypasser?
At its core, iMyFone iBypasser is a software solution that enables users to bypass an iCloud Activation Lock on selected iOS devices. The software has two variants, paid and free.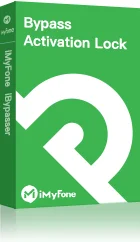 Bypassing an iCloud Activation Lock allows users who do not have the iCloud account's sign-in details to access the account and fully utilize all of iCloud's features.
iMyFone LockWiper is similar tool from the same company, which can help to bypass all kinds of lock screens and remove Apple ID without passcode.
Part 3. Is iMyFone iBypasser Safe to Use?
Though it is widely renowned due to its high reliability, using iMyFone iBypasser or any other similar software is not a no-brainer, i.e., the aftermath of using a bypassing software solution is not entirely out of harm's way.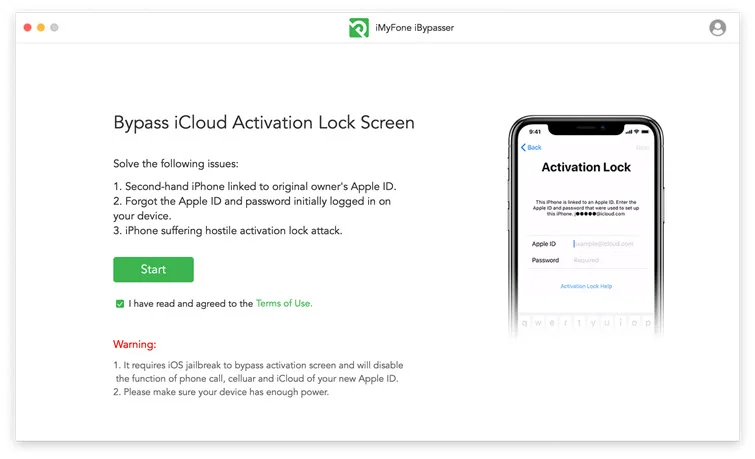 Using iMyFone iBypasser involves jailbreaking your iOS device, and jailbreaking a device is naturally very risky. Some of the associated risks include:
Bricking of device: Bricking means that the device won't work or power on, and hardware repair may be necessary to fix the device and make it usable once more.

Preventing automatic download and installation of software updates: Updates are not rolled out to jailbroken devices. As such, in order to normally update your iOS device, you must jailbreak the device again in the future.

Nullification of warranty: Phone providers often void the device's warranty if it has been jailbroken. This is due to the fact that some apps used to jailbreak may cause hardware damage.
Part 4. Is iMyFone iBypasser Free to Use?
Well, iMyFone iBypasser is not free to use. It is a premium tool which has three different pricing packages, as listed below:
Monthly Plan: It costs $39.95, and supports 1 iOS device. This plan is valid for a month and can be auto-renewed.

Yearly Plan: It can be purchased for a cost of $49.95, and support a single iOS device. The plan is valid for a year and can also be auto-renewed.

Lifetime Plan: For a cost of $69.95, the lifetime plan does not have an expiration date, and can support up-to 5 iOS devices.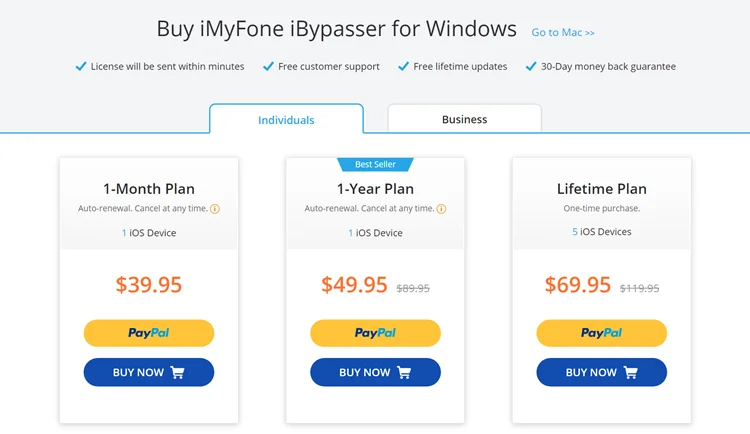 The multitude of pricing plans makes it more accessible to users who wish to utilize and take advantage of all iBypasser's numerous features.
Part 5. Does iMyFone iBypasser Really Work?
iMyFone iBypasser is, to an extent, still quite effective. It is true that iBypasser works well on iPhone X and even on an iPad Pro.
However, effectivity varies from device to device, and thus it is difficult to discern whether the software will work on a selected device and its iOS version.
Some of the advantages of iMyFone iBypasser include:
Allows users to bypass iCloud Activation Lock themselves.

User-friendly Mac version.
Conversely, some of the disadvantages are as follows:
It is not permanent unlock. The iCloud Activation Lock will be reactivated if you do a factory reset

Cellular data is in-accessible after bypassing.

Some features and functions associated with the iCloud account is restricted.

The Windows variant is relatively complicated, making it difficult for beginners to use.

Only some iOS devices are supported by iBypasser.
Part 6. How to Use iMyFone iBypasser to Bypass iCloud Activation Lock
To bypass iCloud Activation Lock using iMyFone iBypasser, lets download and install the tool on your computer, then follow the steps below:
Step 1: Launch iMyFone iBypasser on your Mac, click on "Start" and connect your iOS device via USB cable.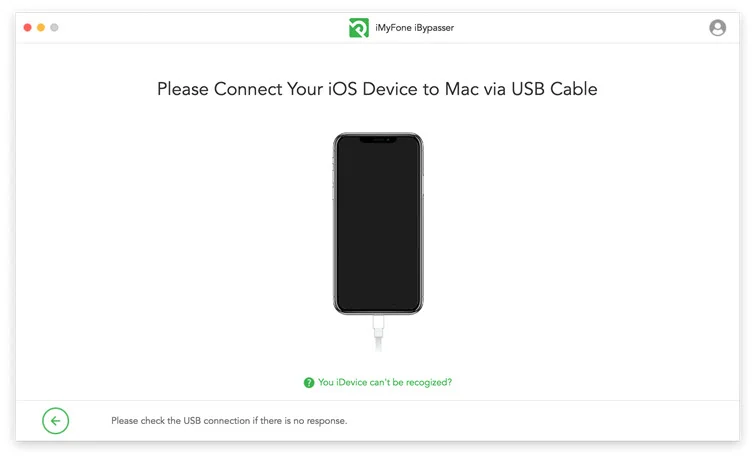 Step 2: To bypass iCloud Activation Lock on your iPhone or iPad, you will need to jailbreak the device. The program will download a right jailbreak package for your device.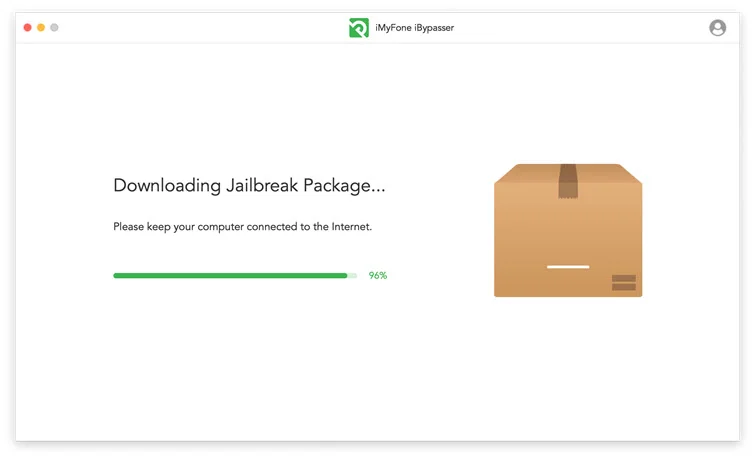 Step 3: When the jailbreak package is downloaded successfully, click on "Start Jailbreak". Follow the on-screen instructions to put your device into DFU mode. When the jailbreak is done, click on "Next".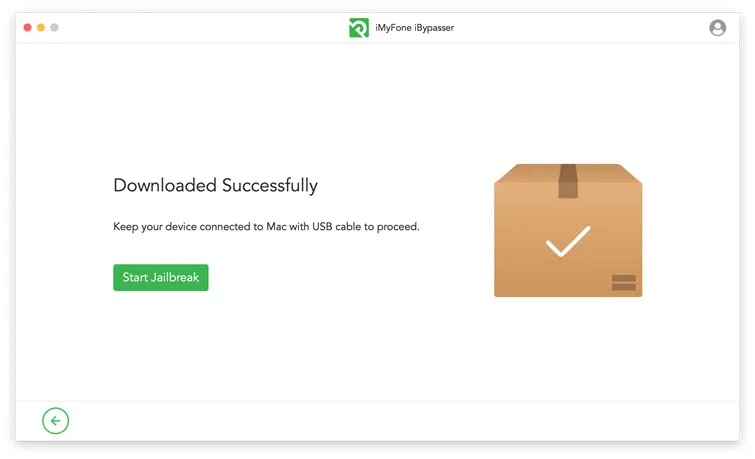 Step 4: After verifying your device model, iOS version, IMEI, and so forth, click on the "Start Bypass" button to continue. iBypasser will immediately begin to work on bypassing the iCloud activation lock screen.
After a few seconds, the bypassing process will be completed, allowing users to use a new Apple ID and customize settings according to their preferences.
Part 7. Alternative to iMyFone iBypasser
There are many alternatives to iMyFone iBypasser. One such alternative that worth to try is AppleiPhoneUnlock, which, compared to other competitors, is more well established in the market.
Much like iMyFone iBypasser, AppleiPhoneUnlock is also paid. For a very reasonable price, a team of professionals takes care of the user's iCloud Activation lock - regardless of any country they may be situated in.
Moreover, once the process is completed and the iCloud account has been removed, users have full-fledged access to all features of the device-including cellular calls and features such as "Find My iPhone."
Step 1: Go to the tool's iCloud Unlock page, after which users enter their phone's IMEI number into the designated area.
Step 2: On the following page, users are required to submit personal details such as their name and email address. Plus, payment details are needed in order to complete the transition.
Step 3: After the submission of all details, users may have to wait up to 72 hours. You can opt for the FastTrack option for a slightly higher price, which unlocks the device within the span of 24 hours.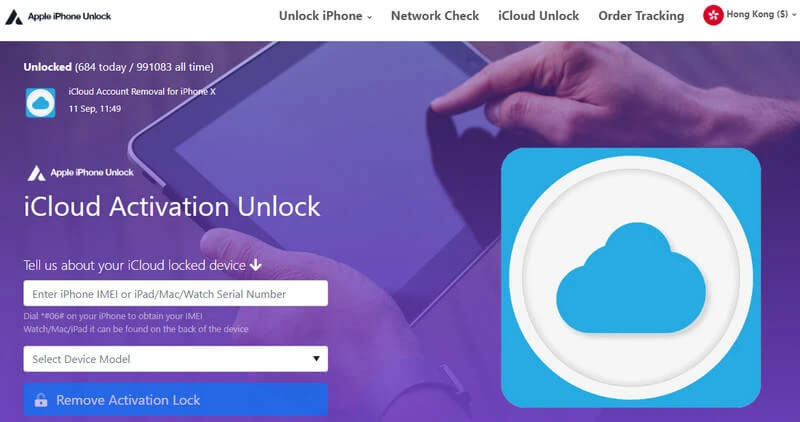 FAQs about iMyFone iBypasser
Is iBypasser Legit?
iBypasser is a beneficial tool that effectively allows users to bypass iCloud Activation Lock. Though Apple can bypass any iCloud activation lock itself if proof of ownership is provided, iBypasser is still a valid option and may prove to be very helpful.
Will I lose data using iBypasser?
The Activation Lock emerges when the iPhone is put into recovery mode and restored without signing out the currently used Apple ID. Restoring the device erases all of the contents and settings. Thus, an iOS Device with an activation lock has no data, to begin with.
Can I unjailbreak my device after using iBypasser?
Depending on the iOS version, it may be possible to un-jailbreak your device. With respect to iOS 13.2.3 or below, the jailbreak tool, Checkra1n, will be erased after rebooting your device while simultaneously jailbreaking the device.
However, if the device is running iOS 13.3 or above, the iCloud Activation Lock screen reappear after rebooting, so un-jailbreaking becomes more of a challenge.
Can I use my iPhone normally after bypassing Activation Lock?
After bypassing the Activation Lock, one can use a new Apple ID through the iTunes Store or App Store. Furthermore, you will have unrestricted access to all iOS features except cellular, phone calls, and iCloud of the new Apple ID.
The Bottom Line
iMyFone iBypasser is a highly useful software package that may be used to tackle a wide array of problems. It can easily bypass the iCloud Activation Lock and give users access to their devices.
Though it has some weaknesses, such as requiring a jailbreak or not providing access to cellular features after bypassing the Activation Lock, one cannot deny that the tool gives users the freedom to fix one of the most difficult persisting problems in iDevices, all from the safety and security of their homes.
As such, iMyFone iBypasser can indeed be called a silver bullet to problems such as Activation locks and screen locks.

Tuesday on Aug 31, 2021, 22:21:58 GMT / Post By Edwin J. Parke to Unlock iPhone
As a professional writer who is interested in technology, Edwin J. Parke has helped thousands of users by offering various tips to solve their problems.

Home
>
Unlock iPhone
>[2021] iBypasser Review - Does It Really Bypass iCloud Activation Lock?