Internet restrictions and data security concerns force many people to opt for virtual private networks (VPNs) to encrypt their data and mask their IP addresses. These VPNs enable them to freely access the internet without leaving behind browsing history or revealing location information.
A VPN location changer is handy if online services are restricted in certain countries. Using a free VPN location changer not only ensures greater privacy but also allows greater freedom to blocked or region-bound content. This post provides a detailed guide on how to change your IP and location with a VPN.
How Does a VPN Change Your IP Address & Location?
When faking a location with a VPN, the user's internet connection is encrypted to protect their data, online transactions, geographical location details, and other important information. Here is how this happens:
The virtual private network reroutes you to your preferred server anywhere worldwide. Some VPN providers automatically assign the VPN servers to you, while others let you pick a preferred server.
After connecting to a VPN server, your device's internet traffic gets encrypted and protected within a VPN tunnel. The VPN also assigns you a different IP address associated with the server you're connecting to, providing an added security layer by hiding your IP address.
The IP address of the assigned VPN server will change regularly when you connect to the service. If you'd like to use the same IP address in all your log-in sessions, get a static IP or a dedicated IP address.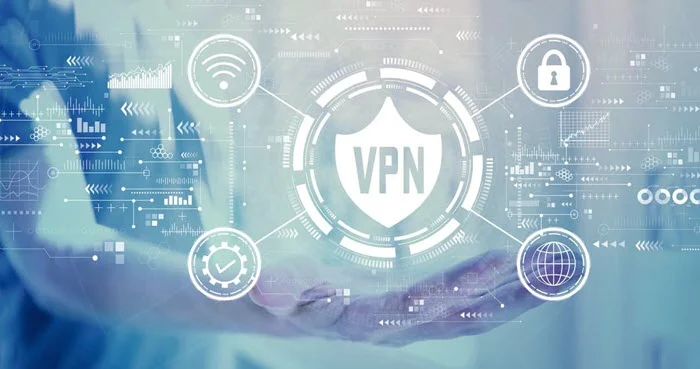 Why Use a VPN to Change IP Address and Location?
Here are the top reasons to use a VPN location changer to change your location and hide your digital footprints:
Geo-block Removal: A lot of online content is geo-restricted. If you live in a country where certain content has been geo-blocked, you can use a VPN to change your IP address to bypass those restrictions and access content like movies, documentaries, ebooks, social media websites, mobile apps, and online publications.
Get Better Prices for Online Services: Prices for various products and online services usually vary depending on location. A VPN location changer can help you change your IP address and access good deals in countries where those products are cheap.
Online Security: VPN services provide data encryption, thus offering you good protection from hackers, spyware, and other online snoops. They assure you of data security and keep your online footprint safe, particularly when browsing risky networks such as public Wi-Fi.
Bypass Government Censorship: A VPN location changer helps you go past government restrictions and hide your IP address in countries with strict censorship laws.
Bypass Network Firewalls in Schools and Workplaces: Does your school or workplace blocklist certain websites and services? Change location with a VPN to access any service you wish to access. This is one of the most typical use cases for VPNs.
How to Change Your Location with a VPN
Here is a simple guide on how to change your location with a VPN location changer:
Start by signing up with your preferred but reputable VPN provider. Then, download and install that VPN app on your geo-spoof device.
You can launch the VPN or app or its corresponding browser extension, and then connect your device to a VPN server of the country you wish to browse.
Now, you have set your temporary IP address and can begin accessing content via the VPN.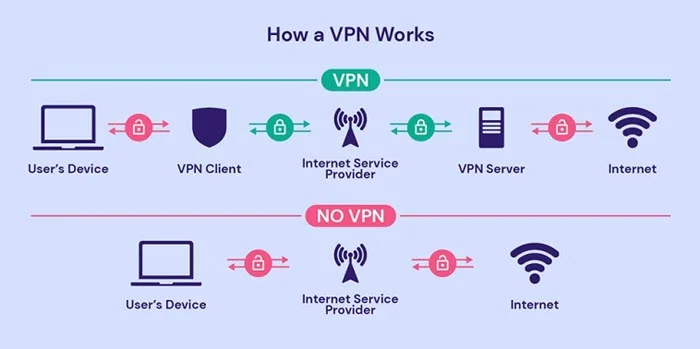 Clear your browser's cache and cookies if you still encounter blocked or geo-restricted content even after activating a VPN location changer. You may encounter blocked content when the VPN server you chose is also blocked, in which case you can connect your device to another VPN server. If you are facing difficulties, contact your VPN provider's customer service.
Best VPNs to Change Your IP and Location
Looking for the best VPN location changer to help you navigate region-locked content? Take a look at our list of the best VPN services in the market:
NordVPN: NordVPN consistently ranks as one of the best VPN location changer services based on customer reviews. You can even use it on Amazon Prime and Netflix. It provides over 5,000 servers and even has P2P and Double VPN servers. To top it off, you also get a 24/7 support service and a 30-day money-back guarantee.
Surfshark: This is an affordable and secure VPN service capable of accommodating unlimited devices simultaneously. It is ideal for streaming Netflix and Disney+ content. The service is a seamless no-logs with a Double VPN. It has 24/7 live chat support for ease of resolving any hitches.
ExpressVPN: This VPN location changer has consistent and reliable server connections and serves over 90 countries. It is secure with good encryption and offers a user-friendly interface that allows you to connect to your preferred VPN server easily. Enjoy excellent streaming performance with 24/7 customer support.
CyberGhost: CyberGhost is an excellent VPN service for beginners. This is a no-logs VPN service with servers in over 90 countries. You can connect up to seven devices at the same time. It also offers 24/7 live chat support and has relatively good security.
IPVanish: This VPN location changer has servers in more than a dozen cities in the US and thousands of these across the globe. It allows unlimited connection. It is a no-logs VPN network with excellent encryption.
Can You Change Your Location without a VPN?
You don't always have to use a virtual private network to fake your location online. There are several alternative tools that you can use. One such tool is FoneGeek Location Changer, which enables you to change the GPS location of your iPhone and Android devices. You can even use it to fake movements without leaving your couch.
FoneGeek Location Changer is super-intuitive and easy to use, with a simple one-click process for changing your location. It allows you to change your location to anywhere, something you won't be able to accomplish with a VPN.
Main Features of FoneGeek Location Changer
Easily change your GPS location on iPhone/Android to anywhere by clicking a button.
Comes with a user-friendly interface that is intuitive and easy to use, even for beginners.
Works well with many apps that rely on GPS location, including Pokemon Go, Life360, Facebook, WhatsApp, Tinder, etc.
Compatible with both iPhone and Android devices without requiring jailbreaking or rooting.
How to Change GPS Location with FoneGeek Location Changer
Step 1: Open FoneGeek Location Changer on your computer after downloading and installing it. Then click the "Get Started" button to proceed.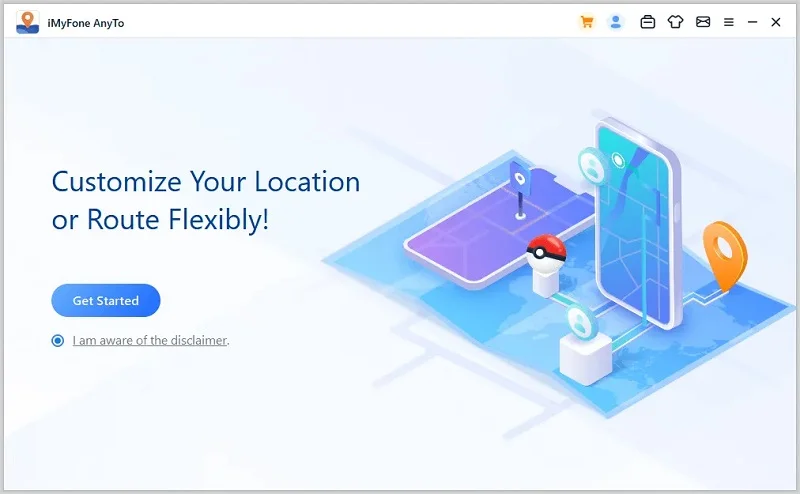 Step 2: Connect your phone to the computer and click "Teleport Mode" (the third icon in the upper-right corner). Then, enter an address or manually adjust the map to select your desired fake location.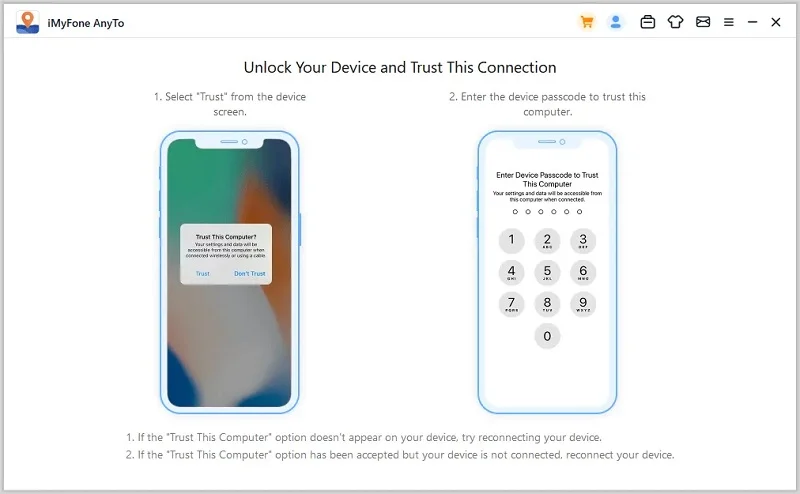 Step 3: Now click the "Move" button to change your device's location to the selected location.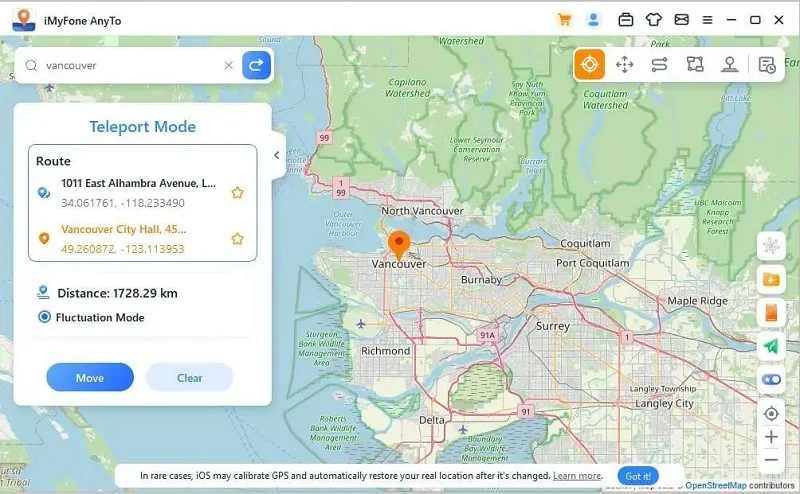 More FAQs about VPN Location Changer
Can I use a VPN to change my location?
Yes. A VPN offers the most effective and secure way of changing your location. You must find a suitable VPN provider and connect to their servers to change your location and encrypt the communications from your device.
Why does my VPN fail to change my location?
If the VPN is not working, it likely has some bug or technical problem. A firewall may block it, or your IP address is getting leaked. When this happens, clear the cache or cookies. If it is still leaking your IP address, contact your VPN provider's customer support.
Where should I set my VPN location?
Just set your VPN location where you wish to stream content. If you are trying to access US-bound content, pick US-based VPN servers.
Is it Legal to change your IP location?
Using a VPN to change your IP address and access geo-bound content is perfectly legal. The use of VPNs is legal in most countries. Most VPN uses are for harmless activities such as bypassing a firewall in the workplace or college. Like any other tool, a VPN service can also be put to illegal uses, such as torrenting copyrighted content.
Does a VPN prevent GPS tracking?
Although changing your location with a VPN masks your IP address, it does not block GPS tracking. To stop GPS tracking for certain apps, you must manually switch off GPS tracking on your iPhone or Android device.
Can I use the same IP address whenever I connect to a VPN?
Usually, you will be assigned a different IP address every time you log into your VPN provider. This is because every VPN server usually services numerous IP addresses.
You can still use the same IP address in multiple sessions by using a static IP. However, a static IP isn't assigned to just one person and is shared by many other users using the same VPN server.
If you want to keep your IP address that stays the same in all your log-in sessions, go for a dedicated IP address. However, remember that a dedicated IP address comes at an additional cost.
Conclusion
Changing your location offers many benefits, such as preventing others from tracking you, safeguarding your privacy, staying anonymous online, accessing region-restricted content, enjoying a wider selection of games, using apps restricted to specific regions, and more. In this post, we've discussed how to change your IP address and location using a VPN.
However, it's important to note that VPNs are effective for changing your location in web browsers like Chrome but cannot modify the GPS location on your iPhone or Android device. For changing the GPS location on your mobile device, we highly recommend using the FoneGeek Location Changer, which allows you to change your GPS location with just a single click.