If you've never played Pokémon Go on PC, you're missing out big time because it's a whole new experience, better than playing it on an Android or iOS device. The screen is bigger, the gameplay performance is better, and you get customized controls and more features to explore without draining your data or battery fast. However, the Pokémon Go app is designed only for Mobile devices, so how can you play it on a computer? Well, you only need BlueStacks to do that.
Yes, with BlueStacks, you can run and play the Pokémon Go game on your PC at any time. That's why, in this post, you're going to learn everything about BlueStacks Pokémon Go, including how to use BlueStacks GPS spoofing concept and other alternatives to play Pokémon Go on your PC without moving around. It's a comprehensive post, so read on to get all these details.
What is BlueStacks?
BlueStacks is essentially an Android Emulator that is installed on computer to provide a platform where you can run your Android mobile Apps and games on the computer. The software offers various effective functions and even allows you to use mouse, keyboards, and other customized controls for a better gaming experience.
BlueStacks also supports virtual location which means you don't have to go out or move around physically to play gyms, capture Pokémon, do tasks, or perform the always-on adventure mode. With the virtual location feature, you can instantly move to any place you want on Earth in Pokémon Go without walking.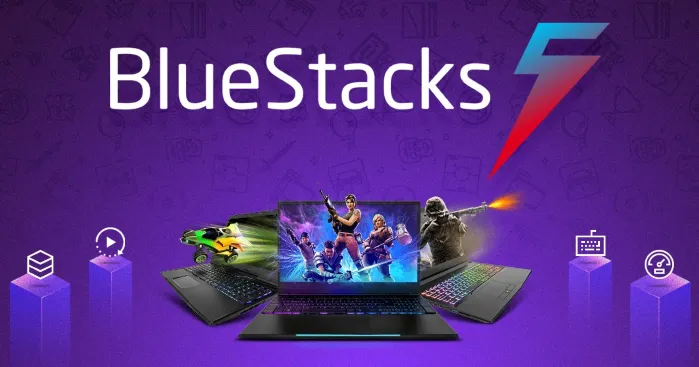 Can I Use BlueStack to Play Pokémon Go?
Yes, you certainly can! The latest BlueStacks 5 version was released only recently and it's probably the fastest Android emulator available right now. Moreover, it comes with spectacular features that make playing diverse mobile games on PC, including Pokémon Go, quite fun. You just need to download the BlueStacks Pokémon Go to enjoy all the best features it offers.
Where Can I Download BlueStacks?
BlueStacks allows you to have a virtual Android experience right on your computer as it basically imitates an Android phone's operating system. If you wish to download and install it onto your computer, follow these steps.
First, download the latest BlueStacks version from its official website – just click "Download BlueStacks".
When the downloading process is done, install the software.
Once installation is complete, wait for BlueStacks to launch itself.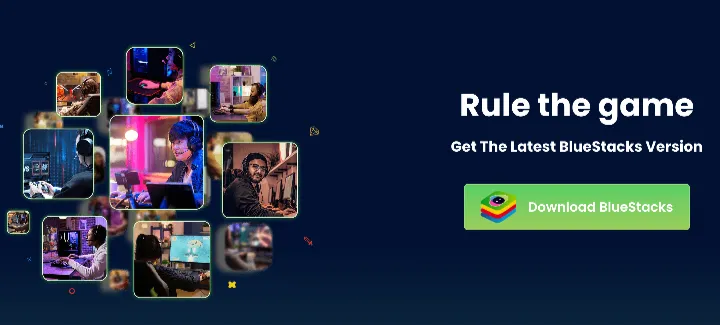 The download is now finished, so you can start playing Pokémon Go on BlueStacks.
How Can I Play BlueStacks Pokémon Go?
Playing Pokémon Go on BlueStacks is pretty easy once it's installed on your computer. Here are the steps you should follow.
Get BlueStacks - Ensure you install the latest version. Uninstall any older versions.
Get the Pokémon Go App – Go to the BlueStacks Trending Apps area to check for Pokémon Go or just search for it manually in the Google Play Store to get the official app (avoid 3rd part downloads).
Select Your Location – Click on the Location/Map icon (check the left side toolbar) if it's installed. Now search for a famous spot you want in the Search bar or go to the map and click on a spot near your current location. If you wish to fake location, get a proper tool.
Run BlueStacks Pokémon Go – After everything is set, click the Play button (Orange button in the lower right corner).
Play the Pokémon Go – Now enjoy playing the BlueStacks Pokémon Go. If you want to navigate the map, simply use keys W, A, S, and D. To run, use the same WASD keys while holding the SHIFT key.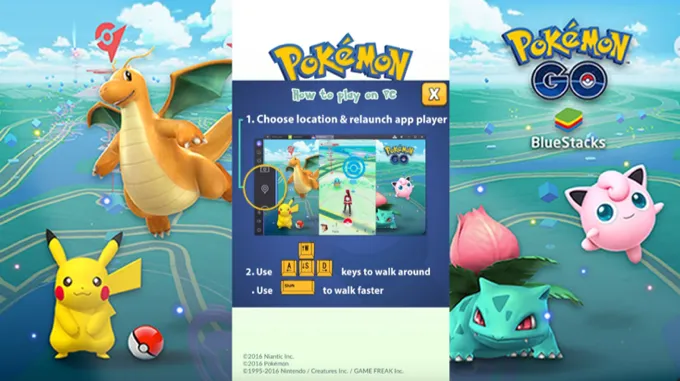 Note
Playing Pokémon Go on BlueStacks is easier and more fun when you use a GPS spoofer. Try installing one directly from BlueStacks or get it from Google Play.
Downsides of BlueStacks Pokémon Go
Possible account suspension – Gameplay through emulators is not allowed by Niantic. They have set measures to detect when you use an emulator such as BlueStacks. Once they detect this, they can stop you from accessing the game or suspend your account.
Highly likely to get soft or hard bans – There's a higher risk of getting temporarily restricted (soft ban) or permanently banned (hard ban) from the game because of Niantic's strictness in preventing cheating and ensuring fair gameplay.
Frequent gagging - BlueStacks fake GPS can reduce your system's performance and even cause a buffer when playing Pokémon Go. It has high system requirements (macOS Sierra+ or Windows 7+) and uses a large amount of RAM space and storage while running.
Compatibility issues – When you use features such as GPS tracking or AR on BlueStacks, they may fail to work properly because they're made for use only on mobile devices.
Less social interaction – You may find it hard to fully interact with other players in the game, such as taking part in group activities, when using emulators.
Ultimate Alternative to BlueStacks Pokémon Go Virtual Location
Not all installations of BlueStacks run successfully. Some users get stuck midway or at a particular stage during the installation, hence are unable to use BlueStacks for playing Pokémon Go on PC. That's why we highly recommend using an alternative location spoofer like FoneGeek Location Changer. This is a better option because it's more effective and simple to operate – it can change your location in most location-based apps to any other location on Earth.
FoneGeek Location Changer is particularly ideal for use with Pokémon Go's virtual GPS positioning if you wish to find evolution asynchronous, rare candles without breaking a sweat. It's also the perfect tool if you want to throw Excellent and Great balls.
Key Features of FoneGeek Location Changer:
Utilizes a single click to change the GPS location of your Android or iOS device to any location on Earth.
You can create custom movement routes to simulate human-like virtual movements in Pokémon Go.
View Pokémon on the computer as it moves and you can stop any elves at any time.
Offers access to historical records and your favorite location functions to allow you to enter the Pokémon game whenever you want.
It's simple to use, 100% safe, and you don't need to root or jailbreak your device.
How to use FoneGeek Location Changer to change the location of your Pokémon Go?
Download FoneGeek Location Changer. Install it on a computer and click "Get Started". Get your device connected to the computer – you'll see the current GPS location of your device on FoneGeek map.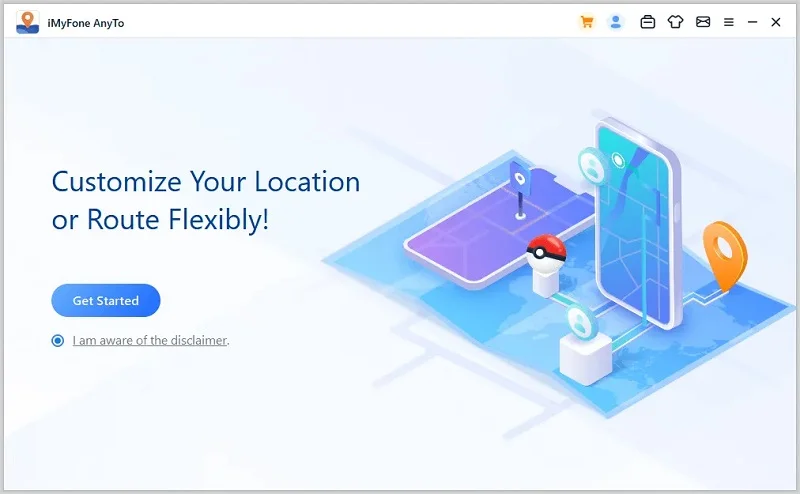 Click the "Teleport Mode" (third icon in the top right corner). Input your target location on the search bar (top left corner) or just click on it directly on the map.
Confirm your selected location and then click "Move" (bottom left corner) to update the GPS position on the device and computer to the one you selected. Run Pokémon Go again and you'll see your new virtual positioning has been updated too.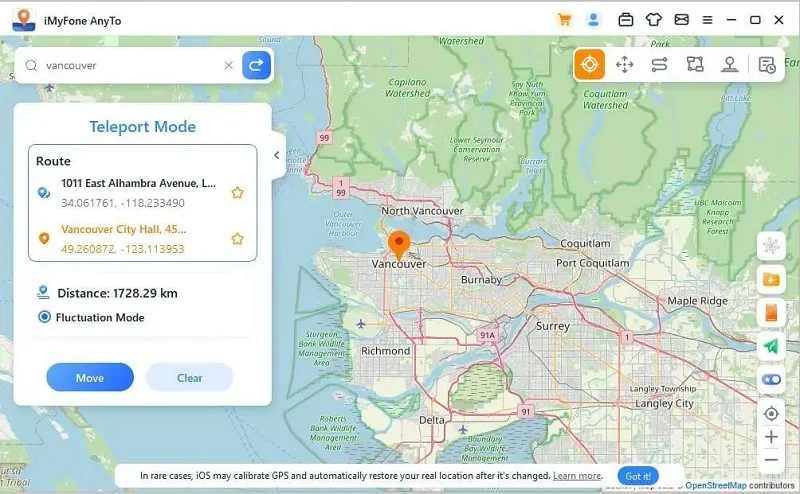 FAQs about BlueStacks Pokémon Go
Is it safe to play Pokémon Go using BlueStacks?
BlueStacks is a legitimate Android emulator, no doubt, and it's used by many people. However, playing Pokémon Go on it is possibly going against Niantic's Terms of Service. Niantic doesn't support the use of emulators to play Pokémon Go, so you need to know the risks because they can ban you if you use the emulators.
BlueStacks Pokémon GO unable to authenticate, why?
Previous versions of BlueStacks, like the BlueStacks 4 emulator, don't support Pokémon Go. This version runs on either Android 7 or Android Nougat, yet all Android phones that run the Android 7 operating system are not compatible with Pokémon Go. That's why your BlueStacks Pokémon Go is probably failing to authenticate.
Conclusion
In this guide, we've explained in detail all you need to know about BlueStacks Pokémon Go. As you've seen, it's a great emulator that you can use to play Pokémon Go game on your computer. However, using it has higher risks, downsides, and can be complicated if you're not tech-savvy. This is the reason why we recommend you use FoneGeek Location Changer.
This is an excellent alternative that can also modify your Pokémon Go GPS positioning to anywhere you want in the world without any risks. It's 100% safe and it will allow you to enjoy playing Pokémon Go without moving just like when you use BlueStacks.