If you have bought a second-hand iPhone and have trouble using it with your SIM card, receiving a message saying that the card is not supported or invalid, it's possible that the iPhone has been blacklisted.
The most effective solution to this problem would be to reach out to the previous owner for assistance. However, many sellers tend to ignore emails or phone calls, making it difficult to resolve the issue through direct communication.
Don't worry. In this article, we will be explaining in detail what is a blacklisted iPhone and how to activate or unlock blacklisted iPhone. Let's begin and get that iPhone fully functional.
What is A Blacklisted iPhone?
A blacklisted iPhone is basically a device that was blocked; this iPhone will not support any cellular network and cannot be activated even with the use of a valid SIM card. An iPhone could be blocked for several reasons, such as reports of it being lost or stolen, unsettled bills, or an unpaid balance.
This blacklist was designed to fix theft issues and help people discover if an iPhone was reported as missing. The blacklist shares a carrier database with mobile carriers, and this makes use of the phone's unique IMEI (International Mobile Equipment Identity) number. Carriers will find it simple to locate missing or stolen iPhones and keep them off networks as a penalty. Also, it enables users to determine if a used iPhone is a smart buy.
How to Know If Your iPhone is Blacklisted
The most common indicator that an iPhone is blacklisted is an invalid SIM. If you recently purchased a used iPhone and you discover that you cannot access a mobile network even after inserting your SIM, that iPhone is most likely blacklisted. A good majority of the time, you will get a notification saying the SIM card is invalid.
Another popular and reliable method is using a blacklist checker tool. There are many websites online that can help you check the blacklist status of your iPhone. You cannot go wrong using a blacklist checker because they are almost 100 percent accurate. In order to use a blacklist checker, you will need to provide the IMEI number of the iPhone to access its blacklist status.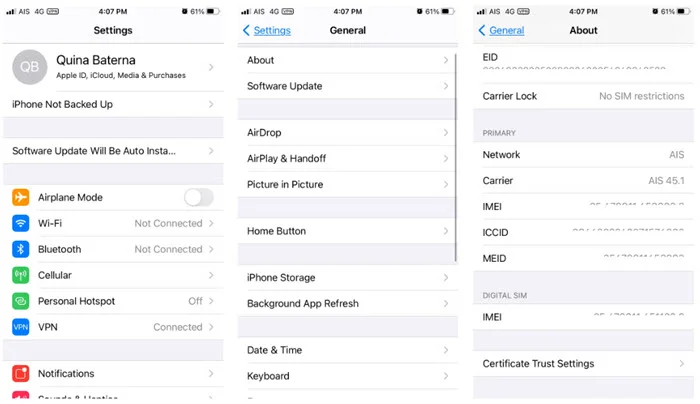 How to Activate or Unlock A Blacklisted iPhone
Unlocking or activating a blacklisted iPhone can be a bit complex without proper guidance. Below, we will be looking at several ways anyone can unlock blacklisted iPhone.
#1 Contact Your Carrier
Contacting the wireless carrier is the safest and most legitimate way of unlocking a blacklisted iPhone, and guess what? It is free. This method is only recommended if you are the legitimate owner of the phone.
If your iPhone was blocked as a result of being stolen, you can easily unblock it by contacting the carrier. This may involve verifying your identity and country of origin and providing details associated with the stolen phone. Your carrier may ask for a previous password before unlocking your blacklisted iPhone.
A blacklisted iPhone by a carrier is one that was blocked because of unsettled bills. These phones are initially carrier-locked, meaning they can only access the network of the original carrier. After several missed payments, the carrier blacklists the phone until payments are up to date. Only the legitimate owner can get the phone unblocked by the carrier.
#2 Use IMEI Blacklist Removal Service
You can also decide to unlock your iPhone using an IMEI blacklist unlock service. Using these online tools is a very stressful option, as it comes with some risks and fees. There are a lot of blacklist unlock services, such as Express Unlocks, UnlockiPhone, Direct Unlocks, and lots more.
It is important to conduct proper research before paying for a third-party IMEI blacklist removal service. While some of these blacklist removal service providers offer refunds if they are unable to unblock your iPhone, a good number of them are fraudulent and could steal your data.
#3 Replace the IMEI Chip of the Blacklisted iPhone
Replacing an iPhone IMEI chip is not a recommended option, but it works with old iPhones and earlier models. This method is a bit complicated, as it is very difficult to find a usable IMEI chip. It may require a bit of technical skill, and there is the possibility of damaging the iPhone if the proper tools are not used.
#4 Contact the Seller
Reaching out to the seller is another option as the current owner, but it will have a low success rate if you did not purchase the iPhone from a legitimate store with good customer service. Most of the time, the seller is aware that you may run into issues with a blacklisted iPhone, so they may avoid you after the transaction.
If you are able to contact the seller for help, please go away; it may make a world of difference.
What Should You Do If Your iPhone is iCloud Locked
If your iPhone is iCloud locked, it means that it is linked to an iCloud account that you don't have access to. This can happen if the previous owner didn't log out of their iCloud account before selling the device or if the device was reported lost or stolen.
If you have purchased a second-hand iPhone that is iCloud locked, the best course of action is to contact the seller and ask them to remove the device from their iCloud account. If they are not willing or able to do so, you can try contacting Apple Support and explaining the situation.
There are also third-party programs, like Tenorshare 4MeKey, that help with bypassing iCloud Activation Lock. And then you're able to log in to any iCloud account you want. Whatever third-party program you choose to use, it is important to conduct research, as many of these services are scams and can actually make the situation worse.
Conclusion
It is not rare for people to come across a blacklisted iPhone; there are many on the market for sale currently. Although we do not recommend purchasing one, if you ever do and you are wondering "how to unlock blacklisted iPhone." You can use an IMEI blacklist removal service, replace the IMEI chip, or contact the seller.
If you are the original owner of the iPhone, and for some reason, it got blacklisted. The best possible course of action is to contact your carrier or an Apple Support for assistance. For no fee, they can unlock your iPhone after you have reached an agreement with them.