The passcode is always good when you want to lock your iPhone or Apple Watch. It's a feature that you can enable or disable whenever you want. However, that's not always the case. You may want to remove the passcode only to find that the turn off passcode option is greyed out, which means you can't turn it off anymore.
If you've experienced this, you may be wondering why the turn passcode off option is greyed out and how you can fix it. This article explains everything in detail. Herein, we'll tell you what's behind this problem and some of the workable solutions you can use to fix it.
The methods we've included here are able to fix the turn off passcode greyed out issue on both Apple Watch and iPhone, so read on to check them out.
Why is Turn Passcode Off Greyed Out?
When you see the turn passcode off greyed out, it's likely that there is something wrong with the settings hence you have to reset them. That's not all though. Your Apple Watch or iPhone might also have some small glitches that could probably cause this turn off passcode greyed out issue.
The other reason could be that there are restrictions on your device that prevent you from turning off or changing the passcode. This is possible through a corporate configuration profile or remote device management if you're using a controlled iPhone. If that's the case, then these passcode restrictions will affect Apple Watch too if you have it paired with the iPhone.
Fix Turn Off Passcode Greyed Out on iPhone
Remove Configuration Profile
If you have a controlled iPhone from your company or school, it probably has a configuration profile through which it receives many settings and information. This configuration profile could be set to block you from changing or removing the passcode, that's why you're having this turn passcode off greyed out iPhone issue.
To be able to turn off the passcode, you'll have to remove this configuration profile. You can do that on your iPhone by following these steps:
Launch Settings, open the General option, and then tap on VPN & Device Management.
Check the list for any configuration profiles. If there's one, tap Remove Profile.
Finally, put your passcode to confirm and remove the configuration profile.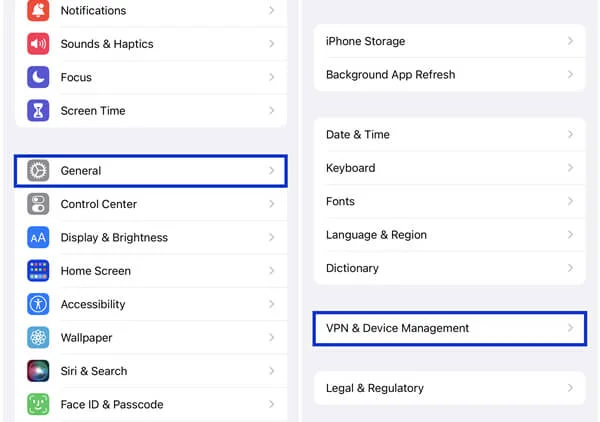 With the configuration profile removed, the turn off passcode option should now be enabled to allow you turn off the passcode. If that's not the case, though, or you find there's no configuration profile on your device, then check the next solution.
Delete Email Account
It's likely that the work/school email accounts that you added on your iPhone are what caused the turn passcode off option to grey out. Such email accounts are usually protected with security mechanisms that can prevent any unauthorized changing of the security settings on your device. Getting rid of these emails from your device can enable the turn passcode off option. To do so:
Open Settings and tap the Mail option.
Go to Accounts and select Exchange.
Tap the Delete Account option to delete the email behind the turn passcode off greyed out issue.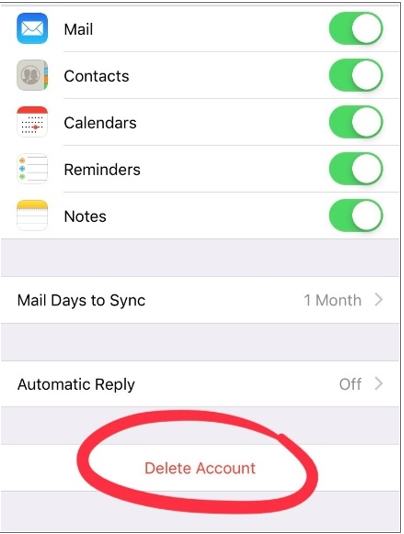 Now that the email account is removed, go to turn off passcode option to see if it's working.
Reset All Your iPhone Settings
We did mention that an issue with the settings on your iPhone can as well be the reason why turn passcode off greyed out. Therefore, resetting all your iPhone settings to their default status can actually help to solve this, especially if you found no configuration profile on your device and you're not certain what the real cause is.
Go to the Settings app and choose the General option.
Hit the Transfer or Reset iPhone option.
Now tap Reset and then choose Reset All Settings.
Finally, type in your passcode to reset all your iPhone settings.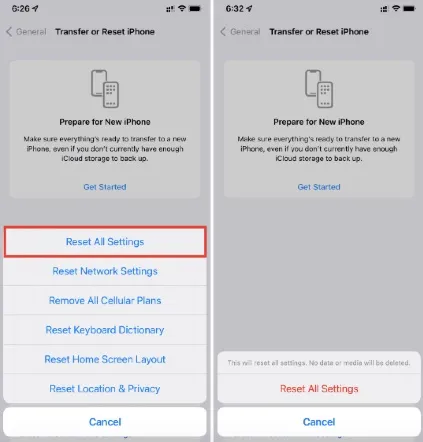 Remove Passcode with iPhone Unlocking Tool
The turn passcode off option is supposed to work now if you tried the above three methods. If it's still greyed out, though, then an iPhone unlocking tool is what you need to fix it completely and there's no better option than the FoneGeek iPhone Passcode Unlocker.
This powerful software is simply an all-in-one solution to every iOS unlocking problem. It will quickly and easily turn off your iPhone passcode, even with the option to turn off passcode is greyed out. Besides that, the tool offers various amazing features that can help you deal with other system issues that your iDevices may have.
Key features of FoneGeek iPhone Password Unlocker
Remove any set screen lock quickly - Whether it's FaceID, TouchID, digital passcode, or pattern lock you've set on your device, FoneGeek will turn it off easily.
Comprehensive unlocking options for iOS - Unlock all kinds of other iOS locks, not just screen locks. Bypass iCloud activation lock, remove Apple ID without using a password, unlock SIM card regardless of the carrier, unlock encrypted iTunes backup, etc.
Compatible with all devices/systems - constantly updated to support all iDevices and systems including the latest ones like iOS 17 and iPhone 15.
Friendly interface for easy operation - remove/turn off passcodes and other locks with just a few simple steps.
How to remove passcode with FoneGeek iPhone Password Unlocker if turn passcode off greyed out:
Download ideal FoneGeek version for your computer, install and then open it. Get your iOS device and the computer connected using USB. Now go to the main interface and choose the Unlock Screen Passcode mode.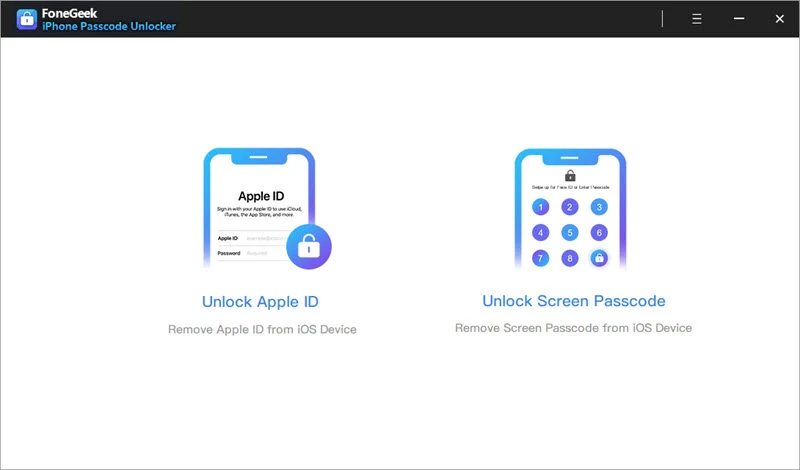 If FoneGeek identifies your device, a new screen will show up. When it does, click on Next to proceed. Another screen will appear. Here, click on Download to get the most latest firmware version for your device.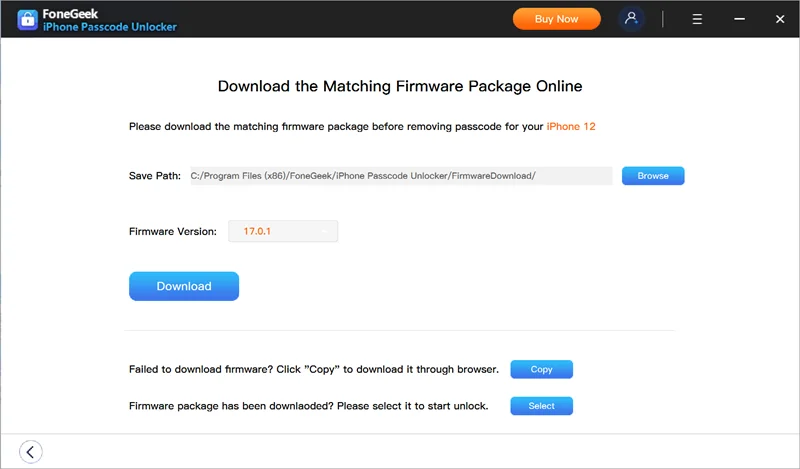 Let the downloading process complete. When it's done, hit the Start Unlock button on the next window to start removing the screen passcode right away.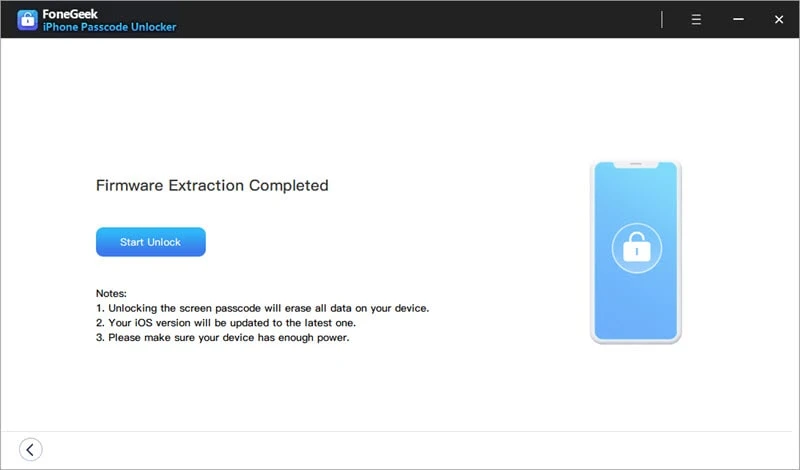 For the unlocking process to run successfully, ensure your device and computer remain connected. The process won't take long and once it's done, there will be no passcode on your device hence you won't have the turn off passcode option greyed out anymore.
Fix Apple Watch Turn Passcode Off Greyed Out
Turn Off Wrist Detection
When Wrist Detection is activated, your Apple Watch will immediately get locked whenever you remove it. Hence, if you have turn passcode off Apple watch greyed out, then disabling this feature can help fix it as it has with some other users. To do that:
Open the Apple Watch and go to Settings.
Select Passcode and turn off Wrist Detection by tapping the toggle beside it.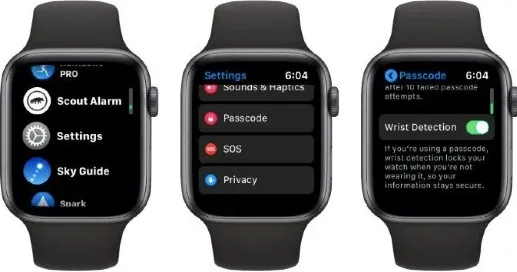 Alternatively, you can turn it off right from your iPhone in the Watch app.
Turn Off Passcode via Your iPhone
Another way you can fix the turn passcode off Apple watch greyed out issue is by turning off the passcode on your iPhone. Yes, that's possible. With the Watch app, you can easily manage your Apple Watch right from your iPhone, including turning off the passcode.
On your iPhone, launch the Watch app and head to the My Watch tab.
Select Passcode and tap on the Turn Passcode Off option.
Now confirm the action by putting in your current passcode.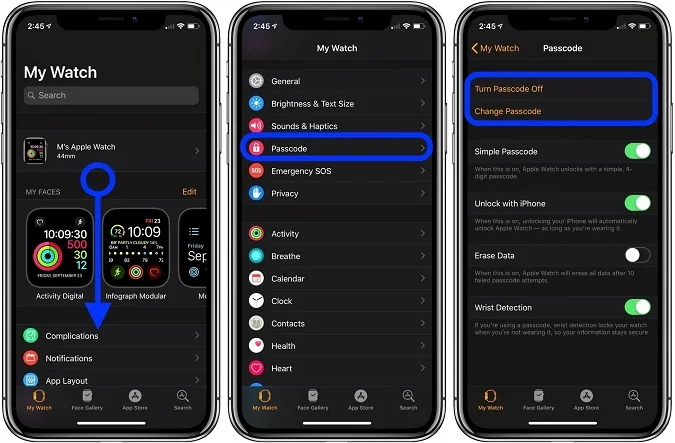 Unpair Apple Watch and Repair It Again
You can also fix this turn passcode off greyed out issue by simply unpairing the Apple Watch with your iPhone and then re-pairing it. Follow these steps:
Head to your iPhone and open the Watch app.
Select My Watch and tap the small i icon.
Now just tap Unpair Apple Watch.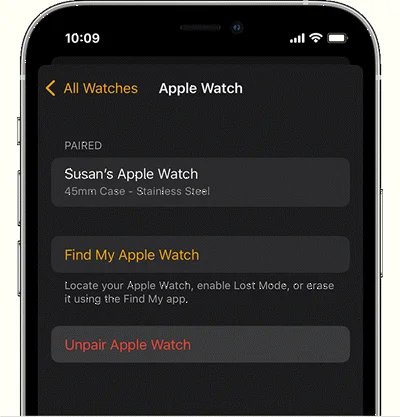 That's it. You can pair the watch back again after a few minutes and check if the turn passcode off greyed out issue is fixed.
Conclusion
You shouldn't worry much if the turn off passcode greyed out. It's not really a big issue. The few solutions we've listed above should be able to help you fix it and get the passcode removed. The most convenient method, with the highest success rate, is obviously removing the passcode using the FoneGeek iPhone Passcode Unlocker.
You don't have to go through all the hassle of trying out all the other methods. With FoneGeek, you can quickly remove the passcode even with the turn off passcode greyed out. It's simple to use and you can get rid of many other iOS locks besides just screen locks. We recommend you try it first if you're pressed for time.