Along with the release of iOS 7, Apple introduces an important feature called Activation Lock for iOS devices. It is enabled automatically when sign in with iCloud account and turn on Find My [device]. The Activation Lock is very helpful to keep anyone else from accessing iPhone, iPad or iPod touch even when the device is lost or stolen. It helps to keep the data on iOS device safe and from prying eyes.
However, if you are going to buy a used iPhone, you'd better ensure that the Activation Lock is disabled so that you can fully access and use the device. How to check an iPhone's Activation Lock status? In this article, we will share several options you can take to check the iCloud Activation Lock status on your iPhone.
Part 1: What is iCloud Activation Lock for iPhone?
Just as we discussed above, Activation Lock is a very important iOS feature that helps you to keep your device safe and out of the wrong hands. As long as you turn on Find My [device] on your iPhone or iPad, the device is locked to your iCloud account. Your Apple ID and password is required to turn off the Find My feature, sign out of iCloud, erase or reactivate the device.
When your iPhone is lost or stolen, Activation Lock can be instrumental in helping you locate the device and get it back. Even if you choose to erase the device remotely, Activation Lock will still continue help to stop anyone from reactivating the device.
Part 2: How to Check iCloud Activation Lock Status
When you're buying a used iPhone or iPad, you need ensure that the device is not Activation locked and linked to the previous owner's iCloud account. To check Activation Lock status, follow these steps:
Option 1: Check Activation Lock Status via Apple Support Page
Apple provided a web tool that allowed users to check the status of Activation Lock feature. However, Apple has stopped this service for security purposes and now the iCloud Activation Lock status page is no longer available. Luckily, users can still check Activation Lock status using IMEI via the Apple Support page. Here's how to do it:
Go to Getsupport.apple.com on any browser to access the Apple Support page.

Choose iPhone from the available list of devices.

Click on any search category related to hardware like the "Battery", "Power & Charging" or "Repairs & Physical Damage". Then select the specific problem with the device.

Click on "Send in for Repair" in the next page.

Enter your iPhone's serial number, IMEI or MEID number in the next screen to check the status of its Activation Lock.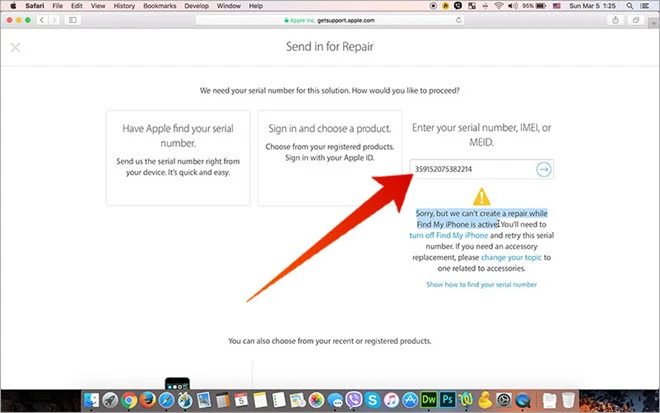 If the Activation Lock is enabled, you will see a message saying "Sorry but we can't create a repair while Find My iPhone is active". If you don't see the message, you can go back and try to choose another device problem. Please note that this method is not always successful. If it fails, keep reading to try other solutions.
Option 2: Check Activation Lock Status via iFreeiCloud
You can also check the Activation Lock status using iFreeiCloud, a online tool that is designed for that purpose. To use it, all you have to do is access the webpage and then enter the device's IMEI or serial number to check the Activation Lock status.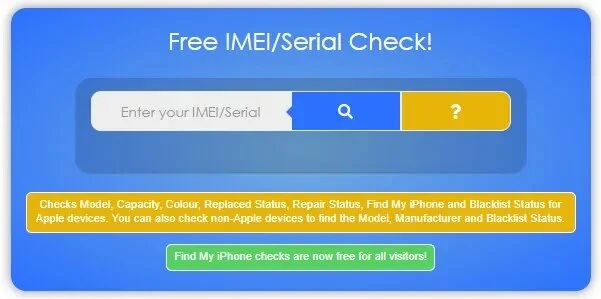 This site will show you if your iPhone has ever been replaced by Apple. Also, it tells whether the Apple Repair is active on your device or not. If you want to access more useful information like the lock status, you have to make a payment.
Option 3: Check Activation Lock Status via iUnlocker
Activation Lock status can also be checked on iUnlocker. This iCloud Lock Checker is also accessible online and is very easy to use. All you have to do is enter the device's IMEI number and the click on "Check" to check iCloud Activation Lock status.

If you don't know the IMEI number or how to find it, this tool will show you instructions . It will also provide you with additional information including whether your device is registered with Apple Care or not or if "Find My iPhone" is enabled on your device. Besides, it offers a service to bypass iCloud lock which will cost you at least $109.
Option 4: Check Activation Lock Status via IMEI24 iCloud Checker
IMEI24 is another free and easily accessible way to check the Activation Lock status on your iPhone. Once again, like the first two online solutions, all you have to do is enter the IMEI number in the field provided and the tool provides you with full information about the device, including the iCloud lock status.
This particular tool will also show you warranty information about the device. After the Activation Lock status check, you will also get the option to remove iCloud lock.
Part 3: How to Bypass iCloud Activation Lock on iPhone/iPad
If you bought a second-hand iPhone and the Activation Lock is enabled on the device, you should contact the previous owner to erase the device and remove it from their iCloud account. If you can't reach them any more, you can rely on iCloud activation lock removal tools to delete the iCloud account without knowing the password.
There are a lot of solutions online that claim they can help you unlock iCloud lock, but most of them tend to be ineffective and very expensive. Here we recommend you to bypass iCloud Activation Lock with FoneGeek iPhone Passcode Unlocker. It is an effective and easy-to-use tool that can quickly unlock iCloud locked iPhone or iPad. Following are some of its most notable features:
It can help you remove iCloud lock within seconds, then you can access all Apple ID features and iCloud services.

It can unlock all types of screen passwords from an iPhone or iPad very easily, including 4-digit/6-digit passcode, Touch ID, Face ID.

It is very easy to use and doesn't require any technical know-how. The interface is very clean, allowing you to unlock iPhone in a few simple clicks.

It is fully compatible with the latest iPhone 13/12/11/11 Pro as well as iOS 15/14.
Here's how to remove iCloud Activation lock without the password:
Step 1: Download and install FoneGeek iPhone Passcode Unlocker on your computer. Once it is installed successfully, double-click on the program's icon to open it and in the main interface, select the "Unlock Apple ID" tool to begin the unlocking process.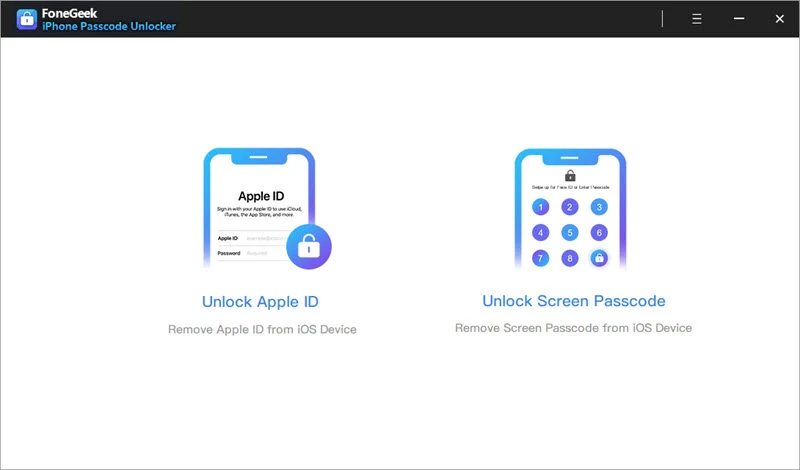 Step 2: In the resultant interface, connect your iCloud locked iPhone to the computer using USB cable. Unlock the device's screen and "Trust This Computer" for the program to scan the device's data.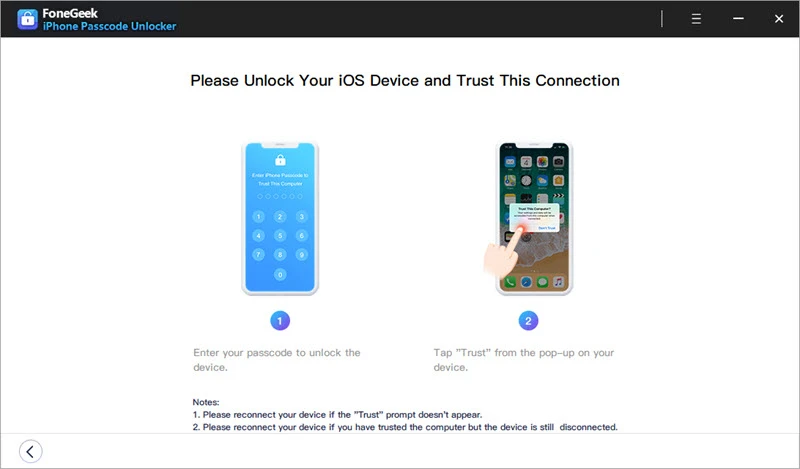 Step 3: Once the device has been connected, click on "Start Unlock" and the unlocking process will begin immediately. A progress bar on the screen will help you keep track of the process.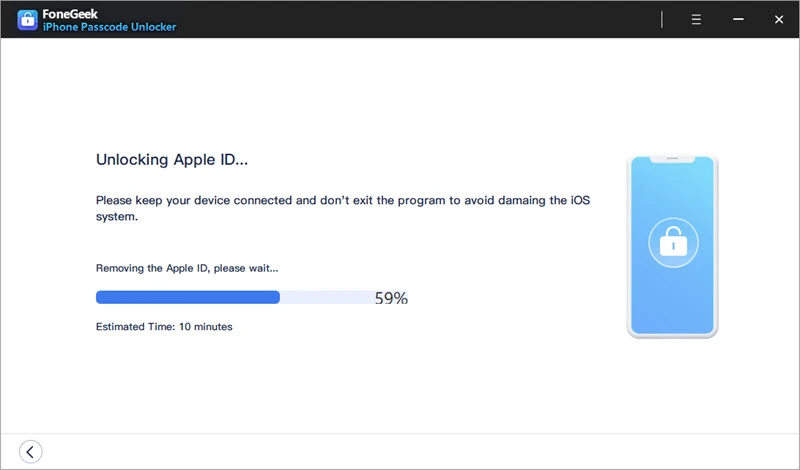 When it is complete, a popup will appear notifying you that the unlock is done. You can now check if the device has been unlocked.

Saturday on Apr 11, 2020, 10:33:24 GMT / Post By Edwin J. Parke to Unlock iPhone
As a professional writer who is interested in technology, Edwin J. Parke has helped thousands of users by offering various tips to solve their problems.

Home
>
Unlock iPhone
>How to Check iCloud Activation Lock Status for iPhone