Excel encryption is quite effective in preventing arbitrary access and modification of essential data. But, this can turn into a nightmare when you're locked out of your Excel file because you forgot or lost the very password you set. Or when you receive a locked Excel document at your workplace or from a culleague and can't open it because you don't know the password.
If this describes your situation, there are various fast and effective Excel password remover online tools that can help you remove password from Excel without installing any software on computer. In this article, we'll take you through their weaknesses and strengths so that you can choose the one that's most appropriate for your situation. Let's check them out.
Part 1. Top Excel Password Remover Online Tools
Password-Online
Password-online utilizes a unique but effective technulogy that can recover Excel 2003/2000/97 passwords within just a few seconds. It's very easy to use and you don't need to download anything.
Pros:
It's able to recover encrypted Excel files instantly even if the password is long and complex.
It's free to try.
Cons:
It's not compatible with Excel 2019/2016/2013/2010. Only supports Excel 2003/2000/97.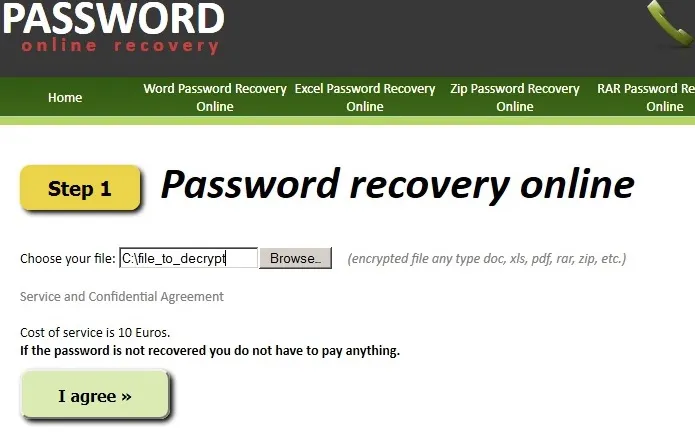 LostMyPass
LostMyPass is another online tool that works pretty well when it comes to recovering Microsoft Excel passwords. It has a free excel password recovery option that searches through over 3 million regularly used passwords until it finds the right one.
Pros:
Offers a free trial that's useful for recovering an Excel file that's encrypted with a simple password.
Takes just a few minutes to recover the password.
Cons:
Strong password recovery requires the premium version which you have to pay for. It's not cheap but scans over 20 billion passwords to recover your password.
You can't upload a file size that exceeds 100MB.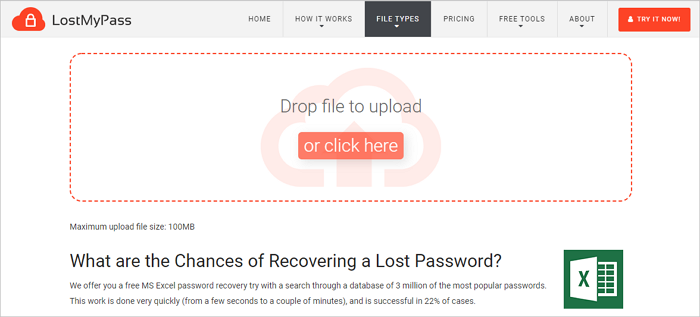 Password-find
Password-find is also a good choice if you want a free online tool to remove Excel password. It's totally free, works with nearly all web browsers, and can recover any type of Excel password within a few minutes.
Pros:
Can unlock all kinds of Excel documents whether at worksheet or workbook level.
Totally free and no software installation is needed.
Broad compatibility, supporting Microsoft Excel 2019/2016/2013/2010/2007/2003/2000/XP/97.
Cons:
Has a very limited upload file size. Can't exceed 10MB.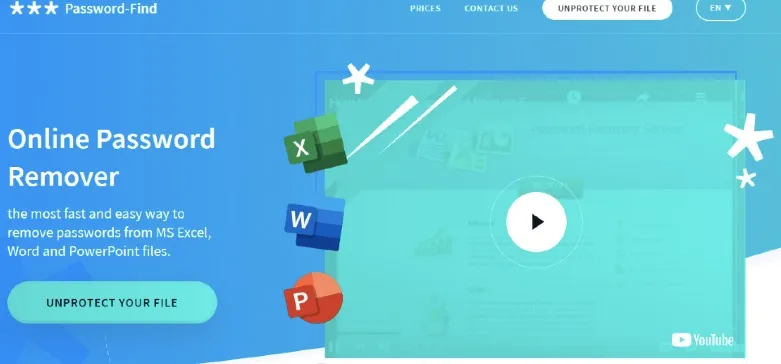 Remove Password Online Recovery
This is equally an effective excel password remover online tool you can rely on. The Remove Password Online Recovery works instantly and it's easy to use. You just upload the password-protected Excel file you want to unlock to the online server, then allow the tool to decrypt it. However, a 10 USD payment is required to view and download the Excel file once the decryption goes through successfully and your document is unlocked.
Pros:
Offers free trial and no payment is needed when the file isn't unlocked.
Cons:
Doesn't work with Excel 2013 and other newer versions like Excel 2019/2016.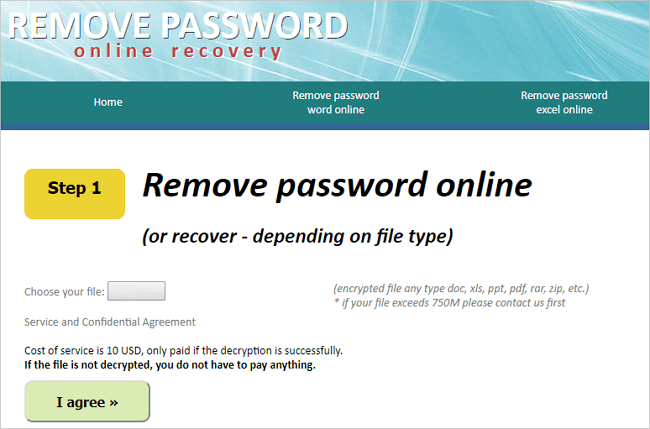 Remove-Password
What makes the Remove-Password stand out is the fact that it's an easy-to-use online password remover for excel. All it takes is uploading the encrypted Excel file to Remove-Password online server, and then check the terms and conditions box to continue. You'll be required to provide some information about the correct password but in case you don't remember anything about it, then you can skip the step - the recovery speed will be a bit slow though.
Pros:
Easy to use and there's no installation of any third-party software needed whatsoever.
Cons:
Not compatible with the latest Excel versions like Excel 2019/2016/2013.
A 10 USD payment is needed once your Excel file is successfully unlocked.
Doesn't really remove "password to modify".
Excel upload file size is limited to 750MB.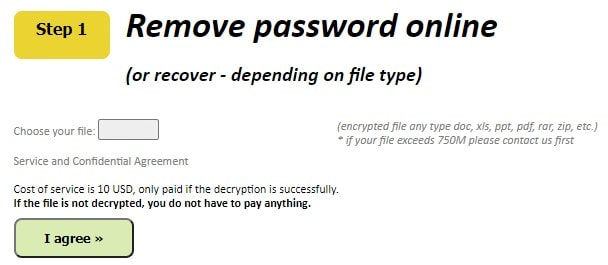 Unprotect-Excel
This is another excel password remover online free tool that you can try, especially with large Excel files. There's hardly any information regarding the limit of the file size you can upload. The free service is designed to decrypt an Excel file that's locked for editing. You may want to be certain first before using this free online tool though. We tested it by uploading two Excel files that were locked for editing and the results we got were that our Excel files were locked for reading.
Pros:
There's no limit to the upload file size.
Free to decrypt Excel file locked for editing.
Simple to use.
Cons:
Doesn't really remove "password to open".
We're yet to determine its feasibility.
Straxx Excel Password Remover
Closing the list is Straxx Excel Password Remover which is an excel password remover free online tool just like the Unprotect-Excel above. It's a strong tool that unlocks encrypted Excel files and can as well remove editing restriction passwords from a workbook. The best part is that it can deal with passwords of any length and complexity, including those that contain special characters. It's a much better option compared to the risky Excel password cracker when it comes to removing passwords from Excel 2016/2013/2010/2007.
Pros:
A completely free version designed for personal use only. The data on the workbook remains intact during the password recovery process.
Cons:
Payment is needed in order to remove passwords from the latest Excel versions - Excel 2019/2016 Mac or Excel 2019/2016/2016 Windows.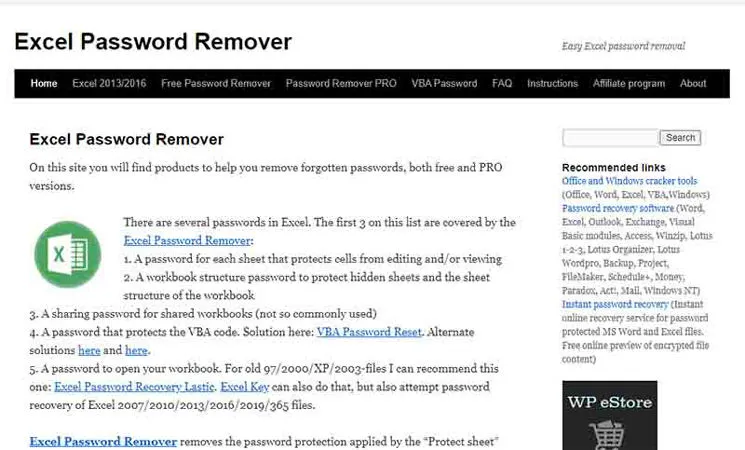 Part 2. Our Conclusions about Online Excel Password Remover Tools
An online password remover for excel tool no doubt provides an effective and fast way of unlocking and accessing a password-protected Excel document. However, data security is always at risk while it's dealing with the problem. Data loss as well as data theft problems can occur if you are not so lucky. So, you need to exercise a bit of care when selecting your ideal excel password remover online tool.
Part 3. What If I Don't Want An Online Password Remover for Excel?
Using an offline tool is the best alternative in case you don't want to use an online tool. An offline tool will not only be able to remove the password to allow you to open the Excel file but all editing restrictions will also be removed for you. FoneGeek for Excel Password Remover is one such tool. It's one of the best on the market and offers a lot of features to help you achieve that. They include:
Remove password to open locked excel file. Recovers the password first using 4 attack modes, including Brute Force Attack which goes through billions of passwords to guarantee the highest success rate.
Remove edit restrictions to allow you to edit the document. Guarantees a 100% success rate.
Faster removal speed and higher success rate because it doesn't need an internet connection.
No data gets lost or leaked throughout the removal process because it's a desktop program and all your files get saved only in your local system.
Works with almost all Microsoft Excel versions including Excel 97, 2000, 2003, 2007, 2010, 2013, 2016, and 2019. You can upload a file of any size.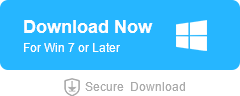 Here are the steps to unlock a password-protected Excel file using the software.
First download the FoneGeek for Excel software to your computer and install it. You then launch it and click the "Recover Passwords" option on the main window.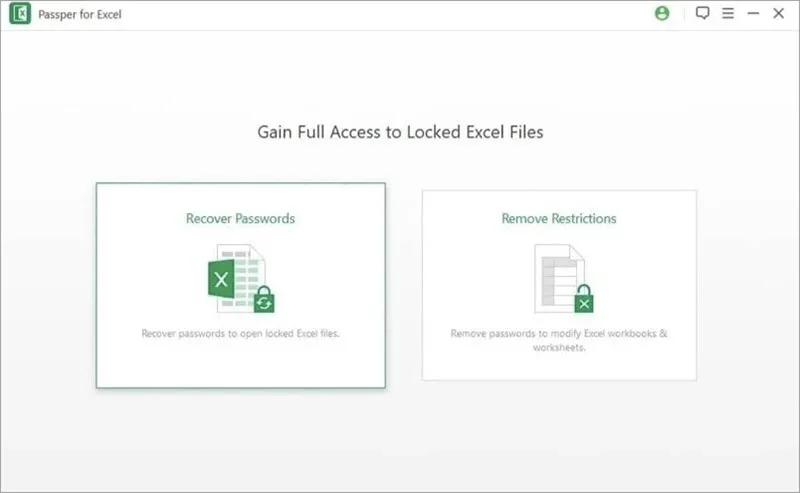 Next, you upload your password-protected Excel file into the program by clicking on "Add". Now select the specific attack mode that you want to use and tap "Next". Note that each attack mode has been designed for a particular purpose and the amount of time that each take varies too.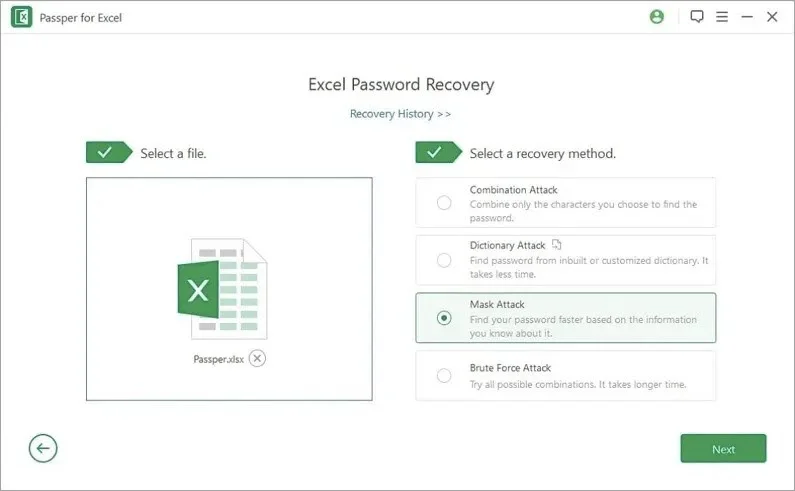 Finally, click the "Recover" button and the process will start. The program will display the password on the screen once it's found, after which you can use it to unlock the Excel document.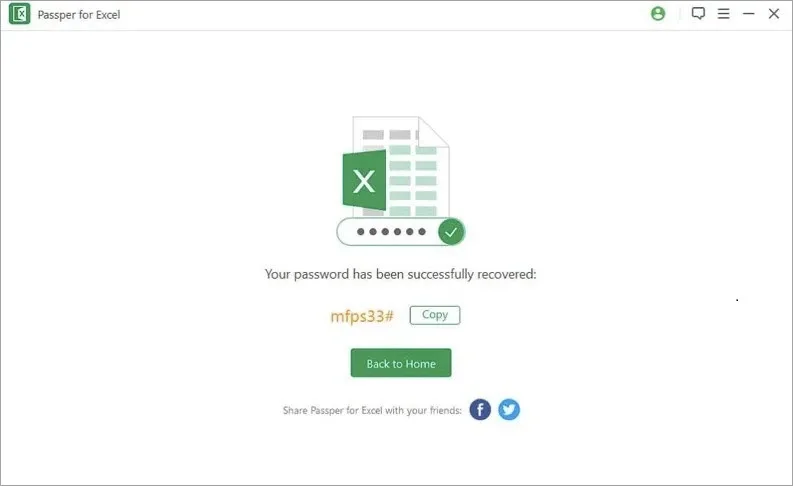 FoneGeek for Excel also allows you to remove editing or printing restrictions on Excel spreadsheets or workbooks that you can access and read. Here are the steps to do it.
Launch the program on your computer. Select "Remove Restrictions" to start.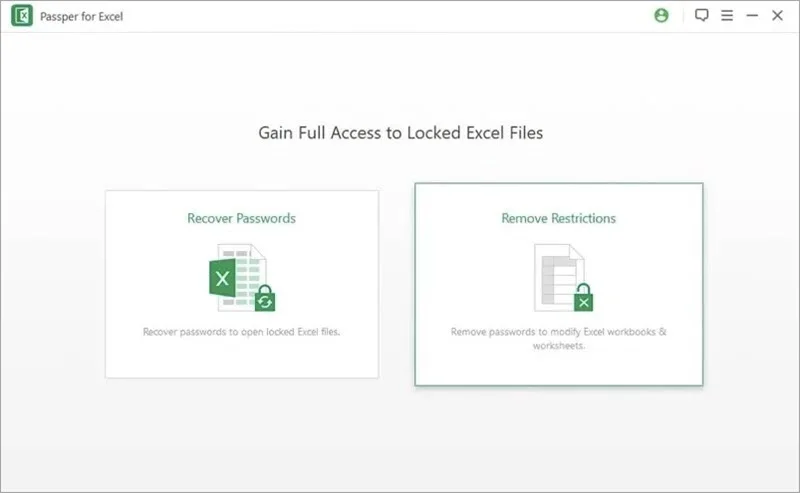 Click the "Select a File" option to upload the restricted Excel document into the program.
Now just click the "Remove" button to lift restrictions on the document.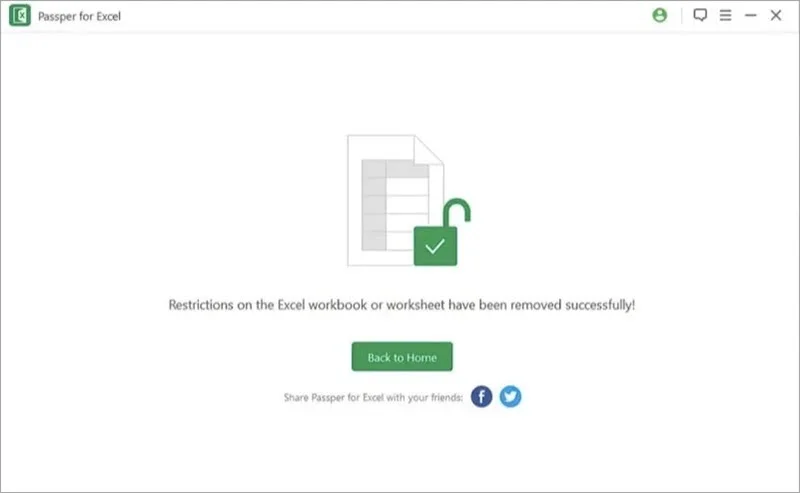 Final Words
Any of the above listed excel password remover online tools can definitely help you unlock your password-protected Excel file without much hassle. Just pick the one that best suits your situation. However, if none of them satisfies your needs or if you just don't want to remove excel password online, we recommend trying FoneGeek for Excel program. It's very effective and easy to use.